Generac PowerPact 6518 7kW Generator with Pre-Wired 50A 8-circuit Transfer Switch
Generac PowerPact 6518 7kW Generator with Pre-Wired 50A 8-circuit Transfer Switch
Availability:
DISCONTINUED - AP Recommends Replacing with Generac 6998 7.5kW
11

product reviews
Average Product Review Rating:

5

/

5
PRODUCT DESCRIPTION
THIS PRODUCT IS NO LONGER AVAILABLE. SEE SUGGESTED REPLACEMENT(S) BELOW.
PRODUCT FEATURES:
• Starts automatically for 24/7 continuous backup power protection
• Continuous Fuel Source from your home - LP or Natural Gas
• Digital controller with LED status and fault indicators
• Generac OHV Engine
• All-weather steel enclosure
THINK YOU CAN'T AFFORD AN AUTOMATIC STANDBY GENERATOR? YOU CAN. Generac has engineered a home standby generator that makes residential backup power more affordable than ever, backed with the quality and reliability that makes Generac the leader in standby power. If you only need to protect your essential circuits and thought a portable generator was the best option for your money, compare it with the benefits of the PowerPact standby generator. Generac's Powerpact 7 kW automatic backup generator is priced more affordable than any other home standby generator on the market. It makes choosing an automatic generator over a portable the obvious choice to manage power outages. The compact design is engineered for easy maintenance and serviceability, and is ideal when space is at a premium. Generac's 7 kW PowerPact home standby generator is the affordable, automatic alternative to portable backup power. Features incorporate the quality and reliability of the best selling Guardian Series, while remaining the most affordable home standby generator available. It protects the home's most essential circuits, like refrigerators, well pumps and select appliances. The PowerPact features a galvanneal steel enclosure for installation as close as 18 inches away from the home, along with a digital controller with multiple LED indicators. True Power technology provides less than 5> THD for safe use with sensitive electronics. The PowerPact is also Mobile Link compatible, so owners can use their computer, tablet, or smart phone to view their PowerPact generator's status, receive notifications regarding status changes, and much more.
◘ Prepackaged system available - 7 kW standby generator is prepackaged with a 50 Amp transfer switch featuring an eight circuit load center including breakers, available with or without whips.
◘ Generac OHV engine is designed for reliability and long life.
◘ Quieter than a standard portable generator.
◘ Digital controller with LED light status and fault indicators.
◘ Three of the four sides are easily removeable for simple service and maintenance access.
◘ Truepower Technology delivers best-in-class power quality with less than 5% total harmonic distortion for clean, smooth operation of sensitive electronics and appliances.
◘ Mobile Link cellular remote monitoring system from Generac lets you check on your generator's status even when you are away using your computer, tablet or smartphone. Free downloadable app available. Sold separately.
◘ 3-year limited warranty
TECHNICAL SPECS & DOWNLOADS

6518 Brochure


6518 Specifications Sheet


6518 Owner's Manual


6518 Installation Guide


6518 Warranty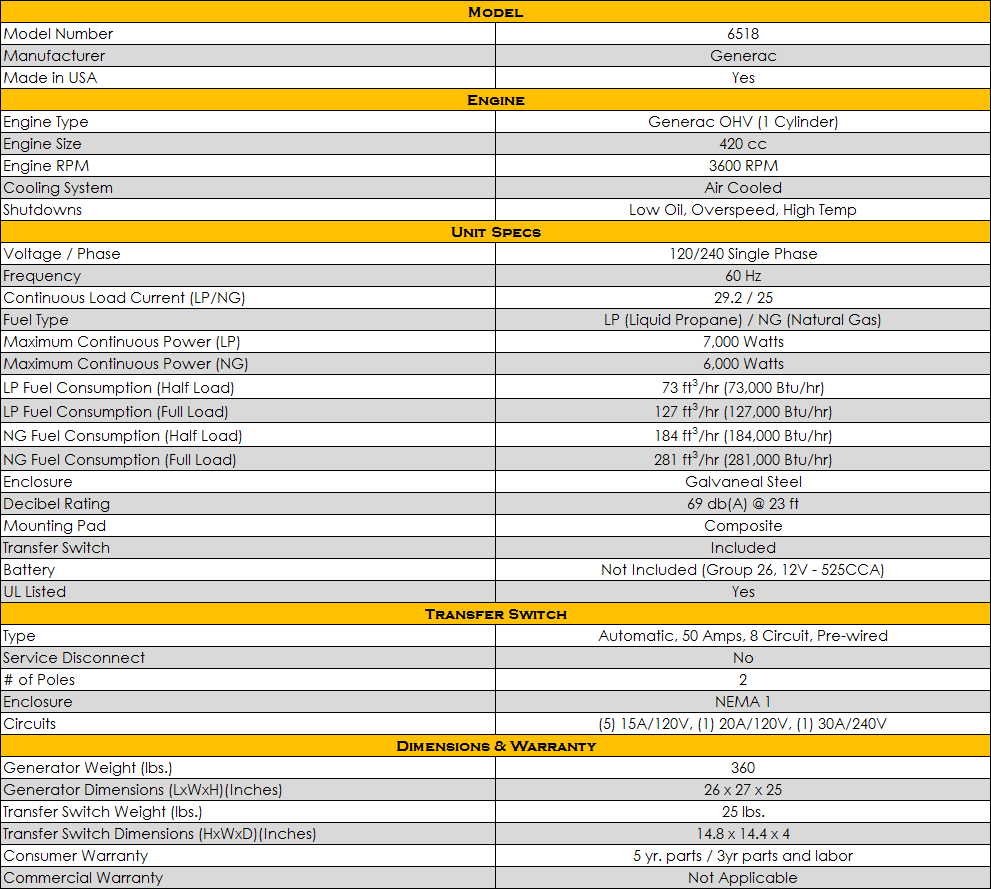 Product Videos
Generac PowerPact 7KW Standby Generators | Models 6561, 6518 & 6519
01:17
Generac PowerP...

Generac's PowerPact home standby generator combines all the be...
Product Reviews
Write Review
Works Great

Product Review Rating:

5

/5

Posted by Roy Wagner on Dec 17, 2015

I bought this Generac 6518 7kW home standby generator in June for my hunting cabin in northern Wisconsin. Power goes out frequently where my cabin is located due to the power lines running through the national forest and nothing is more frustrating when I come back from the day in the woods hunting to no power. Unit shipped quickly and the install was easy. I found an electrician to install it for me for $1,700. Now the best part. I had a group of friends up for deer hunting in November. As we returned from 8 hours in the woods hunting and approached the cabin I heard an unfamiliar sound. The generator was on. I smiled. My friends asked me what I was smiling about. I said you will see. We had power and my neighbor didn't. Best purchase I ever made.

---

Best Price

Product Review Rating:

5

/5

Posted by Tom Wagner on Dec 11, 2015

I bought this Generac 6518 generator while it was on sale. Could not be happier with my purchase. Performs like it should.

---

TOP DRAWER

Product Review Rating:

5

/5

Posted by Danny Herman on Nov 24, 2015

SALES
I COULDN'T FIGURE OUT YOUR FORM TO REPORT MY OPINION OF THE AP SERVICE. IT IS TOP DRAWER. I BOUGHT TWO GENERAC GENERATOR'S IN THE LAST WEEK AND ALL WENT BETTER THAN EXPECTED THANK'S TO DOM AND RUTH. YOUR TRUCKING COMPANAY [ESTES] HAS GREAT SERVICE TO MTN. CITY TN. THE A P ELECTRIC EXPERIENCE HAS BEEN TOP DRAWER FOR ME. GOOD PRODUCT AND GOOD PEOPLE.


---

WHat I ordered

Product Review Rating:

5

/5

Posted by V. Fine on Jun 23, 2015

On the 5818 air-cooled off-grid generac generator it was what I ordered and shipped out fast. Came to me in perfect condition too. Wish they could have backed into my driveway. That's the only problem I had. Other than that it was a smooth transaction. Found you on the google. Heard generac generators were the best out there. How do I activate this generator? Please call my phone number on the account.

---

Like it.

Product Review Rating:

5

/5

Posted by Paul Kenhill on Jun 18, 2015

I had a Kohler 8kw and replaced it with this Generac 7kw generator instead. There are more Generac generator dealers in my area than Kohler so it made more sense to buy a Generac. Air-cooled was fine before so I stayed with it on this back-up generator as well. Not too sure about the difference in the model 6519 7kw and 6518 7kw, I do know that usually more expensive means better quality so I choose this one. Delivery was outstanding thought it was going to be left at the end of the driveway but they delivered it and placed it my garage for me. 2nd purchase from AP Electric both went well.

---

The Whip is Worth it

Product Review Rating:

4

/5

Posted by Ellen Keller on Jun 15, 2015

I almost bought the Generac Guardian model 6519 because it didn't seem like the whip was that important to come with it. When I spoke to my installer he highly recommended going with the model 6518 generator instead. The reasons for it were how it would effect the cost of everything. By purchasing the generator with all the wiring already there he wouldn't have to run two separate conduits. I would have never guessed that it cost so much since you assume one air-cooled generator would cost just as much as the other to install. I was wrong so I'm glad we went with this model. All installed it is an excellent back up generator for my home.

---

Greates Buy

Product Review Rating:

5

/5

Posted by Lizzie Quigg on Jun 10, 2015

My electrician bought this generator from you all and his customer cancelled so we transitioned into it. We didn't even know off-grid generators were a thing at all. Spent a few minutes on google and was amazed at all the things that could be done with wind or water power. The Generac 5818 is a blessing actually. We had been looking for a way to reduce our bills since we have a fairly large home. Seems like this is the best way to do it. I didn't want a normal air-cooled generator because it seems silly to spend all that money just in case something happens. I'd rather have an air-cooled generator that is going to be a backup and still save me money. Way to go Generac :D

---

The generator I needed

Product Review Rating:

4

/5

Posted by Ricky Holt on May 11, 2015

I bought the 6518 because it will cover what I need and just the essentials. The pre-wired piping helped the contractor install the system quickly. I just wanted the basics and this will cover that. AP Electric had a great deal.

---

Just what I need

Product Review Rating:

5

/5

Posted by Ricky Holt on May 11, 2015

AP Electric helped me choose the perfect home standby generator. All I needed were the basics and the Generac Guardian 6518 does just that. Great deal on the generator, and excellent service from my local installer.

---

Glad I waited

Product Review Rating:

5

/5

Posted by Thomas Penner on May 04, 2015

I was going to buy a 7kw Corepower generator last year and I'm happy I didn't at that time. Shortly after almost pulling the trigger Generac announced the new 7kw model that was more updated than the previous. I was trying for the longest to decide if I wanted the pre-wired or the other version. My contractor said to just get the version without the wires and he could make the whip himself. They really aren't that different in price either. I like this one because it's metal like the others so I don't have to worry about a farther distance from the house. On top of that I'm getting up there in age too so I wanted that wireless monitor. Don't know why the old one couldn't use it too. I got it for free during a promotion and generac doesn't charge you until after the first year so be wary of that. My son got a gen last year from generac and swore it was the best investment that he's ever made. I hope that whenever I lose power that I feel the same way since I only bought this for a few lights, my fridge, and sump pump.

---

Small powerful generator

Product Review Rating:

5

/5

Posted by Gary Emerson on Apr 16, 2015

We bought the Generac 6518 to back up the basics. Our fridge, sump pump, some lights and a few other things are covered. The powerpact unit is small, and quiet. we hardly notice it is there. Until we needed it that is. It is nice to know that it is waiting there to do the job when called upon. The installer did a clean job and the sales people at AP were very helpful when we were choosing what model to buy. There was no pressure, they just wanted to help us get what would serve our needs. We would buy a generac again and we would definately buy from AP again.

---