Hurricane Zeta Landfall Expected Wednesday Near New Orleans
Oct 28, 2020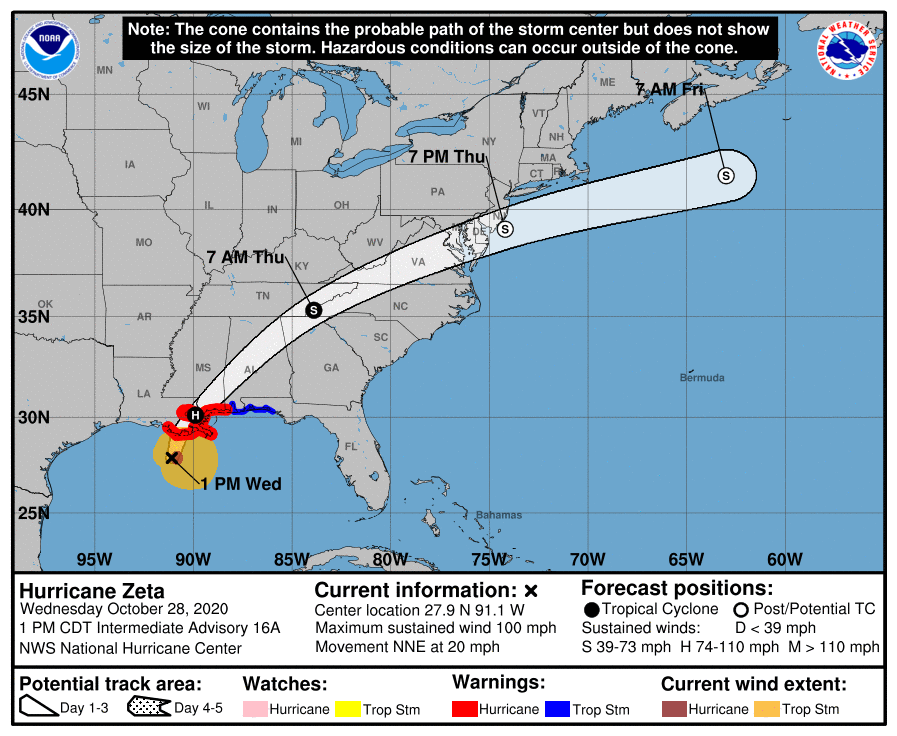 Click for Official Forecast
The citizens of New Orleans wait in dire anticipation of landfall of Hurricane Zeta just south of the city on Wednesday afternoon. A pump system failure in the area raises the possibility of severe flooding. Zeta is expected to be a Category 2 storm as it enters Louisiana.
A life-threatening storm surge and strong winds were predicted to begin around midday along the U.S. Gulf Coast.
The 2020 hurricane season has not been good for New Orleans, with the city experiencing two tropical storms and two hurricanes. Furthermore, it has been under warning for potential tropical cyclones seven times this year.
As Zeta approaches, New Orleans officials report that a turbine that powers the city's drainage pump system broke down on Sunday. It is not known when repairs will be completed. According to city authorities, there is currently enough power to run the pumps. But there is little excess power to tap if other turbines in the system fail.
The city is developing contingencies plans should power be needed and planning on making repairs were needed should there be other equipment failures.
Two to 6-inches of rain is expected to fall in the region. However, it appears that the city has caught a break with the storm expected to be relatively fast moving. The greatest chance for tornadoes is expected through Wednesday night over southeastern sections of Louisiana and Mississippi, southern Alabama, and the western Panhandle of Florida.
Early Wednesday, Zeta's winds intensified to 90-mph and its forward movement increased to 17-mph as the center moved north, about 265-mph south of the mouth of the Mississippi River traveling north-northwest at 17-mph.
Hurricane warnings extended from Morgan City, Louisiana to the Alabama-Mississippi state line and included Lake Pontchartrain and the metropolitan area of New Orleans. Tropical storm warnings were in effect for the western Florida Panhandle. Early-voting sites were forced to close for hours in three counties as a result.
According to the National Hurricane Center, the storm is expected to travel over Mississippi in the evening before bearing down on the southeastern and eastern states of the U.S. on Thursday.
Zeta is anticipated to lose its tropical features as it moves northeastward, it will still pelt the area with very strong winds and some snow on the backside of the storm as it reaches the Northeast on Friday.
As another hurricane targets the gulf coast, there is concern about people left homeless by previous storms. Louisiana is sheltering nearly 3,600 evacuees from Laura and Delta, most in New Orleans area hotels.
APElectric offers a wide range of stand-alone generators from such manufacturers as Cummins, Westinghouse, Kohler, Briggs & Stratton, Generac, Firman, and Guardian. They have a large inventory to choose from. Many models feature Wi-Fi so that you can monitor and control the generator from anywhere on Earth. Their website also includes a generator sizing calculator and offers information on how to select the proper generator for your situation.
Now more than ever it is essential that you be prepared. Call 847-516-8882 or visit www.apelectric.com and browse their supply of generators. Purchasing one can give you peace of mind during this record-breaking storm season.