Generac Guardian 6729 20kW Generator with 200A SE Transfer Switch
Generac Guardian 6729 20kW Generator with 200A SE Transfer Switch
Availability:
DISCONTINUED - AP Recommends Replacing with Generac 7039 20kW
26

product reviews
Average Product Review Rating:

5

/

5
PRODUCT DESCRIPTION
THIS PRODUCT IS NO LONGER AVAILABLE. SEE SUGGESTED REPLACEMENT(S) BELOW.
Have constant access to power with the Generac 6729 At the core of the 6729's 20,000 watts of success is its superbly engineered motor: the Generac OHVI®. With regular maintenance, it's designed to run for days, or even weeks, on end and provide steady power throughout. The combination of graphite piston inserts, specially designed cylinders and heat-reduction technology contributes to its exceptionally long life. The 6729's ability to provide steady power without distortion ensures that your appliances run smoothly and that your lights do not flicker. You don't even have to refuel it; it runs off a continuous feed of either natural gas or liquefied petroleum directly from your home. This is a nice benefit if it's 30 below outside with snow covering the ground. Even if your area is rated for low pressure of natural gas, the generator will still operate effectively at a pressure of an eighth-of-a-pound per square inch. Benefits and features of the Generac 6729 Unless your municipal building code requires it, the generator doesn't need to be installed on top of a concrete slab. It's also certified by the National Fire Prevention Association for installation within 18 inches of your home's outside wall, as long as your municipal code allows it. The 200A SE Smart Switch, model No. RTSR200A3, turns the on generator automatically during a power outage, and it also controls the flow of power into your home from the generator. Depending on the number of appliances you want to run at any given time, the Smart Switch will transfer or shed power loads between them to run most efficiently. Power outages sometimes occur during destructive weather events, and the enclosure, made completely of Galvanneal steel that protects the Generac 6729 generator is rated to withstand winds of up to 150 mph. It's also extremely rust-resistant and will keep water and snow from damaging the generator. The unit is extremely quiet and only runs at 63 decibels at a distance of 20 yards when operating at full capacity.
Features and benefits of the 6729 model generator include:
• Starts automatically for 24/7 continuous backup power protection
• Continuous fuel source from your home - LP or natural gas
• Digital controller with LED status and fault indicators
• Generac OHVI engine
• All-weather steel enclosure
• GFCI outlet
• Manufacturer's Warranty: 5 Year Limited
Easy-to-use, reliable power As far as ease of operation is concerned, the Generac 6729 offers you the ability to shift between liquefied petroleum and natural gas on the fly and to enter commands swiftly and easily using the color-coded, multi-line liquid crystal display. You can even check on the generator's operation from an Internet-capable cellphone or tablet if you have the applicable device for remote monitoring, which is sold separately. The 6729 comes with a five-year limited warranty, and the company provides its customers with technical support 24/7. The 6729 has received good to great reviews from both customers and industry professionals for its combination of ruggedness, simplicity and power.
TECHNICAL SPECS & DOWNLOADS

6729 Specifications Sheet


6729 Owner's Manual


6729 Transfer Switch Manual


6729 Installation Guide


6729 Warranty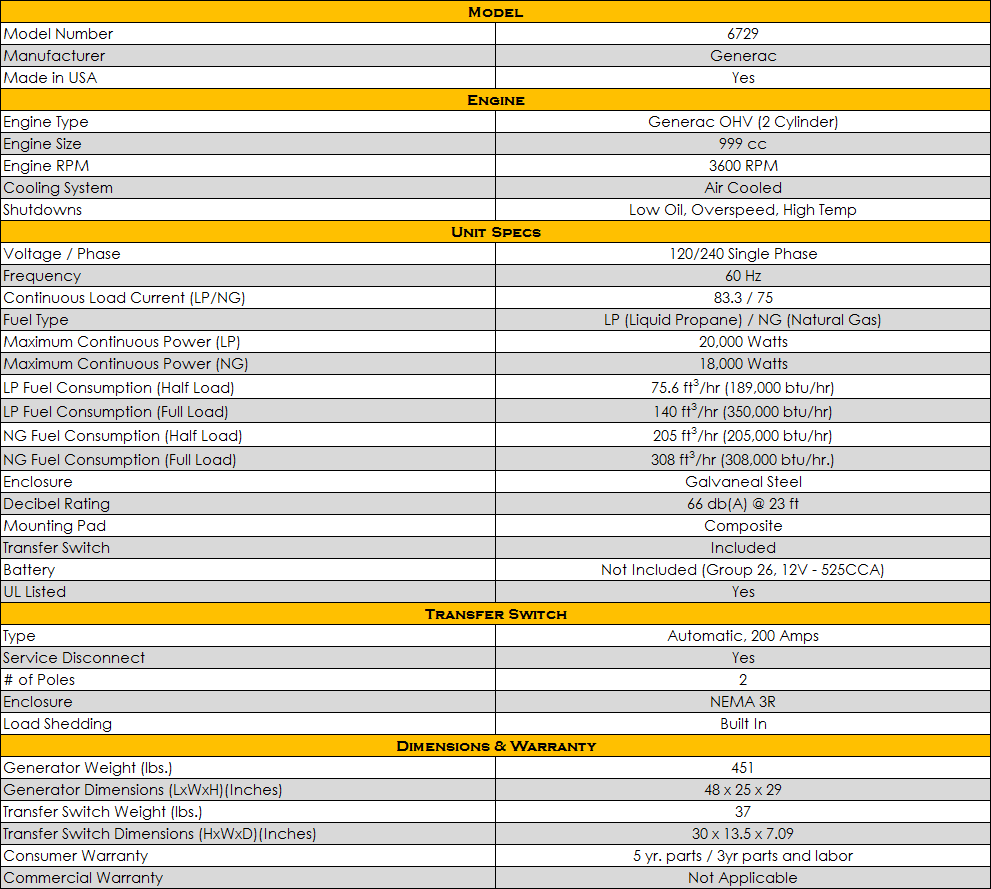 Product Videos
How Generac Home Standby Generators Work
00:37
How Generac Ho...

Control your power and your life with a Generac automatic stan...
Product Videos
Product Reviews
Write Review
Great Generator

Product Review Rating:

5

/5

Posted by Ted Jergen on Mar 30, 2016

We purchased this 20kw 6729 Generac generator about 3 months ago from AP Electric. Fast shipping and they had the best price. Two power outages since installation and the generator performed flawlessly. Very pleased

---

Perfect

Product Review Rating:

5

/5

Posted by Paul Langer on Dec 09, 2015

Very pleased with our purchase of the Generac 6729 with transfer switch. Arrived quickly with great tracking.

---

Quick Ship Arrived in 2 days

Product Review Rating:

5

/5

Posted by Jay McGuire on Dec 03, 2015

Not bad AP Electric. Shipping 1500 miles from you location and I ordered on Monday and arrived on Wednesday. Great job. Excellent service. very pleased with my purchase of the Genearc 6729. Keep up the good work.

---

Pleased

Product Review Rating:

5

/5

Posted by Greg Hoffman on Nov 20, 2015

Our Generac 6729 has been installed now for about 3 months now so I decided it was time to write a review about experience. AP Electric was easy to work with and performed perfectly in getting the generator to us. No issues on the installation front. Does the generator work? Generator works great. Experienced 2 small power outages in the last 3 months. One was for 1 hour and the other was for 4 hours. Generator performed great. Generator fired right up and power was restored in seconds. We are now the envy of our neighborhood. Great purchase and glad that we bought the generator.

---

Great Generator and Great Service

Product Review Rating:

5

/5

Posted by M. Lawerance on Jul 06, 2015

There is only one name in the home standby market that you should consider and that is generac. There is a reason they are the biggest manufacturer of home standby generators. Product is extremely well built. AP Electric is very easy to do business with. This is not the first generator I have purchased from them. No issues either time. Best price on the net both time. Recommend

---

Very Pleased

Product Review Rating:

5

/5

Posted by James Harrigan on Jun 24, 2015

Very pleased with the purchase of this Generac home standby generator. Great value. Fast shipping and no sales tax. Saved a lot of money buying on line than from Home Depot. Pleased. Good work AP Electric

---

Generac 6729 Home Standby

Product Review Rating:

5

/5

Posted by John Langhoff on May 01, 2015

As always with a purchase of this amount I do a lot of research. After researching extensive and reading a lot of reviews it came down to buying either a Kohler 20kW or a Generac 20kW. I found AP Electric online and called them to ask questions. I spoke with Dom. Super knowledgeable and patient. I asked him which one I should by the Kohler generator or the Generac generator. He told me the were both excellent units. He did not push one brand or another on me just gave me the pros and cons of each unit. In the end I selected the Generac 6729 as it was a bit cheaper than the Kohler + it had gotten a lot of positive reviews. Fast shipping. Everything arrived as it should. AP electric provided excellent tracking of my shipment. Easy installation for my electrician. My electrician charged me about $2,000 for the installation. No significant power outages yet, but the generator goes through its weekly test cycle with out a problem.

---

Generac 6729 22kw Generator

Product Review Rating:

5

/5

Posted by Saul W on Mar 20, 2015

Power failures are not uncommon for us in New York. That last one lasted 4 days. I never want to live through that again so in the fall I ordered a home standby generator from AP Electric. AP Electric was more than helpful in helping me determine what size generator I needed and what brand I should buy. After hearing all the pro's and con's of each brand I selected a Generac 6729. I asked them if they knew any electricians in my area that were experts in generator installations. They gave me 3 names and I had 2 of them come out and give me a bid. I selected the low bidder and he come out and installed the generator. No power outages yet but the generator fires up every week to run through its test cycle. Amazed at how quiet these generators are I expected them to be much louder. Great experience working with AP Electric I would not hesitate to recommend them for your home standby generator needs.

---

Generac 6729

Product Review Rating:

5

/5

Posted by Unknown on Mar 20, 2015

We live in NJ where it seems power outages are a weekly occurrence. Contacted our electrician and suggested we buy the generator from AP Electric as they would deliver the generator directly to us and that would be much easier for him. He told us what model to buy. Called AP electric on Monday and it was delivered on Wednesday. Electrician installed the generator 10 days later. I had poker night last weekend and during the evening the power went out. Everybody groaned as we were sitting in the dark. About 8 seconds later the lights went back on and everybody said well at least it was a short one. I said look outside we are the only house that has lights on. I then told them I had a Generac Generator installed a couple of weeks ago. The bad news is the poker game broke up early because everybody else had to run home and deal with outage. Thank you Generac and AP Electric

---

Quick Shipping

Product Review Rating:

5

/5

Posted by Robert Hugg on Feb 19, 2015

Submitted on January 3, 2015
Quick and easy ordering and shipping. Very impressed with my new generac generator. Thanks everyone.


---

Arrived sooner than promised

Product Review Rating:

5

/5

Posted by edward kimball on Feb 19, 2015

Submitted on January 10, 2015
I was pleasantly surprised with quick delivery and turn around time of order, much sooner than promised especially with hurricane sandy impact


---

shows up exactly as promised, when promised. Nice job.

Product Review Rating:

5

/5

Posted by Rey on Feb 19, 2015

Submitted on February 4, 2015
20kW genset this time around. Its the 4th generator/transfer switch I've gotten via AP Electric. Again, no excuses, shows up exactly as promised, when promised. Nice job.


---

amazing!!!

Product Review Rating:

5

/5

Posted by Dwayne Weaver on Feb 19, 2015

Submitted on February 4, 2015
easy install n fired right up love this thing will never be without electricity again!!!


---

Great reputation

Product Review Rating:

5

/5

Posted by michael oneil on Feb 19, 2015

Submitted on February 7, 2015
since i got my generator i haven't had it installed as of yet but with its reputation i an sure it will be fine


---

So far so good

Product Review Rating:

3

/5

Posted by richard tippett on Feb 19, 2015

Submitted on November 1, 2014
So far so good. The hookup, only took place yesterday! You might send a prompt like this after 6 months, to get a better understanding. Best, Richard Tippett


---

Will buy from AP Again

Product Review Rating:

5

/5

Posted by bruce antonio on Feb 19, 2015

Submitted on November 20, 2014
was very pleased with your company will use you again


---

Good Communication

Product Review Rating:

4

/5

Posted by Leo Lake on Feb 19, 2015

Submitted on December 6, 2014
Good value& good communication. A little disappointed that I missed out on the free 6463 Generac-Guardian Mobile Link Wireless Remote Locate Generator Monitor by a few days and couldn't talk the rep into giving me one. I now realize that it was a Generac promotion but still.


---

I will buy from AP Again

Product Review Rating:

5

/5

Posted by danny rabalais on Feb 19, 2015

Submitted on December 9, 2014
Generator was shipped within 2 days and price was good. Will buy another one on next job...


---

This was a great decision

Product Review Rating:

5

/5

Posted by Joe M on Feb 19, 2015

Submitted on December 16, 2014
Purchasing this unit from AP Electric was a great decision. They worked well with me and help me with their knowledge of the unit. I ordered it on a Friday night and it was delivered to me by the next Tuesday morning; less than 96 hours. It's installed and appears to be doing it's weekly check. Adding the Mobile Link Wireless was a great decision; I receive emails and text monitoring the unit on an on-going basis; no need to go outside and open the unit to review the information screen. I am extremely happy with the entire process from buying it and having it ready when needed.


---

Easy installation

Product Review Rating:

5

/5

Posted by Joe Mann on Feb 19, 2015

Submitted on August 12, 2014
Easy to deal with and easy to install


---

Prompt Service

Product Review Rating:

5

/5

Posted by Bob Martin on Feb 19, 2015

Submitted on December 9, 2014
Prompt professional service. I needed the generator on short notice. I ordered on the weekend and had it the following Wednesday, flawless. Thank you!


---

Professional Service

Product Review Rating:

5

/5

Posted by Elias F on Feb 19, 2015

Submitted on October 11, 2014
AP Electric Generators sales people were professional. Chosen the right shipping company is something they may need to work on. I had trouble getting the generator as they had mentioned. After all, I am pleased.


---

Snap to Install

Product Review Rating:

5

/5

Posted by Douglas S on Feb 19, 2015

Submitted on September 11, 2014
This system is a snap to install. I have used several of them. The smart switch is a customer favorite. AP has the best price, period. Licensed electrician in NY.



---

Fast delivery

Product Review Rating:

5

/5

Posted by Michael S. on Feb 14, 2015

September 12, 2014

After ordering this unit on 8/28, it was delivered on 9/10. Unit arrived in excellent shape, I cannot say enough good things about the shipping company and driver. I will continue this review after this unit is installed.

---

Haven't used it yet

Product Review Rating:

5

/5

Posted by Fay W. on Feb 14, 2015

August 29, 2014

We haven't had to use it yet, but the test has been running fine as scheduled. We will give you more feedback after we have used it.

---

Fine so far

Product Review Rating:

5

/5

Posted by Boyd M. on Feb 14, 2015

August 28, 2014

Everything is fine so far. The self test ran nicely. Hopefully, it will remain in an insurance mode.

---