Generac Guardian 6720 11kW Generator
Generac Guardian 6720 11kW Generator
Availability:
DISCONTINUED - AP Recommends Replacing with Generac 7031 11kW
8

product reviews
Average Product Review Rating:

5

/

5
PRODUCT DESCRIPTION
THIS PRODUCT IS NO LONGER AVAILABLE. SEE SUGGESTED REPLACEMENT(S) BELOW.
Keeping the power turned on The advantages of installing a backup generator go beyond the satisfaction of having your home's lights and appliances working when power outages occur. If your region experiences frequent power failures that last for hours or days, then your generator will allow you to stay in your home when your utility-based power is out. Power outages can cause basements to flood if you're using a sump pump to keep it dry. These power outage situations can also cause you to lose access to your security system and power-operated medical equipment in addition to heating, cooling and kitchen appliances.
Product features:
• Starts automatically for 24/7 backup power protection
• Continuous fuel source from your home – LP or natural gas
• Digital controller with LED status and fault indicators
• Generac OHVI Engine
• All-weather aluminum enclosure
• Manufacturer's Warranty: 5 Year Limited
The ins and outs of your Generac generator The machine supplies backup power, so your home's appliances, furnace and air conditioning unit will continue to function during an outage. Since the generator has an OHVI engine, it is strong enough to power up a standard air conditioning unit as well as electronic devices and key appliances. Generac's generators function with reduced levels of harmonic distortion to keep your sensitive electronics safe. The unit can also be installed only 18 inches away from your home. In fact, third party certification experts have approved the generator's installation location near your home. Just make sure that it is set away from windows, doors and fresh-air intakes. Also, check your region's local property codes to ensure compliance with all regulations. What technology is included? Generac's OHVI engine provides enough power to keep your home operating normally for several days, or even weeks, when power outages occur. The company manufactured the engine to operate in generators. For added durability, the company included a heavy-duty powder-coat finish. This makes the unit able to withstand corrosion, so the Generac Guardian 6720 11kW Generator is perfect for coastal climates where the salty air is tough on your home's exterior elements. The device's finish can also hold up against 150 mph wind speeds. Generators help keep your home safe and the power on. For additional peace of mind, Generac staffs service agents 24 hours a day and seven days a week. Customer service representatives are available 365 days a year to help you at any time of need.
TECHNICAL SPECS & DOWNLOADS

6720 Brochure


6720 Specifications Sheet


6720 Owner's Manual


6720 Installation Drawing


6720 Warranty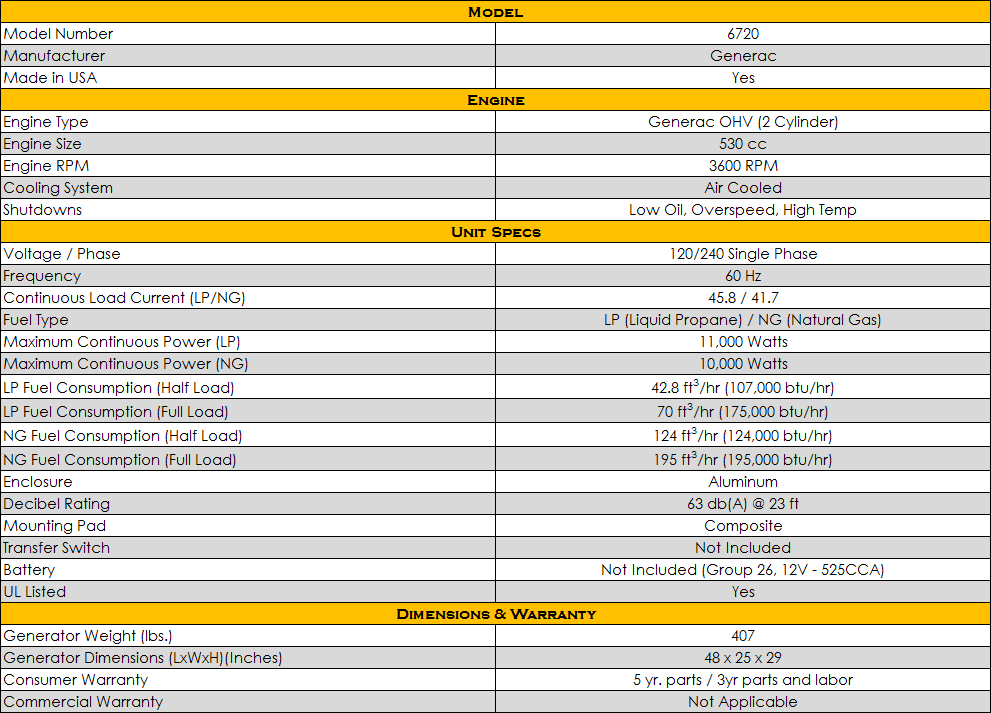 Product Videos
How Generac Home Standby Generators Work
00:37
How Generac Ho...

Control your power and your life with a Generac automatic stan...
Product Videos
Product Reviews
Write Review
Generac Guardian 6720 11kW Generator

Product Review Rating:

5

/5

Posted by Ted Brunning on Aug 13, 2015

Great generator. I did not need all my circuits powered in the case of a power outage so this was an economical solution for me. Works fantastic. Two power outages so far and power was restored in about 5 seconds. Great service from AP Electric. Recommend this home standby generator and AP Electric.

---

Works when you need it

Product Review Rating:

5

/5

Posted by Unknown on May 28, 2015

We had the Generac 6720 and a 150A transfer switch in stalled May 2014. Every week the generator runs through the exercise cycle as supposed to. Last week, power failed due to a storm, we waited about 10 seconds, and the generator started and supplied power as expected. It was nice to have the whole house running, while every home around us sat in the dark. This generator worked flawlessly during our last outage. This generator is terrific, especially for the price. I would by from AP Electric again.

---

I'm too old for this

Product Review Rating:

5

/5

Posted by Unknown on May 28, 2015

We had used a portable generator when we had power outages. I decided that I am too old and I didn't want to keep going through the hassle of getting up in the middle of the night to get the generator hooked up and started.

The installation of the new unit was straight forward and my local electrician had no problems. It does its weekly test, so I know it will be ready when we have another power outage. I would recommend your company to others looking for a home standby generator.

---

Dependable power

Product Review Rating:

5

/5

Posted by Unknown on May 21, 2015

This a very dependable product that has very easy to use features. It is a very easy product to maintain and take care of. I take solace in that there are many Generac Service dealers if I need them, but so far we have not. So not only is Generac a great product but the dealers are also trained and stand behind the products.

---

Quiet security

Product Review Rating:

4

/5

Posted by Unknown on May 21, 2015

I had been considering a whole house generator for some time and I finally decided to proceed with the project. I bought the 50 amp transfer switch, which was ready to hook up without any significant problems. You will need to confirm that you have the space for the transfer panel and that your gas meter will supply the necessary volume at the right pressure, but other than that it's a straight forward installation. Our power was recently out for four days and we didn't even notice. We even sent power to our neighbors to keep their food cold and their basement dry. Great product would do it again.

---

Glad we bought it

Product Review Rating:

4

/5

Posted by Harry T. on May 11, 2015

Went through power outages from Sandy and the snowstorm after her. Used a gasoline portable. Running cords, and filling the gas tank was a lot of work. Never again. Decided to go all in and purchase this Generac 11KW home standby generator. So far so good. Tests perfect. Engine runs strong and pretty quiet when the top is closed. Hasn't been battle tested yet but I feel confident it will get the job done. Got it on sale. Paid with a check for an additional discount. Pretty happy with the purchase

---

I like grey

Product Review Rating:

5

/5

Posted by Hank Backus on May 07, 2015

Plain and simple is I picked this one over the steel because of the color, The beige would look really ugly on the side of my house and I care about that. Of course I needed an air-cooled backup generator for my home, but I also needed it to not be ugly. I didn't mind spending the extra money to get this color on the 11kw model opposed to going with the steel 11kw generator. Say what you want about me I don't care because I am quite enthused with the purchase. Can't wait to have it sitting on the side next time the power goes out.

---

Helped me with my choice

Product Review Rating:

5

/5

Posted by Colby B. on Apr 27, 2015

Let me tell you if you decide to purchase a generator be prepared to do your research. In my part of NY (Long Island), all these electricians want to rip you off by marking up the products, installation, and giving very little information as to why. Took me about six months of going back and forth to choose between Generac and Kohler. I spoke with a rep at AP who helped me a lot in my decision to go with the Generac 6720 generator. One of my main concerns was having the gen as long as possible. I was told that the aluminum would last longer than steel since it will rust eventually. I found a guy out here who was reasonably price and now it's installed. Thanks AP for not trying to only make the sale. I feel very confident in my choice.

---