Generac Guardian 6552 22kW Generator
Generac Guardian 6552 22kW Generator
Availability:
DISCONTINUED - AP Recommends Replacing with Generac 7042 22kW
20

product reviews
Average Product Review Rating:

5

/

5
PRODUCT DESCRIPTION
THIS PRODUCT IS NO LONGER AVAILABLE. SEE SUGGESTED REPLACEMENT(S) BELOW.
Generac Guardian generator delivers the lowest cost per kilowatt The Generac Guardian 6552 22kW Generator provides affordable standby power that could see your family through a natural disaster or long-term power outage. If you live in a remote area, a backup generator is essential, but standby power is also useful for any home. You can install this versatile generator as close as 18 inches from your exterior walls unless the all-weather aluminum enclosure blocks vents, windows or air intakes or violates local building-code regulations. The generator runs on LP or natural gas and comes with a five-year limited warranty. You always get expert customer service 24/7 every day of the year from the company's headquarters in Wisconsin.
Appealing features of the generator include:
• Starts automatically for 24/7 backup power protection
• Continuous fuel source from your home - LP or natural gas
• Digital controller with LED status and fault indicators
• Generac OHVI Engine
• All-weather aluminum enclosure
• GFCI outlet
• Manufacturer's Warranty: 5 Year Limited
The lower costs of an air-cooled generator Liquid-cooled generators cost more, so you save money with an air-cooled model. As the largest air-cooled home standby generator, the Generac 22kW model supplies enough power to run an average home of 2,500 square feet or less. If you own a larger home, you can still use this generator to power the most essential circuits. You won't have to worry about issues like electric shocks because the generator is compatible with protective GFCI outlets. You can also control, test and monitor the system from your computer, tablet or smartphone, and switching from LP to natural gas only takes a few seconds and doesn't require tools. Generac standby generator raises the bar for backup power The Generac Guardian works with gas pressure as low as 3.5 water column, and the generator's enclosure resists coastal climates and 150 mph winds. You can test the 22 kW generator on your own schedule, weekly, biweekly or monthly, and the self-test runs at lower RPM to save money and conserve fuel. Amazingly versatile and easy to install, the Generac 22kW model comes equipped with a composite pad that allows it to be installed without a concrete base (unless required by local building codes). You can install the system on the composite mounting pad, which is impressive when you consider that it's the largest air-cooled home generator available.
TECHNICAL SPECS & DOWNLOADS

6552 Specifications Sheet


6552 Owner's Manual


6552 Installation Guide


6552 Warranty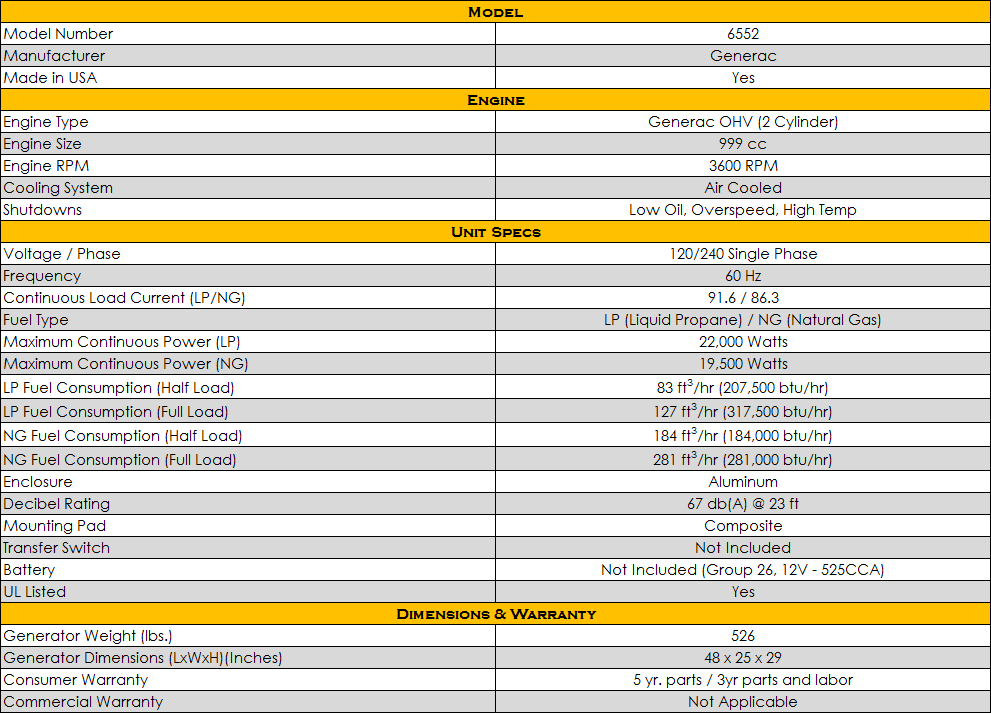 Product Videos
Generac 6551 & 6552 22 kW Guardian Series Automatic Backup Generator
01:22
Generac 6551 &...

Generac and AP Electric are pleased to introduce to you today ...
Product Reviews
Write Review
Great Gen

Product Review Rating:

5

/5

Posted by Tom Anderson on May 12, 2016

I ordered my Generac 6552 with 150amp transfer switch from AP Electric in March. Electrician had no issues with the installation. Performs flawlessly. Highly recommend both the Generac 6552 and AP Electric for purchase.

---

Just what I needed

Product Review Rating:

5

/5

Posted by Mary on Dec 17, 2015

Great purchasing experience from AP Electric & Generator on my Generac 6552 20kW generator. Great technical support when making the purchasing decision. I was there during the installation and my electrician had a quick question about the installation. I told him I received free life time technical support with my purchase and told him to call AP Electric. He called they answered his question on the spot and installation went off without a hitch. Perfect.

---

Generac Guardian 6552 22kW Generator

Product Review Rating:

5

/5

Posted by James K. on Dec 07, 2015

Everything went smoothly with my purchase. Thanks

---

Great Gen

Product Review Rating:

5

/5

Posted by R. Lonkin on Dec 03, 2015

Great experience on my purchase of a Generac 6552 from AP Electric. Smooth transaction arrived in todays. would order from APElectric again.

---

nice generator

Product Review Rating:

5

/5

Posted by Mark on Nov 10, 2015

set up and installation is very easy
nicely built generator

---

Perfect

Product Review Rating:

5

/5

Posted by G. Lane on Oct 23, 2015

Very happy with my 6552 generator. Arrived fast. Loved the no tax. Pleased

---

Happy with Purchase

Product Review Rating:

5

/5

Posted by R. Riemer on Oct 14, 2015

I am very happy with my purchase of the Generac 6552 22kw generator. it was easy for my electrician to install and works perfectly. Very satisfied

---

Great Standby Genertor

Product Review Rating:

5

/5

Posted by T. Miller on Oct 07, 2015

Very satisfied with the service I received from AP Electric and my Generac 6552 generator. I also purchased the transfer switch from AP electric. Generator arrived in 2 days and my electrician had no issues in installing it. No significant power outages yet. But I am ready.

---

Fantastic

Product Review Rating:

5

/5

Posted by R. Dohmann on Oct 02, 2015

The Generac 6552 22kW is a fantastic generator. We are very pleased with our generac generator and the service we received from AP Electric

---

Great Unit

Product Review Rating:

5

/5

Posted by Chip Lange on Jul 01, 2015

I purchased this Generac 6552 22kW home standby generator about 5 months ago so I thought it was time to write a review on how satisfied I am with my purchase. Technical support in choosing this generator was outstanding. It powers up everything I need and you did a great job in assisting me sizing the generator and selecting the appropriate transfer switch for my application. My electrician had no issues installing and it works like a dream. I ordered the concrete mounting pad which worked well for my location. Perfect experience.

---

Generac 6552 22kw home standby generator

Product Review Rating:

5

/5

Posted by Peter Hayman on Jun 18, 2015

This is a fantastic home standby generator. My electrician recommended both this home standby generator and AP Electric. Electrician said he will only install Generac generators. AP Electric was running a sale so I was able to save a few hundred dollars on the purchase. Delivery was prompt. Works great.

---

Great Generator Generac Guardian 6552 22kW Generator

Product Review Rating:

5

/5

Posted by Richard Wagner on Jun 09, 2015

As this was an expensive purchase for me I researched extensively. It came down to Kohler or Generac. I called a couple of online stores but their technical support was terrible. Called AP Electric and spent 30 minutes on the phone with them. These guys really know their stuff. Bottom line is that I went with Generac instead of Kohler because I got an addition 2kW in power for less than the price of a Kohler 20kW generator. I don't know why anybody would pay more for less power. Ordered and it arrived in 2 days. This is a beast. Electrician had no problems installing. It was actually an electrician AP Electric recommended. AP's recommended installer was extremely professional and $345 cheaper than my lowest bid. We simulated a complete power outage and everything was back up and running in my house in under 10 seconds. Wow. And I mean everything was powered up. Extremely satisfied with my purchase.

---

Generac 6552

Product Review Rating:

5

/5

Posted by Robert Guyman. on Jun 04, 2015

Great product and great service from AP Electric. I had been thinking about buying a generator for about a year now. I wanted a generator that would power up my whole house. When I had sized my generator it appeared that I needed a 22kw generator. When I looked for 22kW generators most of them were liquid cooled and as such very expensive. When I checked again Generac came out with a 22kW air cooled generator that was must less expensive than the liquid cooled 22kW generator that they also manufacture. Finally I a 22kW generator that fit my budget. I called my electrician to confirm the sizing of the generator. He was amazed that there was a 22kW air cooled generator. I shopped for the lowest price and found your guys. I confirmed the sizing of the generator calculations with you. Ordered the generator on Tuesday and it arrived on Thursday. Electrician installed it the next week without a hitch. Excellent product. One brief power outage of only about 90 minutes. Generator fired right up and I was back in business. Very pleased with the entire transaction

---

Generac 6552 for home

Product Review Rating:

5

/5

Posted by Regan Whitney on May 09, 2015

Before I placed the order with AP I called up Generac. I wanted to make sure you were a legit company with all of the fraud that is going on in the world. I also wanted to find out from them how the hell they managed to make this generator air-cooled. I know they have the 22kw liquid-cooled, but it doesn't make sense to keep it when you have the air-cooled now. Of course they didn't answer my question. Everything about my order went very smoothly though. You shipped out the RTSY150A3 with the gen and it worked great. If I had known about the concrete pad I would have purchased it with the unit instead of having to pay the $100 extra for shipping it separate. Can you have someone call me? I have a few other questions about accessories.

---

Generac 6552 20kw Generator

Product Review Rating:

4

/5

Posted by Tim Hutchinson on May 05, 2015

All I can say is that I should have done it sooner. After experiencing several power outages over the last couple of years with the last outage lasting approximately 48 and a freezer of spoiled food and little water in the basement I was done. I want online to research and found AP Electric. I had a number of questions as I was unsure if the Generac 6552 was big enough to power my entire home. I was mainly concerned if it was big enough to get the central AC powered up along with everything else. John at AP spent a lot of time with me on the phone going over my power requirements. He then suggested that I double check with electrician to just be on the safe side. Verified with electrician and I was all set to go. Electrician wanted a specific transfer switch and that is why I went with the 6552 instead of the 6551. Ordered the transfer switch as well from AP Electric. I placed the order on the phone with John and it shipped that same day. Amazing. Ordered on Wednesday afternoon and arrived in my driveway on Friday morning. Unbelievable service. Generator is now installed. Way quieter than I thought it would be. No power outages yet. I am actually hoping for one to really see this puppy in action. Great piece of mind. Bring on the storms. Very happy with the service I received from AP Electric. John, thanks for all the help in ordering!

---

Generac 20kw

Product Review Rating:

5

/5

Posted by Thomas Miller on May 05, 2015

I am an electrician and I have been ordering generators from AP Electric for a couple of years now. Very few people do what they say. AP Electric does. After ordering probably 20 generators over the past few years I have only had one issue and that was not AP Electrics fault it was the shipping companies fault. I call AP on that issue they stepped right in and got the problem resolved within a couple of hours. I also had a customer once said that they found a generator cheaper somewhere else. I called AP to see if they could price match and they matched the price on the spot, actually beat the price by a few dollars. I mainly install generac home standby generators. Never had issue. Good quality product and competitively priced. I would not hesitate buying a generac generator or purchasing from AP Electric.

---

Biggest Air cooled I could get

Product Review Rating:

4

/5

Posted by Cliff Jenkins on May 01, 2015

The generac 6552 is the largest air cooled home standby generator available. That is exactly what we needed. The unit runs quiet and is powerful enough to cover all the electric needs of the house. We had to go with the generator separate from the switch because we needed a Non entrance rated switch. Overall, the whole experience has been good.

---

Easy Upgrade

Product Review Rating:

5

/5

Posted by Earle W. on Apr 15, 2015

I bought the 6552 to replace a generator that was undersized for my home. The Generac transfer switch from the old system was compatible and the install was a very simple process. The new generator is doing its weekly checks and seems to be fine. We have not had an outage yet, so it has not been tested. AP's Sales people were very helpful. They confirmed the new unit would work with my old transfer switch.

---

Looks to Be Good

Product Review Rating:

5

/5

Posted by Dale D on Feb 19, 2015

Submitted on November 23, 2014
Received and looks to be good



---

Love Dealing with AP

Product Review Rating:

5

/5

Posted by Jennifer M on Feb 19, 2015

Submitted on February 1, 2015
Fast delivery.
I have ordered from them for a few years and never any issues



---