Generac Guardian 6551 22kW Generator with 200A SE Transfer Switch
Generac Guardian 6551 22kW Generator with 200A SE Transfer Switch
Availability:
Discontinued - AP Recommends Replacing with Generac 7043
64

product reviews
Average Product Review Rating:

5

/

5
PRODUCT DESCRIPTION
THIS PRODUCT IS NO LONGER AVAILABLE. SEE SUGGESTED REPLACEMENT(S) BELOW.
Providing ample power in all situations.
If your house loses power, this generator is capable of delivering 22,000 watts of electricity in seconds. On average, the product's electricity has a lower price per amp than the power of other silent models. The device's durable enclosure is made of aluminum and features a coating that prevents corrosion. The Generac 6551 Guardian 22kW Generator with 200A SE Smart Switch can easily handle areas that are near saltwater, and the product will also withstand a buildup of ice. The machine is equipped with a ground-fault circuit interrupter, which is designed to protect users from electric shocks. This component can also cut the supply of power if water interferes with the flow of electricity. Furthermore, the machine features an LCD with color-coded buttons. This screen is able to generate messages in numerous languages.
The Generac 6551 engine and fuel
The generator has an OHVI engine, and many reviews have indicated that this type of motor is substantially quieter than most engines. The distinctive design reduces or eliminates the buildup of carbon and notably lowers emissions. Due to the hydraulic valve lifters, you will not have to adjust the clearance of the valves. The motor's system also delivers pressurized oil to vital components, and the lubricant will generally reduce the temperature of the motor's bearings. The generator can utilize liquid propane (LP), and the device is also designed to use natural gas with especially low pressure. The electricity output typically has harmonic distortion of less than 5 percent. Consequently, the machine will never damage electronics that contain relatively fragile fuses. The device is able to automatically conduct a diagnostic test that lasts for approximately five minutes, and the 6551's engine will operate at a relatively low number of repetitions per minute during the automated evaluation. The generator can complete these tests monthly or weekly and you can decide when you want the unit to perform its exercise cycle.
Features include:
Starts automatically for 24/7 backup power protection
Continuous Fuel Source from your home - LP or natural gas
Digital controller with LED status and fault indicators
Generac OHVI Engine
All-weather aluminum enclosure
GFCI outlet
Manufacturer's Warranty: 5 Year Limited Installing and monitoring the device
According to NFPA regulations, the Generac 6551 may be placed 18 inches from a house if the device is not near any doors, windows or vents (subject to local building codes). If you would like to streamline the process of installing the product, the product comes with a composite mounting pad, which will eliminate the need for a concrete mounting pad (subject to local building codes). In order to remotely monitor your system, you may elect to add the Mobile Link accessory which will allow you to monitor your generator from your mobile device or your computer. If you have any questions about the product or the installation, you can call Generac's 24/7 hotline.
TECHNICAL SPECS & DOWNLOADS

Specifications Sheet


Owner's Manual


Transfer Switch Manual


Installation Guide


Warranty


Installation Manual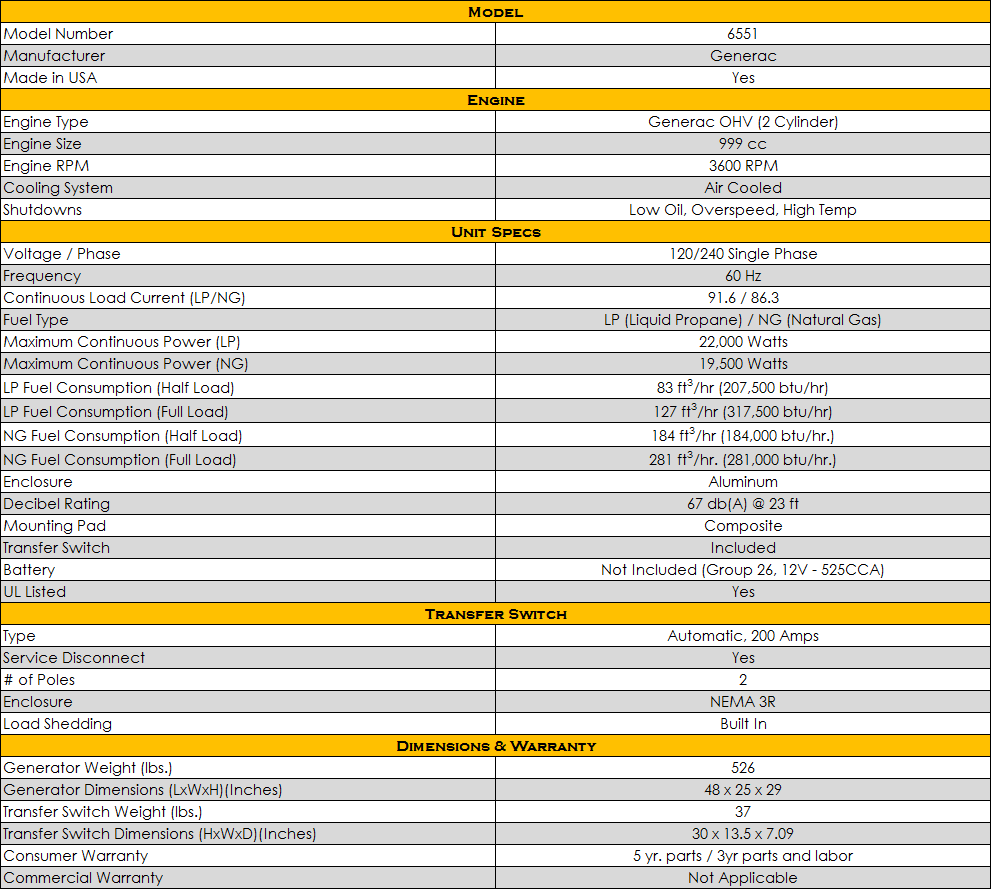 Product Videos
Generac 6551 & 6552 22 kW Guardian Series Automatic Backup Generator
01:22
Generac 6551 &...

Generac and AP Electric are pleased to introduce to you today ...
Product Reviews
Write Review
Showing reviews 1-40 of 64 | Next
Nothing but the best!

Product Review Rating:

5

/5

Posted by Jay on Jan 29, 2017

A plus product and customer service

---

Great Generator at a Great Price

Product Review Rating:

5

/5

Posted by Tim on Oct 19, 2016

Best price I found on this Generac 6551 was at AP Electric and I scoured the web. Shipped the same day I ordered it.

---

WHEN YOU CARE ENOUGH TO BUY THE VERY BEST

Product Review Rating:

5

/5

Posted by Jay on Oct 08, 2016

Great product, great price and the very best customer service. And who says there is no such thing as a perfect generator world ???

---

Great Generator

Product Review Rating:

5

/5

Posted by hal Owens on Sep 20, 2016

No Issues from order to deliver to installation on this Generac 6551 20kW generator. Satisfied and would recommend

---

Outstanding

Product Review Rating:

5

/5

Posted by B. Hargarten on Sep 20, 2016

First I received excellent customer support from AP Electric & Generators before my purchase of Generac's 6551 22kW home standby generator. Arrived as promised and my electrician said installed easily. One power outage since install. worked perfectly. Great Investment

---

Generac 6551 22kw Generator

Product Review Rating:

5

/5

Posted by B. Kiraly on Aug 23, 2016

Very pleased with purchase of the Generac 6551 22kW home stand-by generator from AP Electric & Generators. Great technical support during the buying process and even after the purchase. My electrician had an installation question and he called AP Electric and they were able to answer his question and trouble shoot the problem. Generator fully operational and performs great.

---

Great generator

Product Review Rating:

5

/5

Posted by Tony on May 17, 2016

This is the one to get. Should run your house just fine. Powerful engine. Easy to change oil and filter. Transfer switch works. Waiting for our first power outage.

---

Greater Generator

Product Review Rating:

5

/5

Posted by Charles W. on May 12, 2016

I bought this Generac 22kW generator in February while it was on sale. Arrived in 2 days which was mind boggling to me. I did a lot of research before purchasing my home standby generator. Generac was the best value by far. very pleased with my purchase and the service I received from AP Electric.


---

Great Generator

Product Review Rating:

5

/5

Posted by Tim Huston on Mar 30, 2016

The Generac 6551 purchased from AP Electric & Generators is fantastic. Arrived in 2 days and no issues with the install. We would recommend this 22kw generator and AP Electric.

---

Unbelievable

Product Review Rating:

5

/5

Posted by Lloyd on Mar 11, 2016

We had not had the opportunity se see our 22k Generator perform until last week. A tree fell because of the tremendous wind in our area and we lost our power. It started and performed perfect and then shut down as it should do when the electric came back on. We have 8 computers in our office and they worked just fine on it.

---

Great Gen Great Company

Product Review Rating:

5

/5

Posted by Robert Tellings on Jan 22, 2016

Only positives for me for my purchase of Generac's 6551 22kw generator. This company rocks. Ordered on Monday and the unit was here on Wednesday. Wow. It is now installed ready for the snow storm and high winds that my hit me this weekend.

---

Fantastic service.

Product Review Rating:

5

/5

Posted by Lloyd W on Jan 21, 2016

I never ever have received any better service from any Co. Their ordering was easy and simple and we received our machine in just a few days. We have not hooked it up yet so cannot Judge the machine but this company has to be the best.

---

Great Work Horse

Product Review Rating:

5

/5

Posted by Tom S on Dec 21, 2015

I am an electrician and have been ordering from AP Electric for about 4 years now. Never an issue. The Generac 6551 Generator launched in June of 2014. I have installed about 15 since that time and this is a great and reliable home standby unit.

---

Great Generator

Product Review Rating:

5

/5

Posted by Nancy jarvey on Dec 07, 2015

No issues at all with my purchase. Easy to order. Great support on the few questions I had before ordering. Shipped quickly with great tracking. Bought the unit on Sale. Very happy.

---

Generac 6551 22kW Generator

Product Review Rating:

5

/5

Posted by Andrew Wang on Dec 04, 2015

I don't know why anyone would purchase a 20kw generator when you can get a 22kw for about the same place and cheaper than other manufactures 20kw units. This is the value play by far. Pleased with the performance so far.

---

Generac 200 amp ATS

Product Review Rating:

5

/5

Posted by Par Electric on Dec 01, 2015

Excellent product. Large busses and cable connectors make it easy to connect all wiring. I have installed three this year. No problem on any of them

---

Can't Go Wrong

Product Review Rating:

5

/5

Posted by Tom L. on Nov 24, 2015

I am an electrician and have been using Generac products for about 15+ years. You can't beat the Generac 6551 22kW generator. It is a work horse. I install about 15 of these a year. I have never had an issue. In addition, I purchase from AP Electric and I have never had an issue with them as well. Good trustworthy organization. Recommend both AP Electric and Generac products.

---

Perfect

Product Review Rating:

5

/5

Posted by Hal on Nov 19, 2015

The Generac 6551 is a great generator. Works perfectly and met our expectations. Super fast shipping.

---

Great Generator

Product Review Rating:

5

/5

Posted by Terrance James on Oct 15, 2015

Like most of the other reviews this Generac 22kw is simply a great generator. Probably the vest value on the market as you get a 22kw for the price of other manufacturers 20kw units. One power outage for approximately 6 hours since installation and the unit preformed perfectly. AP Electric was easy to work with and the shipping was only two days

---

Powerhouse

Product Review Rating:

5

/5

Posted by Ted Powell on Oct 14, 2015

Very pleased with my Generac home standby generator. AP Electric did a fantastic job assisting me with my purchase and it arrived in 2 days.

---

Fantastic Generator

Product Review Rating:

5

/5

Posted by Ralph Lombness on Oct 07, 2015

I am very pleased with my purchase of the Guardian 6551.My biggest decision was what size unit to get for my house. As i talked to my electrician it became apparent the installation cost was going to be same for whatever unit I purchased. With that in mind I decided to power up the whole house and selected the Generac 22kW generator. It has been installed for about 4 months now and works flawlessly. Very happy to have back-up power and piece of mind.

---

Great Generator

Product Review Rating:

5

/5

Posted by T. Fergman on Oct 02, 2015

The Generac 6551 is a great 22kW generator. You will not go wrong purchasing this unit nor from purchasing from AP Electric. It arrived in 2 days. Great Service.

---

I can't believe I waited so long

Product Review Rating:

5

/5

Posted by McB on Sep 27, 2015

I've wanted a generator for 15 years, but I didn't want to spend the money. We are on the end of the line for electrical power and loose power several times a month. Over the years, many thousands of dollars of food and appliances were replaced. I called Generac, they were very helpful. They referred me to a Generac professional. They came out and determined which model to install - we went bigger. 24 hours after the unit was installed, we lost power, about 10 seconds later the generator was on and running. I should have bought one years ago! I would have been thousands of dollars ahead!

---

Generac 6551 and AP Electric Fantastic

Product Review Rating:

5

/5

Posted by Thomas Miller on Sep 24, 2015

I just wanted to pass along a quick note on how pleased I was with your service and the purchase of my Generac generator. I spent a lot of time on the phone with technical support people over a 2 week time period before I made my purchase. You have an extremely professional team. They were always able to answer my questions. The unit shipped very quickly as it arrived in 2 days. it has been in operation for about 4 months now and works like a dream. Highly recommend AP Electric.

---

Best Price on the web

Product Review Rating:

5

/5

Posted by Jack Mueller on Aug 03, 2015

Wow you had the best price by far on this Generac 6551. shipped same day and had in 2 days. Now waiting for my electrician to install this beast.

---

Happy

Product Review Rating:

4

/5

Posted by D. Oliver on Jul 10, 2015

I ordered the 6551 and it arrived in 2 days. Happy.

---

Best Home Standby Generator on the Market

Product Review Rating:

5

/5

Posted by Carl Kimberly on Jul 08, 2015

Great technical support, fast shipping (arrived in 2 days) and the best price on the web for this generac 22kW whole house generator. Can't think of anything you could have done to improve the transaction. Nice work!

---

Great Price

Product Review Rating:

5

/5

Posted by Paul Finkle on Jun 29, 2015

My 22kW Generac air cooled home standby unit arrived in perfect condition. Great tracking and arrived within 2 days. Satisfied with the customer service and my purchase.

---

This is one great Generator

Product Review Rating:

5

/5

Posted by Tim Morrison on Jun 26, 2015

Wow, not often are expectations exceed but they were with the purchase of this Generac 6551 20kW generator. First, you had the best price. Second I got a 22kW model for the price of the competitors 20kW. Third, your technical support was beyond outstanding. My electrician had one little problem during the installation. He called you and you were able to quickly diagnose the problem for him. shipped same and no tax. I am recommending you to my friends.

---

Easy 22kw generator

Product Review Rating:

5

/5

Posted by Albert Nizzola on May 07, 2015

Struggled a little with the whole email confirmation thing that you do here. After I got past that though, it was a breeze. The next day I got the tracking number and next thing I knew the deliverer was calling me. Even though he didn't have to but the driver helped me move the gen to my concrete pad. Great experience from beginning to end. Hope it lasts me the rest of my life. In the event that it doesn't I would gladly buy another from AP again.

---

Generac 22kw Generator

Product Review Rating:

5

/5

Posted by Thomas Miller on Apr 30, 2015

Excellent transaction. Folks at AP were easy to work with and answered all of my questions. Super fast deliver. I ordered the generator Tuesday after noon and it arrived Wednesday morning. I have wanted a home standby model for a long time and glad i finally pulled the trigger on one. I would highly recommend both Generac and AP Electric.

---

Best Price and Service

Product Review Rating:

5

/5

Posted by Connie Judd on Apr 07, 2015

We just purchased our Generac from AP Electric and the process was flawless. Great price and it was delivered to our door Free! Wonderful people to help with your purchase.

---

Generac 6551

Product Review Rating:

5

/5

Posted by Jim E on Mar 23, 2015

Best decision I ever made. I bought my Generac 6551 from AP Electric in October 2014. One of the smoothest online transactions I have had in a long time. I ordered on Monday and it arrived in my driveway on Wednesday. AP Electric provided excellent service and tracking of my delivery. My home standby generator has been installed for 4 months now. We have had 2 power outages since its installation and itperformed as advertised. Great investments

---

Generac 22kw Generator

Product Review Rating:

5

/5

Posted by Herschel A on Mar 19, 2015

My vacation house is in the hurricane belt (Florida) and while there was not much storm activity last year I figured I was just tempting fate. Ordered in the beginning of January. Easiest transaction ever. The generator arrived in 3 days and was installed the last week in January. No power outages yet but I know it is working as it goes through a test cycle once a week. It definitely has put my mind at ease. Great company to do business with.

---

Generac 22kW with transfer switch

Product Review Rating:

5

/5

Posted by John C. on Mar 19, 2015

I ordered my Generac 6551 online from AP Electric as that is what my electrician recommended. No issues at all. The unit actually shipped the same day that I order it (they provide great tracking information). You can tell AP Electric cares about its customers as they even called me to make sure that I placed the order and that my credit card was not stolen. Greatly appreciated that. Great company to do business with. It is installed and works perfectly.

---

6551 Generac

Product Review Rating:

5

/5

Posted by John V on Mar 19, 2015

Great purchasing experience. First off I had no idea what size I needed. I only knew that I wanted one that would restore power to my entire house in case of a power outage. The main reason I purchased the generator is that we sometime lose power once or twice a year and it is always seems to be in the summer when the temperature is in the 90's (we live in Georgia). It does not take long for our house to also heat up to the 90's on those days. Absolutely unbearable without the AC on. After talking with AP Electric they recommended the Generac 6551. It arrived in just 2 days. It was an easy installation for my electrician with no issues. We have not had to use it yet but at least this summer I am prepared. Great company to work with.

---

Generac 6551 Just What I needed

Product Review Rating:

5

/5

Posted by Joe M on Mar 19, 2015

I had finally had enough. After suffering through four (4) power outages in 2013 and two (2) in 2014 before I bought my Generac in the fall of 2014. It was delivered within 3 days from time of order and AP Electric technical sales support was outstanding. The unit was installed in November and we had power outages in December and February. The generator did exactly what it was supposed to do as it restored power to the entire house in about 8 seconds. I could not be happier with my purchase. Strongly recommend Generac and AP Electric.

---

Generac 6551

Product Review Rating:

5

/5

Posted by Jim R on Mar 19, 2015

I am an electrician I have been purchasing Generacs from AP Electric for several years now. Always great service and they always do what they promise. Refreshing. I used to order mainly Generac Model 6244. Last summer Generac came out with a 22kW air cooled home standby generator.since that release I have been recommending the model 6551 to most of my customers because it is a great value. No worries purchasing from AP Electric I have never had an issue. Highly recommend



---

Model 6551 22kW generator

Product Review Rating:

5

/5

Posted by Pam S on Mar 19, 2015

My husband was going to be traveling oversees for a couple months and we live in area where we lose power a couple of times a year. He left it up to me to get a generator as he didn't want me to be alone with the kids if there was power outage and he was gone. My husbands only instructions were to make sure I ordered one that would power up the entire house. I called an electrician and he said he usually has his customers purchase from AP Electric as they will deliver it right to our house and that makes it easy for him because they weigh 600 to 700 pounds. My electrician thought I needed a 20kW generator. I called AP Electric and they were fantastic. After talking to them they thought I needed a 22kw. They even offered to call my electrician which I had them do to discuss the sizing with him. Ordered the Generac 6551 and it was delivered in just a couple of days. The electrician installed it and it works perfectly. We have not had a power failure yet but definitely feel more secure knowing that I don't have to worry about anything when my husband is traveling. Great service from AP Electric

---

Generac 22kw Generator

Product Review Rating:

5

/5

Posted by Doug H on Mar 19, 2015

After losing power twice last year finally bit the bullet and purchased a home standby generator. Staff at AP Electric was extremely helpful in answering all my questions. I ordered on a Friday afternoon and it was sitting in my driveway Tuesday morning. Great communication from AP throughout the entire process. A week later I hired an electrician to install it. He was happy that I bought a Generac as he told me they were the best in his opinion. Installation went smoothly and fired right up went we went to test. My biggest surprise was how quiet it is. I was expecting it to make be a lot nosier that it is. Great service from AP Electric and now just waiting for an actual power outage.

---
Showing reviews 1-40 of 64 | Next