Generac Guardian 6459 16kW Generator
Generac Guardian 6459 16kW Generator
Availability:
DISCONTINUED - AP Recommends Replacing with Generac 7035 16kW
14

product reviews
Average Product Review Rating:

5

/

5
PRODUCT DESCRIPTION
THIS PRODUCT IS NO LONGER AVAILABLE. SEE SUGGESTED REPLACEMENT(S) BELOW.
Generac's backup generator keeps you safe at a moment's notice With modern technology, it's easy to know when a damaging storm will hit. What you can't predict is exactly when the power might go out. With a Generac Guardian 6459 16kW generator, you're covered any time of day or night. It starts automatically after a power interruption, and thanks to its low harmonic distortion, it operates continuously to keep your essential electronics running smoothly without surges.
Product features include:
• Starts automatically for 24/7 backup power protection
• Continuous Fuel Source from your home - LP or natural gas
• Digital controller with LED status and fault indicators
• Generac OHVI engine
• All-weather steel enclosure
• Manufacturer's Warranty: 5 Year Limited
Something else you can't predict is how long a power outage will last. It might be a few hours, or it could last several days. Generac's OHVI engine is designed to run much longer than many of its competitors, with the ability to power your whole house using our load-shedding switch, you'll have a reliable energy source to get you through the most severe outages. It can even provide backup for a five-ton air conditioner. Sturdy construction and simple operation bring peace of mind The Generac 6459 generator has a powder-coated, Galvanneal steel enclosure that's built to withstand all weather conditions, including 150-mph winds. If you live in a salt-air location, there's also an aluminum-enclosure option that will be recommended to you. Installation is easy with a composite mounting pad designed to eliminate the need for a concrete base, and comes packaged with a Smart Switch or pre-wired transfer switch. You'll also have great flexibility with the location of your installation. The generator can be placed as little as 18 inches from exterior walls and still comply with National Fire Protection Association (NFPA) standards subject to local building and zoning codes). Operating the 6459 is easy too. The intuitive Evolution Controller features an LCD text display and multilingual options that report status and fault indicators. Color-coded buttons with back-lighting increase ease of use, and there's also a separate option called a Mobile Link. With the Mobile Link accessory you can remotely monitor your Generac generator using your smartphone, tablet or computer for simple and convenient remote access. Versatility and performance The generator runs on either natural gas or propane from your home source, and it's rated for operation with low natural-gas pressure, down to 3.5 of water column. Even without tools, switching between gas and propane takes just a few seconds, and the Guardian also runs self-tests automatically on your preferred schedule. These Quiet-Tests run at lower RPM than regular, full function and only take a few minutes. They use little fuel, and as the name implies, they're quiet too. The Generac 6459 generator also comes with a five-year limited warranty for added protection.
TECHNICAL SPECS & DOWNLOADS

6459 Specifications Sheet


6459 Owner's Manual


6459 Installation Guide


6459 Warranty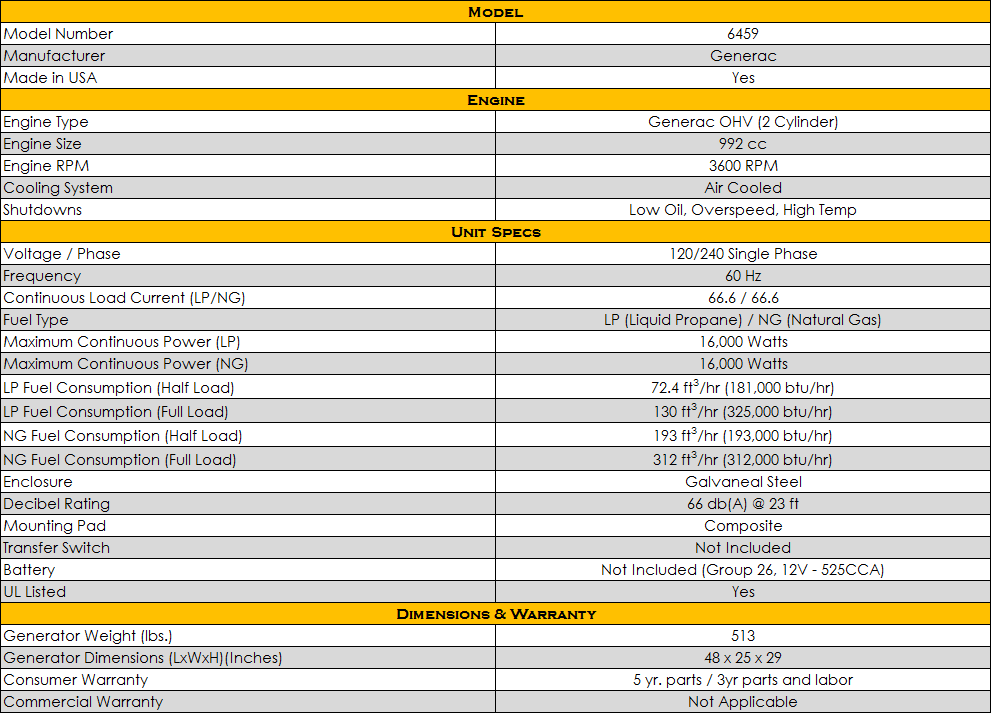 Product Reviews
Write Review
Solid unit but difficult to install and maintain

Product Review Rating:

3

/5

Posted by Clifton on Oct 14, 2016

The generac units are faily solid and Generac stands behind them with good warranty service.

Since the 16-17kW units have a 992cc engine, they last longer than the 20-22kW units with the same engine.

Generac units are not my favorite to install due to rough edges, sharp punched edges that cut you, cramped connection area and battery area that is to small to get a group 24 or group 26 battery.

You must disassemble the unit if you need to replace the starter, fuel valve and without the correct tools, the rear spark plug.

However, since Generac floods the market with advertising and infomercials, it is the name some people must have.

---

insalation

Product Review Rating:

5

/5

Posted by charles nowlin on Sep 23, 2016

every thing went very well with instructions.

---

Smart Investment

Product Review Rating:

5

/5

Posted by Tom Kindom on Apr 14, 2016

we love our Generac 6459 16kW generator. Arrived in 2 days and the delivery truck even brought it up to the top of the driveway. Works perfectly. One power outage since installation and it fired right up with out a hitch. Also AP Electric had the best price. Completely satisfied.

---

Great Generator

Product Review Rating:

5

/5

Posted by K. Oberdorfer on Oct 23, 2015

Bought my Generac 6459 on sale in July. Just had my first power outage. Not a long one but id did last 6 hours. The generator fired right up and restored power in seconds. Performed perfectly. Very happy.

---

Good Investment

Product Review Rating:

4

/5

Posted by W. Fowler on May 19, 2015

I run a business out of my home and without this I would be in trouble. The Generac Home standby generator is one of the best investments I have made as we lose power often. My basement used to flood, now I can leave and not fear the rain or flooding.
Thanks AP Electric for the safe, secure feeling I have.

---

Effortless protection

Product Review Rating:

5

/5

Posted by Sam Morris on May 19, 2015

We used to use a portable generator to keep power running in the house when there was an outage. The problem with that is you run cords everywhere, and keep gas around, and keep filling the gas tank. That takes quite a bit of time and effort. I travel quite a bit. It is not fun getting the phone call from Mrs. when the power goes out. After the generac 6459 was installed, I could not believe how well the switch and generator reacted to an outage, and how it handled the load. I highly recommend this generator and switch.

---

Love the security it brings

Product Review Rating:

5

/5

Posted by Victor H. on May 11, 2015

We have had our Generac 16kw home standby generator installed for about a year. It has covered our needs a few times, and has always done its exercise cycle. It has been a great insurance plan.

We bought the with the Mobile Link, so we are able to get feedback on the generator right on the phone or computer. It is a great feature.

Would recommend, and have to friends and family.

---

Fantastic

Product Review Rating:

5

/5

Posted by Heath Hudson on May 06, 2015

We bought this 16kw air-cooled generator as a back-up to our church here in Kenosha, Church of Christ. We're tax exempt so it was super easy to take care of that and we were even able to pick it up the same day. Joe in the warehouse was able to load up the trailer we bought really quickly and new thing you know we had it back where we needed it. Been meaning to get one for years so we finally all pooled our resources and got it. Thank God. If we need anything else we'll be sure to call. God Bless :)

---

Don't even know it is there.

Product Review Rating:

5

/5

Posted by Dean H. on May 06, 2015

Very happy with the Generac 6459 16K standby generator. This generator is one that you can buy and know you have purchased a very good quality generator, it handles the load with no problems. I know that this system will give me great service as the installers did a great job and you would not know that it was just installed. I do like the low noise level on this 16k Generac Home standby generator. AP Electric was great to deal with.

---

Easy install

Product Review Rating:

5

/5

Posted by Geoff Trueman on May 05, 2015

I bought the older model 12kw a couple of years back. Well it finally died on me so I started looking into a replacement with the new models. My transfer switch is in perfect condition so I didn't want to replace that. I called up AP and was directed to the model 6459 16kw Generac model since the 11kw was too small and the 14kw was discontinued. I didn't mind the extra cost at all so I placed the order the same day. I was even given a cold weather kit with it because of the managers special. The only issue I had was with the battery charger since it was different before until I spoke with John and Dom. They helped me figure it all out when my electrician was here and we got it installed. Thanks a ton. I would have been in some hot water without your technical assistance. I surely will come to AP again for my next air-cooled generator.

---

It just works

Product Review Rating:

4

/5

Posted by Richard W. on May 01, 2015

The 16k Generac generator has been very reliable. No problems with it, or AP Electric. We are happy customers.

---

Great mid-sized air cooled home standby generator

Product Review Rating:

5

/5

Posted by Delbert Pearce on Apr 30, 2015

After doing some research on home standby generators, we settled on the Generac 6459 16k generator. We are using natural gas and have the whole house backed up. The smart transfer switch will keep track of how much electricity the house needs and shut off the AC if it needs to. That feature allowed us to buy the 16 kw unit instead of a larger one. AP had the best price and great service.

---

Generac 6459

Product Review Rating:

5

/5

Posted by Dan K on Mar 26, 2015

I had been researching home standby generators for about a year before I purchased the Generac 6459 from AP Electric. I was torn between buying a Generac or Kohler home standby generator. I neighbor had purchased a generator from AP Electric last year and highly recommended them. I called AP Electric to start the process and had a lot of questions. My first set of questions centered around should I buy a Kohler or Generac. AP Electric's customer support representative was extremely knowledgeable and did an excellent job communicating the pros and cons of each manufacturer. What impressed me the most that he did not try to sell me one brand or the other but wanted to make sure that the generator that I selected was going to fit my application. Ultimately I selected the Generac 6459 16kW because it was just a better value in my opinion. I was able to get a Generac 16kW generator for about the same price as Kohler 14kW. This allowed me to be able to power up more things in my house when there is a power failure. I also bought the transfer switch from AP Electric. As an additional bonus they were running a special that I received a free mobile link accessory with the generator. While I don't know how often I will use the mobile link accessory it is nice to have the flexibility to monitor the generator remotely. Very pleased with the service I received from AP Electric. I order the generator on Wednesday and it arrived in my driveway on Friday. Would strongly recommend AP Electric and the Generac 6459 16kW generator. Great transaction.

---

Excellent Experience!

Product Review Rating:

5

/5

Posted by Thomas O. on Feb 14, 2015

Excellent buying experience. Very easy to make the purchase, delivery was simple and on time, generator arrived in perfect shape. Best of all I dealt with a LIVE PERSON THE WHOLE TIME!

Buying / shipping / taking delivery of a generator from AP Electric & Generators was easier than buying on eBay!

---