Tropical Storm Zeta Expected To Target Gulf States
Oct 26, 2020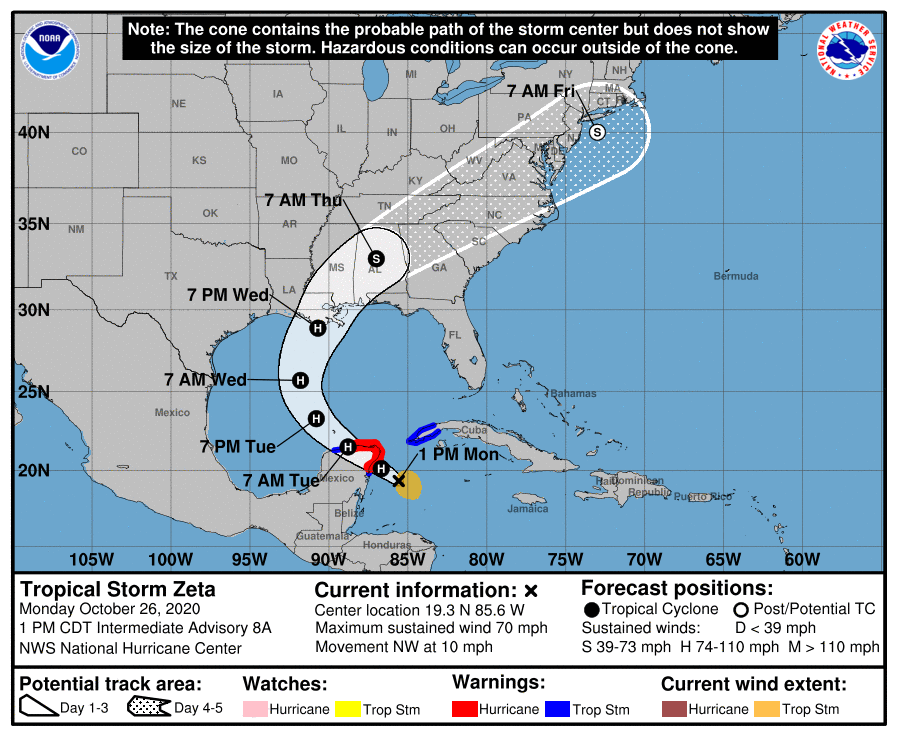 Click for Official Forecast
Tropical Storm Zeta is expected to reach hurricane strength by today, Monday, October 26 th and reach Category One Status. By Wednesday, October 28 th, it will be in the Gulf of Mexico where strong upper level winds are expected to weaken it somewhat before it crashes into the Gulf coast. Early indications are that it may hit New Orleans by Wednesday afternoon. The National Hurricane Center's forecast cone indicates that the place of landfall can be anywhere between southeast Louisiana to the western Florida panhandle.
If the forecasts are right, then the hurricane will be the eighth storm to make landfall at the Gulf Coast this season.
The latest hurricane season is the fifth in a row to have above normal activity. The normal number of Atlantic hurricanes in one season is 12.
Zeta formed before dawn on Sunday south of western Cuba This storm marks a record of 27 named storms in the Atlantic in one season. It is only the second time in history that this has happened.
South Florida has already been hit with two extreme tides and heavy rainfall that has caused coastal flooding and rough seas. Zeta is hundreds of miles from Florida while moist air that expanded northeast of the storm pelted South Florida, according to the National Weather Service. The extreme amounts of rain have caused weather forecasters to call for heavy flooding to occur when the hurricane arrives.
Street flooding has appeared in parts of South Florida including Boca Raton, Boynton Beach, Davie, Fort Lauderdale, Oakland Park and in other locations on Sunday.
It is expected that southern Florida and the Florida Keys will witness from 1 to 5-inches of rain during a 48-hour period, with isolated amounts of rain of up to 8-inches.
As of 11 a.m. on Monday, Zeta had sustained maximum winds of 70-mph and was moving northwest at 10-mph about 140 miles southeast of Cozumel, Mexico. The storm is expected to travel over the northern Yucatan Peninsula throughout the day, arrive over the southern Gulf of Mexico on Tuesday and making its way toward the northern Gulf Coast on Wednesday, according to the National Hurricane Center.
A storm system over Texas should nudge Zeta north toward the central or eastern Gulf Coast.
The storm is forecast to dump 2 to 4-inches of rain to as much as 6-inches days before it is expected to arrive on Wednesday. Tornadoes are possible on Wednesday from southeast Louisiana into southern Mississippi, southern Alabama and the western Florida panhandle, said the Weather Channel.
Four to 8-inches of rainfall, with isolated areas getting as much as 12-inches is predicted for parts of Western Cuba, the Cayman Islands, Jamaica, and the Northeast Yucatan on Wednesday.
The 2020 hurricane season has broken a number of records.
A record 10 named storms have made landfall in the continental United States. The previous record was nine in 1916.
Up to this season no hurricane named after a letter in the Greek alphabet has made landfall in the continental United States. Two hurricanes did that this year –- Beta and Delta. Zeta would be the third.
Hurricane Delta was the strongest storm to be named after a letter in the Greek alphabet. It became the fastest storm on record to intensify from a tropical depression to a Category 4 hurricane.
Tropical Storms Arthur and Bertha formed before June 1, the normal start of the hurricane season. This is only the second time in history two storms have developed before the season began.
September was when 10 named storms formed, a record for that month. The previous record for the month was eight named storms in 2002, 2007, and 2010.
On September 14, there were five tropical cyclones churning in the Atlantic Ocean at the same time, one short of a record.
On September 18, three named storms formed in a six-hour period – Tropical Storm Wilfred, Subtropical Storm Alpha, and Tropical Storm Beta. The only other time this had occurred was on August 15, 1893.
Severe storms are a threat across the United States throughout the year. So, it is essential that you be prepared no matter in what region of the country you live. And with thousands of Americans working at home on their computers due to the coronavirus, being secure from power outages has become even more important.
APElectric offers a wide range of stand-alone generators from such manufacturers as Cummins, Westinghouse, Kohler, Briggs & Stratton, Generac, Firman, and Guardian. They have a large inventory to choose from. Many models feature Wi-Fi so that you can monitor and control the generator from anywhere on Earth. Their website also includes a generator sizing calculator and offers information on how to select the proper generator for your situation.
Now more than ever it is essential that you be prepared. Call 847-516-8882 or visit www.apelectric.com and browse their supply of generators. Purchasing one can give you peace of mind during this record-breaking storm season.