Tornadoes Savaged Great Plains States Over The Weekend
May 15, 2023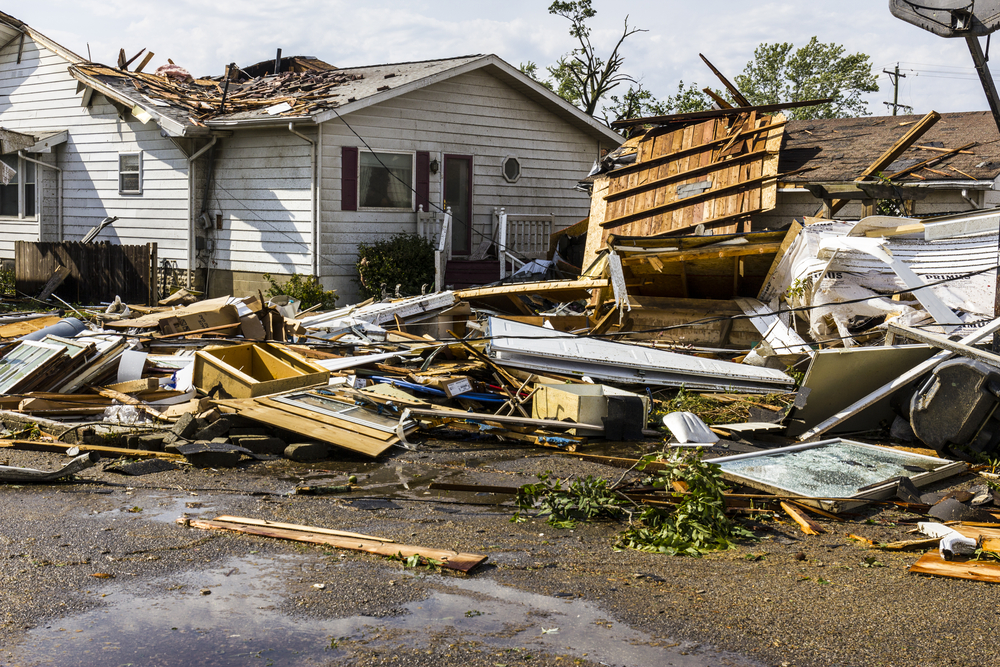 Tornadoes wrecked havoc in Oklahoma, Kansas, Texas, Iowa, the Mid-Missouri Valley, and Colorado over the weekend destroying homes, businesses and leaving thousands in the dark. At least 16 tornadoes were reported.
Laguna Heights, Texas got much of the worst of the storms as a tornado tore through the town situated near Brownsville, Texas early Saturday morning. The twister has been blamed for at least one death and injuring 10 who were taken to hospitals.
The twister hit Laguna Heights just after 4 a.m., according to the National Weather Service. First responders arrived to find that "multiple structures" received extensive damage and power lines were damaged causing some outages.
The National Weather Service reported that a storm survey team has rated the tornado a preliminary rating of EF-1 on the Enhanced Fujita Scale. It added that winds speeds were clocked at 86 to 110 mph.
Police in Port Isabel said that they stropped all traffic on Highway 100 and rerouted it away from the damaged area. The storm displaced many who sought shelter at the Port Isabel Event Center.
More storms were expected in Texas on Saturday.
Fifteen million Americans across the Plains were under threat from severe weather including tornadoes on Friday.
More than two-dozen tornadoes struck across the Plains Thursday and Friday, mostly in western Kansas, and central Oklahoma around Oklahoma City.
Some of the worst damage was said to have occurred in and around Noble, Oklahoma, about 30 miles south of Oklahoma City.
On Friday a tornado watch was issued for parts of South Dakota and Iowa. Tornadoes, hail, and wind gusts of up to 70 mph were expected. Damaging winds and hail was also expected through much of Texas, including Dallas, and Oklahoma City; Kansas City, Missouri; and Des Moines, Iowa.
Ten people were hospitalized in Cameron County, Texas.
Dozens of tornadoes struck northeast of the U.S.-Mexico border at Brownsville where tornado activity is uncommon. However, they have been active this spring.
The tornadoes left damaged areas in their wake along the Interstate 35 corridor. The system that spawned on Thursday was expected to generate more tornadoes on Friday. Level 3 out of 5 enhanced risk tornadoes were expected in the mid-Missouri Valley including Omaha Sioux, City, Iowa and regions along Interstate 29.
Meteorologists chased several tornadoes along Highway 40 between Weskan, Kansas and Arapahoe, Colorado. A storm chaser reported seeing eight tornadoes over a several-hour period.
Thunderstorms were expected in Texas and Oklahoma in wake of the twisters Areas that were given warnings included Oklahoma City, the western parts of the Dallas-Fort Worth region, Abilene and Midland-Odessa Texas.
Residents of the Denver area witnessed hailstorms on Wednesday, which led to the first Tornado Watch in the area in almost two years. An EF-1 tornado struck close to the Shreveport Regional Airport on Thursday morning, according to the National Weather Service. The NWS reported that several structures were damaged and that wind speeds were clocked at 80 mph.
Minor tornadoes were reported in Kansas.
Severe thunderstorms were predicted for the mid-Missouri Valley to the Rio Grande Valley in Texas. Harsh storms were projected for parts of South Texas.
A tornado watch was issued for much of eastern Nebraska and on into South Dakota and Iowa for Friday.
Severe weather was also threatening the Ohio Valley in the Central U.S.
A tree that was about 600 years old fell and crushed a house in Conway, Arkansas during the storms there. Fire department personnel rescued the occupant of the home.
The storms caused power outages with the worst being suffered by residents of Colorado (9,695), Texas (7,129), and Louisiana (5,594), according to poweroutages.us as of 11:30 AM Eastern Daylight Time on May 15, 2023.
Severe weather can strike anywhere in the United States with little if any warning. To feel secure against power outages that can occur due to them you might want to consider purchasing a standalone generator.
APElectric has a deep inventory of generators manufactured by some of the most popular companies in the country. Visit the company's website for more information and learn how to choose the best generator for your particular needs.