Ian Leaves Millions Floridians Without Power
Sep 29, 2022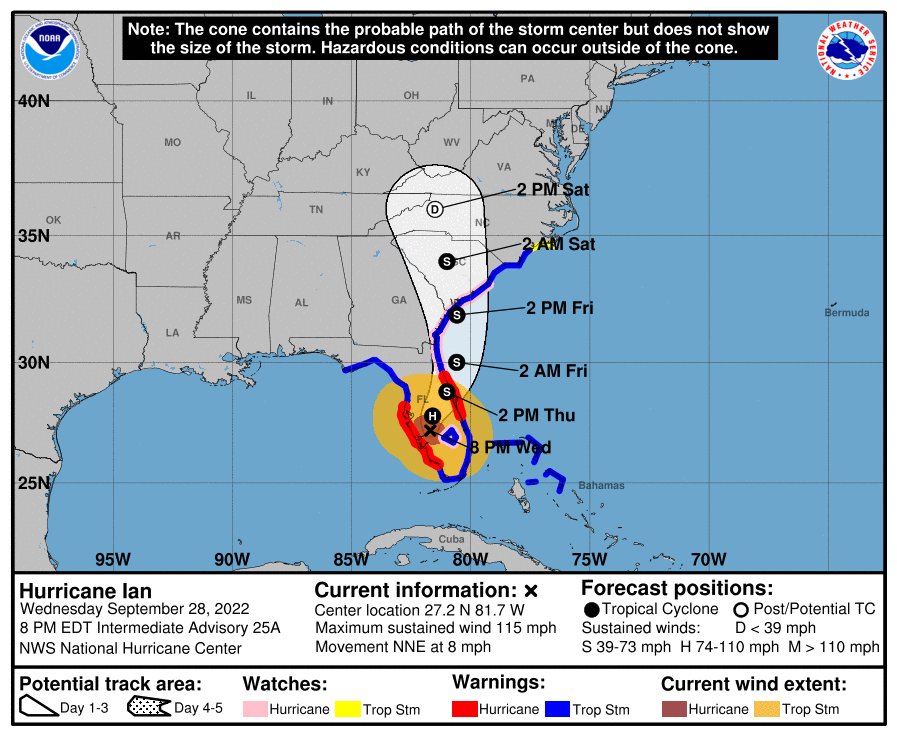 Hurricane Ian has left more than 2.5 millions of Floridians without power as it is downgraded to a tropical storm early Thursday. The storm is still considered dangerous as it continues to move through the state dumping raid and causing flash floods. More outages wee expected in the central and northeastern regions of Florida. Wireless carriers will waive fees, ensuring customers retain cell service amid the storm.
The storm made landfall on Wednesday afternoon, just after 3 p.m. EDT.
Governor Ron DeSantis has already claimed that the amount of water that's been rising and will continue to rise makes Ian impact a 500-year event. Lee and Charlotte counties are off the grid and the infrastructure would likely have to be rebuilt. He said damage to the counties was extreme. He added that first responders have arrived. The surge in responders includes 28 helicopters from both the National Guard and Coast Guard to assist in rescue missions. According to the governor, more air assets will be brought in as the day continues.
According to DeSantis, 100 portable cell towers were being delivered to Southwest Florida. Moreover, 100 engineers have staged on site to inspect bridges. He commented that structural damage to many bridges including the Sanibel Causeway and Pine Island Bascule Bridge.
DeSantis also noted that many hospitals that had been on generator power are in the process of being evacuating patients to safer locations.
Water is expected to subside in barrier islands and on the coasts, but standing water will likely remain inland for some days.
He concluded that the impacts of the storm are historic, but there has never been a flood event like this. He expects the floods to do extensive damage to a lot of homes.
Despite the gloomy early assessment, DeSantis said that most school districts would be able to re-open on Friday or Monday. There are some reports of hundreds of fatalities. During the storm, schools have been used as sheltes.
The Skyway bridge remains closed in the wake of the storm and the Florida Highway Patrol tweeted Thursday that several trees and debris were blocking approaches to the bridge.
President Biden declared that a major disaster exists in Florida and ordered federal aid to supplement recovery efforts that were impacted by the storm. The action makes federal funds available to affected individuals in the counties of Charlotte, Collier, DeSoto, Hardee, Hillsborough, Lee, Manatee, Pinellas and Sarasota. Assistance could include temporary grants for housing and home repairs, low-coast loans for uninsured property losses and other recovery programs. Federal funding is also available to state, tribal and eligible local governments and certain private nonprofit organizations on a cost-sharing basis for debris removal in the counties of Charlotte, Collier, DeSoto, Hardee, Hillsborough, Lee, Manatee, Pinellas, and Sarasota and emergency protective measures statewide.
Assistance for debris removal and emergency protective measures will be available for 30 days from the start of the incident period. Direct federal assistance is authorized at 100 percent of the total eligible coasts. Federal funds are also available on a cost-sharing basis for hazard mitigation measures throughout the state.
The storm's route shows it moving into the Atlantic as it leaves Florida and moving north for another possible landfall in Georgia or South Carolina. Some predictions say that Ian will affect states up the coast into Virginia.
As severe weather gets worse, it becomes more of a priority for families to rely on standalone generators to assure that their homes will not suffer a power outage. APElectric has a large in stock inventory of generators manufactured by some of the most popular generator companies in the country. Visit their website to review their stock and learn how to select the best generator for your situation.