Hurricane Nicholas Makes Landfall In Texas
Sep 14, 2021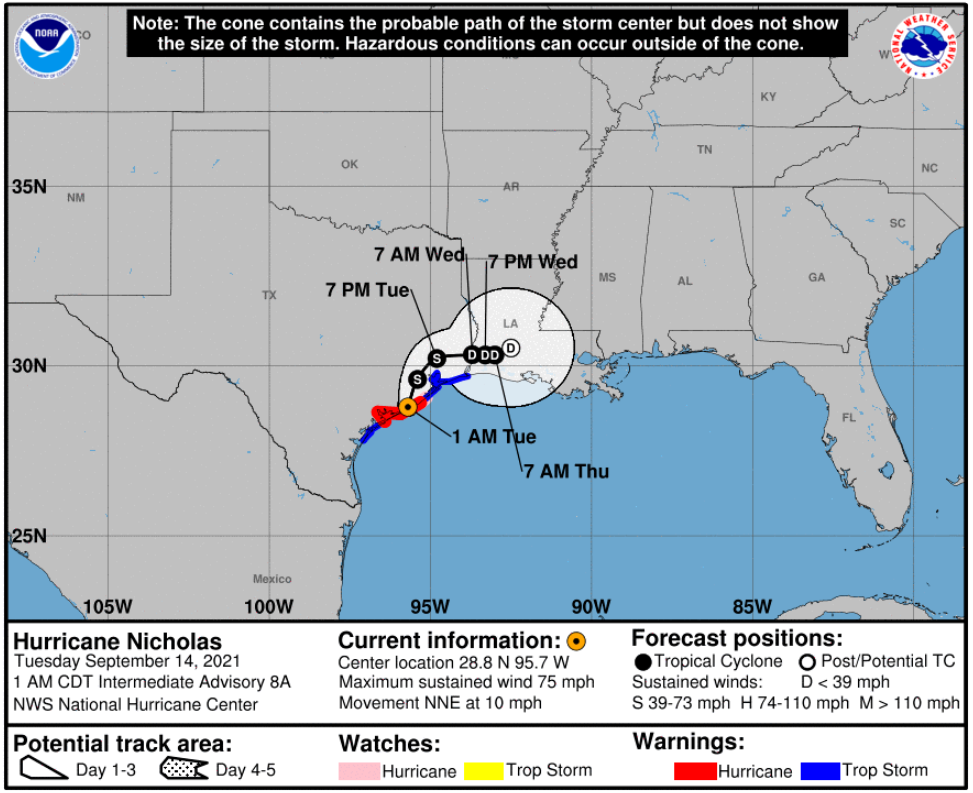 Tropical Storm Nicholas was classified as a Category 1 hurricane on Monday before it made landfall in east Texas on Tuesday morning.
The storm pummeled the Gulf Coast of Texas and Louisiana and threatened extensive flooding, power outages, and storm surges.
It made landfall about 20 miles northeast of Matagorda, Texas at about 1 a.m. central time and was traveling northeast with maximum sustained winds of 75 miles per hour, according to the National Hurricane Center.
The hurricane is expected to also affect Louisiana with blackouts as the state tries to recover from Hurricane Ida, which knocked out power prior to the arrival of Nicholas.
As of early Tuesday, more than 90,000 people in Louisiana and more than 230,000 in Texas confronted outages on early Tuesday.
Texas Governor Greg Abbott declared states of emergency in 17 counties and three cities.
Houston Mayor Sylvester Turner ordered flood warnings in the city and urged about 2.3 million residents to stay off the streets and highways and shelter in place.
The Houston Independent School District shuttered schools for Tuesday. Dozens of schools across Texas and Louisiana shut down on Monday.
The fourth-most populous city in the United States, Houston was swamped in 2017 when Harvey, a Category 4 hurricane slammed Texas and drenched the region with as much as 40-inches of rain and killed more than 100 people.
Using forecast models, the National Weather Service predicted up to 16-inches of rain in the coastal area of Texas, with 20-inches dumping on some isolated areas. The hurricane was moving northeast and was expected to wallop sections of south central Louisiana and southern Mississippi with up to 10-inches of rain.
The National Weather Service pronounced storm surge, flood and tropical storm warnings and watches as it called the situation a "life-threatening" condition.
Louisiana Governor John Bel Edwards warned that the state's drainage systems were still clogged with debris in the wake of Hurricane Ida and feared flash floods as a result.
The storm wasn't expected to be as bad as Hurricane Harvey only generating a fraction of that storm's rain. Still, a hurricane warning was announced for Port O'Connor to Freeport and a hurricane watch was issued for a region extending from Freeport, Texas west to the tip of Galveston Island. A tropical storm warning for Port Aransas to Sabine Pass, which included Galveston, San Antonio, and Matagorda bays, was also issued. A storm surge watch was in effect from Sabine Pass to Rutherford Beach, Louisiana.
Houston as traditionally been saturated with rain during hurricanes and tropical storms, so city officials feared heavy rains to strike late Monday and early Tuesday that could inundate the streets and flood homes.
Hurricane researchers at the University of Miami predicted that Nicholas would not be anywhere close to the strength of Hurricane Harvey.
Weather forecasters were mostly worried about the speed of Nicholas. In recent decades, storms have been moving slower. There is some expectation that Nicholas could get caught between two other weather systems.
Nicholas formed in the Gulf of Mexico on Sunday and immediately threatened the coastal areas of Texas, Mexico, and Louisiana.
Forecasters expected the storm to dump the heaviest rain west of the area in which Hurricane Ida smacked into Louisiana two weeks ago.
Hurricane Nicholas is the 14th named storm in the 2021 Atlantic hurricane season. Only four other years since 1966 has there been 14 or more named storms by September 12 – in 2005, 2011, 2012, and 2020.
Meanwhile, nearly 80,000 residents of Monmouth and Ocean counties in New Jersey suffered through thunderstorms. As many as 79,000 households lost electricity as a result.
Storms struck northeastern and Central Pennsylvania on Monday plunging thousands of people into darkness.
Top areas for outages on Tuesday, September 14, according to poweroutages.us included:
Texas 503,638
Louisiana 93,583
Pennsylvania 13,393
New Jersey 11,533
Residents of California continued to suffer power outages due to wildfires. As of Tuesday, there were 14,429 Californians experiencing blackouts.
Major natural disasters due to climate change have rocked the United States during 2021. No one expects things to get any better and many believe that it could get a whole lot worse. To avoid the discomfort of living through an electric blackout, you may want to consider purchasing a standby generator. Today's generators are designed to go on when power to your home or business is lost and have a whole lot of features including Wi-Fi that allows you to monitor and control the generator using your smartphone from anywhere in the world.
APElectric has a massive inventory of generators made by some of the most popular manufacturers including Cummins, Westinghouse, Kohler, Briggs & Stratton, Generac, Firman, and Guardian. For more information about the generators they carry and other information visit their website.
For complete forecast visit https://www.nhc.noaa.gov/