Close To 1 Million Without Power During Massive Winter Storm
Feb 24, 2023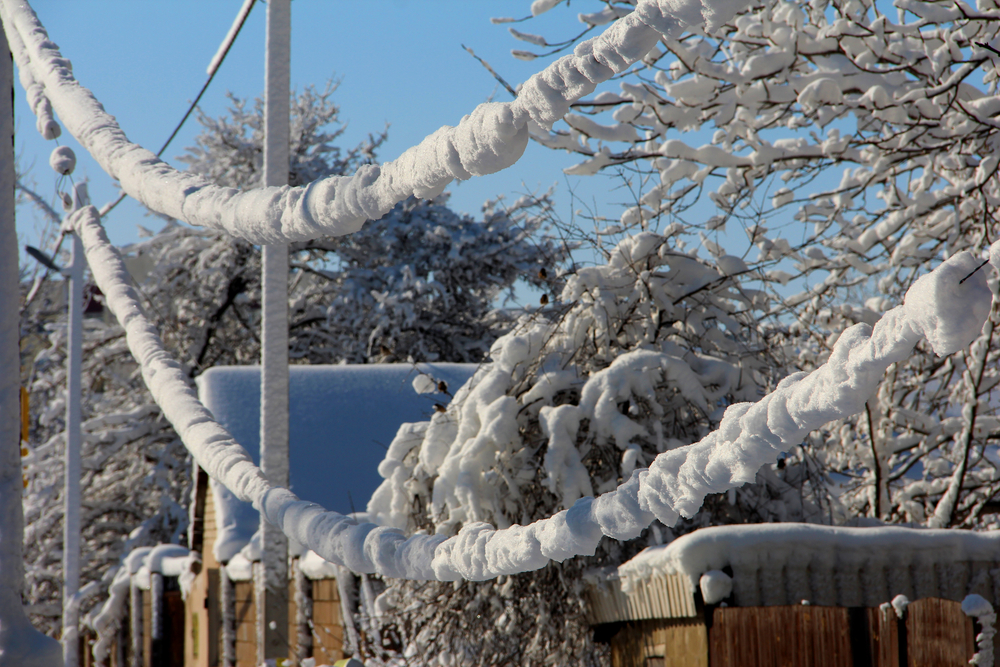 A massive winter storm that is affecting the U.S. from California through the Midwest is causing havoc and power outages for more than 995,000 people in five states on Thursday, including more than 772,000 in Michigan.
The National Weather Service has issued a first ever blizzard warning for San Diego and Los Angeles will also be affected.
Storms have already battered the Plains states and northern regions of the country for days and the National Weather Service forecasted continuing problems of ice, snow and freezing rain into the weekend.
Some of the largest cities in the Pacific Northwest including Oregon were confronted with nearly a foot of snow that was not expected. Drivers in Portland were taken by surprise with stalling traffic during Wednesday evening's rush hour that trapped motorists on freeways causing many to spend the night in their cars.
The snow was beginning to melt later in the day, but temperatures plummeted during the night making roads slick with black ice. Parts of Interstate 80 in California and Wyoming were closed including a section in the Sierra Nevada area of California and Nevada.
The storm caused power outages for about 1 million homes and businesses in several states and dozens of schools were closed. Airports in the region grounded more than 2,000 flights and 14,000 were delayed across the U.S.
Michigan suffered the most outages with more than 820,000 utility customers were without power. The worst of it was in the southeast corner of the state. Three thousand power lines were knocked down due to ice that was three-quarters of an inch thick.
Winter storm warnings were in effect in northern Michigan and segments of New England were expecting sleet, snow and freezing rain. The possibility of heavy rain causing floods and debris flow were expected in some areas that were burned by wildfires in recent years. Evacuation warnings were issued for Ventura County for areas that were thought to be unstable due to storms that hit the area last month.
The weather service predicted that temperatures might drop far below normal in the region.
More than 24 million people across more than 24 states were under blizzard, winter storm, wind chill and freeze warnings on Thursday, according to the National 'Weather Service. Another 49 million people were confronted with winter weather, wind chill and frost advisories.
The northern U.S. was hit hard earlier in the week. Schools and offices as well as the Minnesota Legislature were closed.
Meteorologists reported that 12.1 inches of snow fell in Canhassen, west of the Minneapolis airport.
The temperature was minus 7 degrees in Denver on Thursday and many schools were either delayed or canceled. In Cheyenne, Wyoming, the temperature fell to minus 11 degrees
Winds gusted up to 45 mph in Sioux Falls, South Dakota, reported the National Weather Service. The weather service warned that wind chills would drop as low as 30 degrees below zero, which can cause frostbite on exposed skin as quickly as 30 minutes.
It was predicted that segments of New York and New England could encounter up to 12 inches of snow into Thursday.
A winter storm warning was in effect for parts of New York and Vermont on Thursday. Total snow accumulation was predicted to be up to 12 inches.
Winter Weather Advisories were in effect for parts of northeastern Connecticut, central and eastern Massachusetts including Boston, and northern Rhode Island including Providence.
Winter Weather Advisories are in effect through today across portions of northwestern New York, including Watertown, Rochester, and Buffalo. The advisory was also in effect for northeastern Connecticut, most of central and eastern Massachusetts.
The highest snow accumulation was expected in northern New England, Northern areas of Vermont, New Hampshire and most of Maine.
In Arizona, nearly 180 miles of Interstate 40 was closed and state police in New Mexico shut down on-ramps in Gallup.
Temperatures were predicted to fall as low as minus 20 degrees on Thursday and to minus 25 degrees in Grand Forks, North Dakota. Wind chills could fall to minus 50 degrees.
Meanwhile, there were record-breaking warm temperatures in cities in the Midwest, mid-Atlantic and Southeast. Nashville achieved 80 degrees Fahrenheit, breaking a 127-year-old record for the date.
Indianapolis, Cincinnati, Atlanta, Lexington, Kentucky and Mobile Alabama also reached record-breaking temperatures. Areas east of the Ohio River and across the South were expected to reach records for high temperatures on Thursday including Washington, D.C., which reached 80 degrees, 90 degrees in Orlando, 83 degrees in New Orleans, 77 degrees in Louisville, and 86 degrees in Raleigh.
On the west coast, areas were expected to reach record low temperatures, including 49 degrees in Burbank, 48 degrees in San Francisco, 32 degrees in Portland and zero degrees in Billings, Montana.
According to poweroutages.com, on Wednesday the states with the highest blackout rates included:
California 96,331
Arizona 30,652
Arkansas 23,049
Texas 8,315
Florida 7,820
Louisiana 7,241
Mississippi 3,413
Alabama 3,616
Tennessee 3,003
Michigan 2,856
As of Thursday, the states with the worst outage rates included:
Michigan 820,139
Illinois 70,284
California 41,311
Wisconsin 39,340
New York 17,311
And, as of Friday, the worst outage rates included:
Michigan 727,631
California 125,491
Illinois 20,905
New York 13,811
Weather can certainly be freaky with snow blizzards in California, Arizona, and Mexico and heat waves in February in parts of the country that expect colder temperatures.
To be prepared for anything it's wise to consider purchasing a standby generator to assure that you won't be without power. APElectric offers a wide inventory of in stock generators from some of the most popular manufacturers in the country. For more information visit the company's website.