Generac PowerPact 6561 7kW Generator
Generac PowerPact 6561 7kW Generator
Availability:
DISCONTINUED - AP Recommends Replacing with Generac 6518 7kW or 6519 7kW
11

product reviews
Average Product Review Rating:

5

/

5
PRODUCT DESCRIPTION
THIS PRODUCT IS NO LONGER AVAILABLE. SEE SUGGESTED REPLACEMENT(S) BELOW.
Ensured 24/7 defense from inclement weather. A reliable standby generator has never been more affordable. With the Generac PowerPact 6561 7kW Generator property owners can protect their circuits without reaching too deep into their wallets. As an automatic alternative to portable backup power, the PowerPact 6561 can safeguard essentials such as well pumps, refrigerators and various appliances from power outages. When threatening storms hit, you won't have to worry about manually setting up the unit, refueling or running electrical cords. Owners will also appreciate that the PowerPact 7kW is much quieter than portable generators. Built with Generac quality While it may be the most affordable automatic unit on the market, this generator does not skimp on quality. With an engine that runs on existing liquid propane or natural gas, the PowerPact is easy to set up and incorporates many of the reliable features of Generac's popular Guardian Series. Built with True Power™ Technology, the unit offers less than 5 percent total harmonic distortion, which leads to smooth operation of delicate electronics and appliances. The compact 7 kW generator is housed in a durable steel enclosure that can withstand even the most rugged conditions. For your peace of mind, the unit has been third party certified to meet federal fire regulations. This means you can safely install it up to 18 inches away from your house exterior provided it is away from windows, doors and air-intakes (subject to local building codes). With its ease of use and reasonable price tag, this Generac product is a clear choice to defend your property from harmful power outages.
PowerPact 6561 features:
• Generac OHV engine designed for reliability and long life
• Quieter than a standard portable generator
• Digital controller with LED light status and fault indicators
• Three of the four sides are easily removable for simple service and maintenance access
• Truepower Technology delivers best-in-class power quality with less than 5 percent total harmonic distortion for clean, smooth operation of sensitive electronics and appliances
• Optional Mobile Link cellular remote monitoring system available from Generac that allows you check on your generator's status via computer, tablet or smartphone
• Free downloadable Mobile Link app available
• 3-year limited warranty
TECHNICAL SPECS & DOWNLOADS

6561 Brochure


6561 Specifications Sheet


6561 Owner's Manual


6561 Installation Guide


6561 Warranty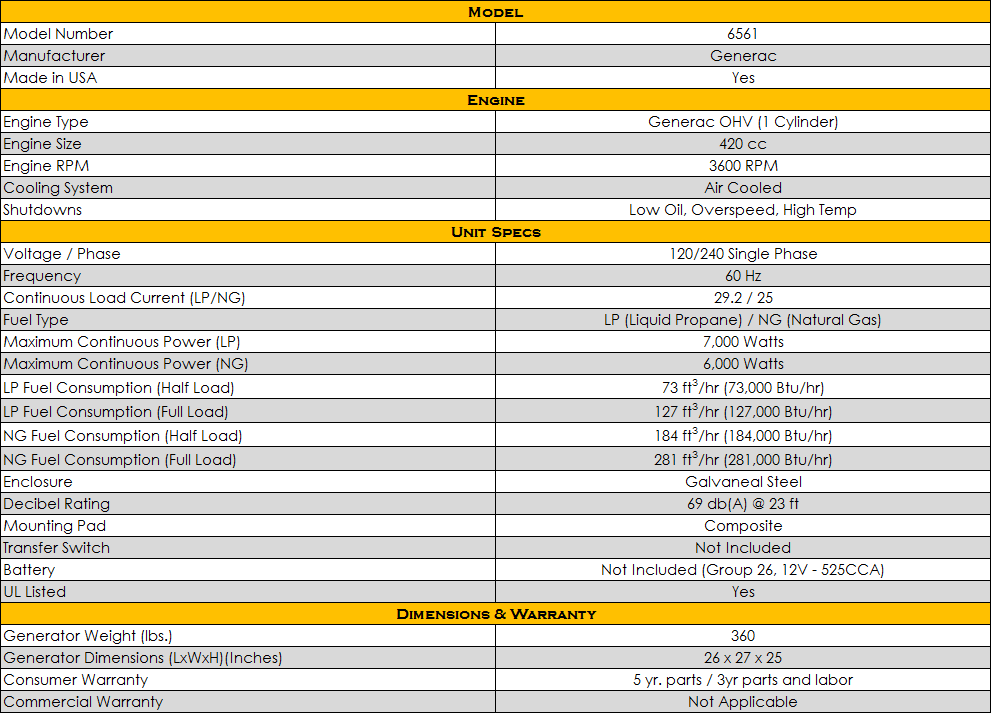 Product Reviews
Write Review
Great 7kw Generator

Product Review Rating:

5

/5

Posted by Paul Kenwood on Nov 23, 2015

Very pleased with my purchase of the Generac 6561 7kW home standby generator. Works great. Install was a breeze. Great price and shipped fast.

---

Bulk buy 6561's

Product Review Rating:

5

/5

Posted by Kay Ianson on Aug 04, 2015

You have some of the best pricing around on the Generac 6561 generators. You stock them too. So many people claim to have them in stock, but what they actually mean is that Generac has air-cooled generators in stock so they can order them. So shocked that you had four of these home standby generators in stock to ship out right away. I bought them for my customers, I usually recommend the Generac 7kw for anyone that only wants the minimum powered due to the price. It helps me make a sale when I can also offer them the 2% off by writing you a check. We'll do business again very soon APE.

---

Generac backs up their warranty

Product Review Rating:

5

/5

Posted by Ryan Causey on Jul 20, 2015

I bought this Generac 6561 generator and it sat in my garage for a few months until I was ready to install it. Since it's air-cooled and uses NG not gasoline I wasn't worried about anything. We finally installed it and the generator didn't work. I was so angry! How does that happen? I thought about it though and I suppose 1 out of 50 might do that since they are machines. Thank God that Generac generators offer a five year warranty so Generac stood behind that warranty. Turned out to be the control board so a Generac authorized technician ordered one and installed it. Didn't cost me a dime. After that I was sure I had made a good decision. This backup home generator has been a purchase I would suggest to anyone who loses power often like I do.

---

6% off the 6561

Product Review Rating:

5

/5

Posted by Leyla Prescott on Jul 13, 2015

I almost bought this generator the week before you ran the 6% off promotion. That would have stunk lol I waited just to see what your competitors might offer so I bought it as soon as you ran the promotion on your Generac generators. I could have gone with the 8kw instead of the 7kw generator that I went with. My power needs were only for 4kw which my electrician verified. The Generac Guardian 6561 7kw was plenty so I felt no need to spend the extra money. Simple install and it's up and running. So psyched.

---

Better than I thought

Product Review Rating:

5

/5

Posted by Neil Richmond on Jul 09, 2015

his is my best little gadget. I wanted a home standby generator since I can remember but it was too expensive. The Generac 6561 changes that. It is very affordable, and a great value. The build quality is right up there with more expensive generators. I finally got portable one a few years ago , but this is much better since it is connected to the house, and uses the natural gas.
Then I saw Generac on TV. I finally bought one since I started to hear many good things about it. And it was very affordable.

---

Smallest Air-cooled

Product Review Rating:

5

/5

Posted by Maureen Emmet on Jul 07, 2015

Decided it was time to get something small just to power the home in case of a power outage. The 6561 Generac air-cooled 7kw generator was the perfect choice. I refuse to get a portable because of the noise. My neighbor across the street has one that can deafen you easily. No I wanted something quiet. We went for a manual switch in case we're not home so the generator isn't just running senselessly. So far it's been an exceptional backup generator for our home. I heard good things about Generac Guardian generators on the internet so I'm pleased that the reviews were accurate.

---

Shipper was Late

Product Review Rating:

4

/5

Posted by K. Kelly on Jun 23, 2015

Went online then purchased this generator for our home. My husband is in the army so I've needed a lot of assistance after buying it to coordinate everything. I didn't know a transfer box was required with this model 6561 7kw Generac generator. Once I discovered this I had to buy one separately. Other than it's been simple. I've called several times with questions which where promptly answered. I like having a home standby generator since we have a little one on the way. You never know what can happen. The shipper was an hour late outside the window they gave me so that's why you get 4 stars. Fantastic job with everything else AP.

---

Great Customer Service

Product Review Rating:

5

/5

Posted by Ray Miller on Jun 18, 2015

I bought this generator because a local installer recommended you. After talking you with (John and Dom) I felt very comfortable about the order. I'm 64 years old so spending this kind of money for a 7kw generator on the Internet is a little worrisome. You made it easy by letting me fax the confirmation so thank you for that. Spoke with Dom several times about the differences in the air-cooled generators, liquid-cooled generators, and the diesel generators before talking about the difference in the Generac Guardian series and the Commercial series then finally the differences in the model 6518, 6519, and 6561. The installer already bought the switch so this is the perfect choice for me. Very happy.

---

Great Small Home Standby Generator

Product Review Rating:

5

/5

Posted by Todd Robinson on Jun 15, 2015

I was starting to think that Generac was going to discontinue the 7kw generators altogether. Fortunately they didn't and I bought this one from you guys. The 6561 was perfect since I wanted to install a slightly larger transfer switch than the one in the packages. Not sure which automatic switches are compatible with this newer style 7kw generator. I like the metal style enclosure for this one instead of the plastic on the old 7kw air-cooled generator. Also I like that it can use the current cold weather kit 6212.

---

6561 for order # 176921

Product Review Rating:

5

/5

Posted by Buz Abney on May 09, 2015

Purchased this generator off eBay just two days ago. Never interacted with this company before buying this from them. It's been a pleasant experience so far. The only thing I forgot to do was to get the battery for this 7kw model. Generac doesn't really make it clear that you need one for anything air-cooled so I will just get it locally.

---

Free Mobile Link for my 6561

Product Review Rating:

5

/5

Posted by Jerry Kynaston on May 05, 2015

The mobile link rocks. I didn't even know what it was until my electrician told me to ask about it. I travel a lot so this 7kw generator will just be sitting at my second home most of the time. We had bought another switch already so I did not need 2. I would not know what was happening there though living on the other side of the country. That is what scared me. What happens if I'm at my other home when this air-cooled generator has a fault or if the house loses power and just wastes gas running. With this I was able to avoid those issues completely. Generac sure does make some great stuff for a decent price. I wont have to pay for the subscription until after the first year so I can decide then if I want to keep it. All in all I'm pleased with my experience. I will not have to worry about about back up power for my home again.

---