Generac Guardian 6245 8kW Generator
Generac Guardian 6245 8kW Generator
Availability:
DISCONTINUED - AP Recommends Replacing with Generac 7029 9kW
14

product reviews
Average Product Review Rating:

5

/

5
PRODUCT DESCRIPTION
THIS PRODUCT IS NO LONGER AVAILABLE. SEE SUGGESTED REPLACEMENT(S) BELOW.
When you connect a Generac Guardian 6245 8kW Generator to your home's natural gas line or residential propane tank, you will hardly notice when power outages occur. Generac's generator delivers power automatically when its sensors detect a power loss in your home. In fact, the machine's detection system is sensitive enough to activate the generator within seconds of a power outage. The generator will continue to provide power until your utility company resolves the issue.
Product features:
• Starts automatically for 24/7 backup power protection
• Continuous fuel source from your home – LP or natural gas
• Digital controller with LED status and fault indicators
• Generac OHVI engine
• All-weather steel enclosure
• Manufacturer's Warranty: 5 Year Limited
Generac's Guardian Generator comes with an Evolution controller. This feature has an LCD display that is dual-line and multi-lingual. It allows you to monitor available functions of the generator. Exterior indicator lights and a built-in hour meter make the generator even easier to check and maintain. The Optional Mobile Link system lets you use a wireless device to monitor your generator. You can receive status updates from the system on your smartphone, computer or tablet. A third party service professional has certified the generator based on NFPA standards. With this certification, you can position the product as close as 18 inches from the exterior of your home (subject to local building codes). The generator must be away from windows, fresh-air intakes and doors. Under the hood Generac installs an OHVI engine in its Guardian Series Generators. The company knows that your generator may be called upon to provide power for several days or weeks. OHVI engines are developed and made in the USA. The company also manufactures them specifically for use in generators. Generac was the first to develop and engineer an engine specifically for use in a generator. A generator with an OHVI engine is reliable, and it will deliver power to your home consistently during major outages. With a Generac generator, you'll have a product that supplies best-in-class power quality. To earn this distinction, the company focused on decreasing the generator's total harmonic distortion or THD. As a result, the power source has lower peak currents and emissions. Since the generator's THD is less than 5 percent, it has less fluctuation and disruption. This feature ensures that your appliances and power sensitive electronics run smoothly when the generator is providing the power. Benefits of choosing Generac Power outages can occur at any time. Therefore, Generac makes sure that you have customer support whenever you call. The company keeps staff on hand at its Wisconsin headquarters 24 hours a day, 7 days a week, 365 days a year. The power source's sturdy, powder-coat finish ensures durability while the Galvanneal steel enclosure allows the generator to hold up in all kinds of weather including sun, rain, and even 150 mph winds.
TECHNICAL SPECS & DOWNLOADS

6245 Brochure


6245 Specifications Sheet


6245 Owner's Manual


6245 Installation Drawing


6245 Warranty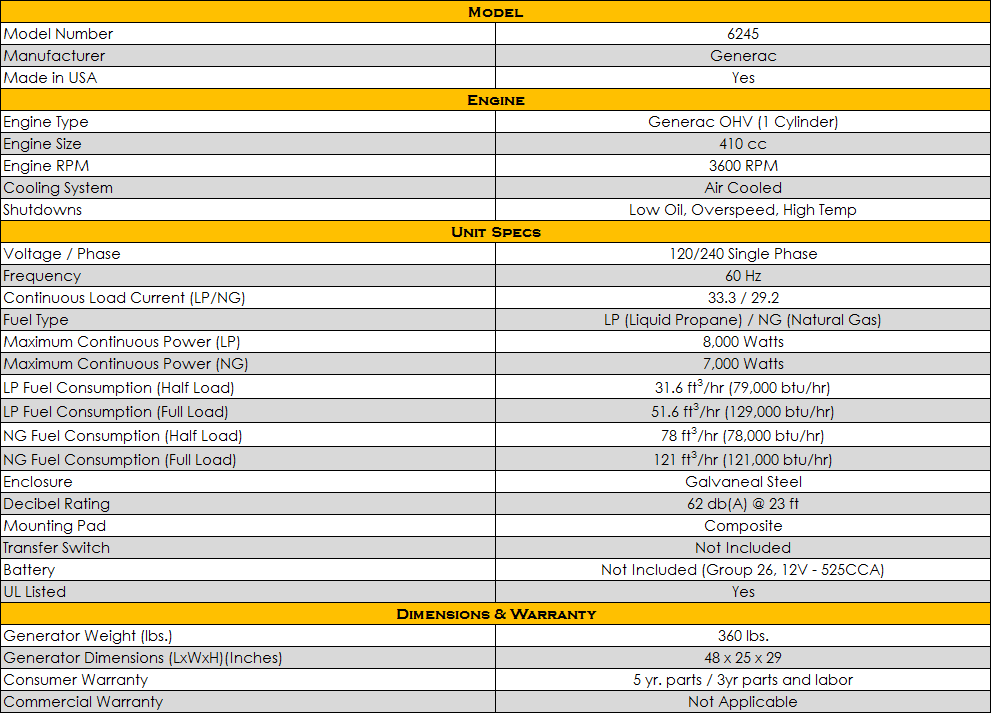 Product Reviews
Write Review
Generac 8 KW

Product Review Rating:

4

/5

Posted by Lee on Jun 25, 2016

Best price around. Quality is good.
AP salesman than helpful.
Instruction book was very clear in some areas and very brief in others.
Well packaged for shipment. Delivery driver was very helpful in a difficult place to unload.
Overall satisfied with the purchase.

---

Best Price

Product Review Rating:

5

/5

Posted by M. Michaels on Dec 17, 2015

AP Electric had the best price on this Generac 6245 8kW generator. Paid by check so I saved an additional $45 on the purchase. Arrived in only 2 days. Easy install. I would recommend purchasing the Gen Pad accessory as it saved time on the install not having to pour a concrete slab. Great tracking on the delivery. The delivery driver even brought the generator to the top of the driveway and put it the garage for me even though I was aware that it was curbside delivery. Great experience all round.

---

Rid of the portable

Product Review Rating:

4

/5

Posted by Rosaleen Atkins on Jul 07, 2015

My husband finally got tired of struggling to start up the portable generator and decided to get the 6245 generator instead. We already had the transfer switch though that was compatible according to the electrician. Best decision he could have made. At times in the winter starting an air-cooled portable generator could be hard so now switching over to a home standby air-cooled generator is so much better. The Generac 6245 is great for an old couple like us with the crazy Midwest weather we have yearly. Very convenient way of protecting ourselves as a backup generator just in case something happens unexpectedly.

---

8kw generator

Product Review Rating:

5

/5

Posted by Terence Rake on Jul 06, 2015

The Generac 6245 8kw generator fit my needs perfectly. A previous electrician didn't know what he was doing and completely fried my old transfer switch. When that happened I decided to replace everything so that there were no compatibility issues. People told me to go liquid-cooled. Screw that. I like air-cooled generators since they tend to be smaller as well as more fuel efficient. Perfect replacement thanks to Generac's amazing designing plus their commitment to their customers. In my opinion it is the best 8kw generator on the market.

---

Generac Guardian 6245 8kW Generator

Product Review Rating:

5

/5

Posted by Unknown on Jun 23, 2015

We wanted to power most of the house without powering everything since we have a 3-ton AC. That isn't important so we bought this Generac Guardian 6245 generator and the RTSR100A3. The electrician made a nice sub panel with half the home on it. As a backup generator you can't do much better than this for the price. 8kw is more than enough to keep our home from being completely in the dark.

---

Best Price.

Product Review Rating:

5

/5

Posted by Randall Lange on Jun 15, 2015

I bought the Generac home standby 8kw generator from AP Electric and had it installed. It was simple to have installed - added winter package easily myself. Also, the maintenance has been easily done myself. I shopped extensively for a generator and AP Electric had the best price. No problems with delivery, install or operation. Excellent purchase.

---

Best in the Business

Product Review Rating:

5

/5

Posted by Terry Bushman on Jun 11, 2015

The main reason for buying this generator is because we lose power a lot. With my travel this was the best option to make sure the family and house were taken care of. This is by far the best generator maker in the business today. I have not lost power YET, but I know that when we do the Generac with come through with flying colors. We have a 1500 sq ft. house and this will back up all the important things in the house. AP Electric came in with the best price. I now can sleep knowing that when a storm in coming our home will have power

---

No Complaints

Product Review Rating:

5

/5

Posted by Russ Hillman on Jun 10, 2015

I installed the Generac 6245 generator about 4 months ago after doing a fair bit of research. Since then, it got us through two power outages (> 12hrs each) without a hitch. Good solid home standby generator. Generac makes a good unit.

For maintenance all I have to do is to check the oil once in a while, easy. No complaints about this unit!

---

Generac 6245

Product Review Rating:

5

/5

Posted by J Worth on Jun 03, 2015

Great and easy transaction. Unbelievable customer support. Answered all my questions in a way I could understand. Thanks Dom. It has been installed for about 4 weeks so far. No power outages yet but generator goes through its weekly test cycle without a hitch. Also this was the best price on the web by far and I searched and searched. Highly recommend.

---

8kw for my father

Product Review Rating:

5

/5

Posted by Lewis Daniels on May 09, 2015

Bought this Generac generator for my father because he lives alone. I want to make sure that when I'm not around he is able to be comfortable in case the power goes out. He wanted a manual switch so that he can still control it. I didn't want that at all, it isn't my choice though. He doesn't use much so my friend that's an electrician said to go with an air cooled generator. I believe the 6245 will be plenty as a backup.

---

Good backup for my cabin up north

Product Review Rating:

4

/5

Posted by Darien J. on May 04, 2015

Over the past 5 years, I have purchased two Generac standby systems for two different properties, and they are great. AP Electric has sold me both and I am satisfied with the price, service and value.
Living in Wisconsin, we can be subject to harsh winters, Tornadoes, and the trees that knock down the power pole. With these systems, we have peace of mind in knowing that we will have electric power and no surprises when we get to our getaway cabin.

---

Great purchase

Product Review Rating:

5

/5

Posted by Zach Pearce on Apr 27, 2015

I bought a Generac 7kw model some years ago and it worked fine other than when my well pump needed to run. It finally burned out and for the money I would have spent fixing it I just decided to get a new unit. I had to replace the transfer switch, but the electrician already had a spare so he asked me to buy the gen. I'm just happy that my well can be run at the same time as the rest of my house without fear of damaging it. I haven't lost power yet, but I'm satisfied with my purchase of the Generac 6245 8kw generator.

---

Great place to buy from!!

Product Review Rating:

5

/5

Posted by Scot A. on Feb 19, 2015

Submitted on September 2, 2014
Great price,great shipping,great products.

---

So far so good

Product Review Rating:

4

/5

Posted by Frank Anglin on Feb 19, 2015

Submitted on January 2, 2012
The pallet arrived as promised. The driver was helpful and the generator is on the pad waiting for the holidays to be over for hook-up.

---