Generac Guardian 6439 11kW Generator
Generac Guardian 6439 11kW Generator
Availability:
DISCONTINUED - AP Recommends Replacing with Generac 7031 11kW
17

product reviews
Average Product Review Rating:

5

/

5
PRODUCT DESCRIPTION
THIS PRODUCT IS NO LONGER AVAILABLE. SEE SUGGESTED REPLACEMENT(S) BELOW.
Generac 6439 is designed for durability and performance The most important advantage that the Generac Guardian 6439 generator offers is its performance-driven durability. Unlike other generators, the Generac powers up quickly and keeps running smoothly for hours and even days if required. With its speed and dependability, you have the peace of mind in knowing that you and your family will not be without electricity, heat, air conditioning or other important utilities for very long after the power goes out in your home. It has sensory detection that does not require that you manually turn on the generator, which is ideal when you want your utilities and electricity back up and running within seconds even if you are not home. Further, this generator does not need gasoline to operate effectively. It also is safe enough to connect up to 18 inches (subject to local building codes) from your home as long as it is not near windows, doors or other air intake fixtures. It can have your power restored within 10 seconds after detecting that your home is without electricity. The engine of the Generac Guardian 6439 11kW Generator is built in the USA and designed to last for many years. Advanced technology for ease of use When the lights go out, you do not want to have to search for a flashlight just so you can check the gauges on your generator.
Fortunately, the Generac Guardian features convenient and innovative features:
• Starts automatically for 24/7 backup power protection
• Continuous fuel source from your home - LP or natural gas
• Digital controller with LED status and fault indicators
• Generac OHVI engine
• All-weather steel enclosure
• Manufacturer's Warranty: 5 Year Limited
These features are backed by the company's five year or 2000 hour limited warranty. Round-the-clock customer care Power outages can invite a host of different challenges for you and your household. Because these outages can occur at any time of the day or night without warning, Generac makes its customer service team available anytime too. You can call for advice and to ask questions about your generator even during the middle of the night when many businesses are closed. Customer service agents are available to help you safely and effectively use your Generac generator until your utility company restores your home's power. Power outages can last for hours or even days. You and your family can continue with your normal routine by using the Generac 6439 to restore your home's electrical utilities, lights and other modern comforts during any outage.
TECHNICAL SPECS & DOWNLOADS

6439 Brochure


6439 Specifications Sheet


6439 Owner's Manual


6439 Installation Drawing


6439 Warranty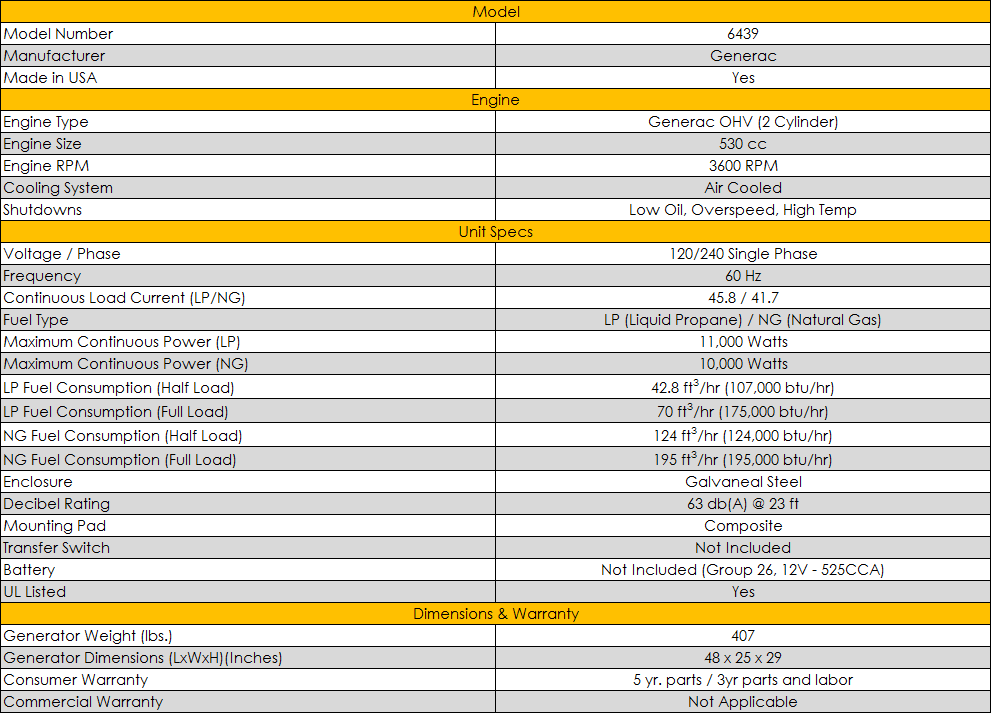 Product Reviews
Write Review
11k generator

Product Review Rating:

5

/5

Posted by Unknown on Feb 01, 2016

Generaror was reasonable and works great would recommend it to anyone .Very pleased with it and Ap electric for thier prompt service

---

No More Worries

Product Review Rating:

5

/5

Posted by Paul K. on Dec 04, 2015

After purchasing my Generac 6439 11kw generator I no longer have to worry about the frequent power outages in my area. Only wish I would have done it sooner. Works as advertised. Amazed at how quickly it shipped.

---

Fast Shipping.

Product Review Rating:

5

/5

Posted by Bill Manster on Jul 09, 2015

Great price and fast shipping of this generac 11kW home standby generator. Recommend.

---

Generac 6439

Product Review Rating:

5

/5

Posted by Chris Temkin on Jun 03, 2015

Great price and service. Lowest price I found on the web. Quality product. you will have no regrets ordering from AP Electric or purchasing this 11kW generator. Quality, quality, quality.

---

Generac 6439

Product Review Rating:

5

/5

Posted by Terry L on Mar 26, 2015

This was a game changer for me. I travel a lot and my wife is home with 2 infants. We live in an area were power can go several times a year. For piece of mine and for the safety of my family I purchased a Generac 6439 and I am just now getting around to giving you my comments. First I love it. One power outage since it was installed in November. The generator performed flawlessly. It started right up and restored power in about 10 seconds. Your customer service was excellent. The generator actually arrived quicker than I anticipated. Ordered on a Friday and it arrived on Monday. Very happy with the generator that I purchased and the service I received from AP Electric. I would strongly recommend your company to anyone looking for a home standby generator. Thank You AP Electric!!

---

Works great

Product Review Rating:

5

/5

Posted by Richard W. on Feb 19, 2015

Submitted on August 29, 2014
just had to add an additional wire for the charger since I had an older control panel.


---

Fast Shipping

Product Review Rating:

4

/5

Posted by Donald S. on Feb 19, 2015

Submitted on August 29, 2014
So far so good


---

Very nice unit .

Product Review Rating:

5

/5

Posted by George C. on Feb 19, 2015

Submitted on May 21, 2014
Very pleased with ease of install, start up, and servicing later.



---

Excellent Price

Product Review Rating:

5

/5

Posted by Paul Perzichilli on Feb 19, 2015

Submitted on August 9, 2011
Excellent price, service and delivery.


---

Good price, an excellent service.

Product Review Rating:

5

/5

Posted by Richard Louie on Feb 19, 2015

Submitted on January 10, 2012
The generator was shipped earlier then quoted, and was received on time with lift gate service in good condition.


---

Generac Saved my Christmas!

Product Review Rating:

5

/5

Posted by Unknown on Feb 19, 2015

Submitted on December 26, 2012
Very happy with entire experience. The generator came much sooner than expected, and just in time for huge storms. The power was out for four days, came on Christmas day, then off again. Thank God for Generac!!



---

It went very well

Product Review Rating:

5

/5

Posted by Piyush Patel on Feb 19, 2015

Submitted on March 6, 2013
It took long time due to shortage in supply. But once it was shipped, it went very well. The dropped in my back yard.


---

Received as promised

Product Review Rating:

5

/5

Posted by Joe Sully on Feb 19, 2015

Submitted on April 22, 2013
Received delivery as promised, in (2) weeks Conway handled with care. I got it hooked up on the 18 of April, lost power on the 19 of April for 2 1/2 hrs. Everything worked fine. AP delivered as promised. Thank you


---

Runs the whole house

Product Review Rating:

5

/5

Posted by Edward Walsh on Feb 19, 2015

Submitted on August 5, 2013
It will run whole house it is a great Generator!


---

Very easy to order

Product Review Rating:

5

/5

Posted by loretta villani on Feb 19, 2015

Submitted on September 5, 2013
very easy to order on line. very professional delivery


---

So Far So Good

Product Review Rating:

5

/5

Posted by Ron Pisciotta on Feb 19, 2015

Submitted on October 16, 2013
It's a new version of this model. Installation went good and it's up and working. Time will tell if there are issues, but so far so good.


---

Generator Starts Right Up

Product Review Rating:

5

/5

Posted by Unknown on Feb 19, 2015

Submitted on February 24, 2014
Only had one power outage since it was installed in July 2013 Generator started right up and five seconds later had power, Lot better than hooking up the PTO driven one.


---