Zeta Leaves 2.2 Million Without Power As It Creeps Through Southeast
Oct 29, 2020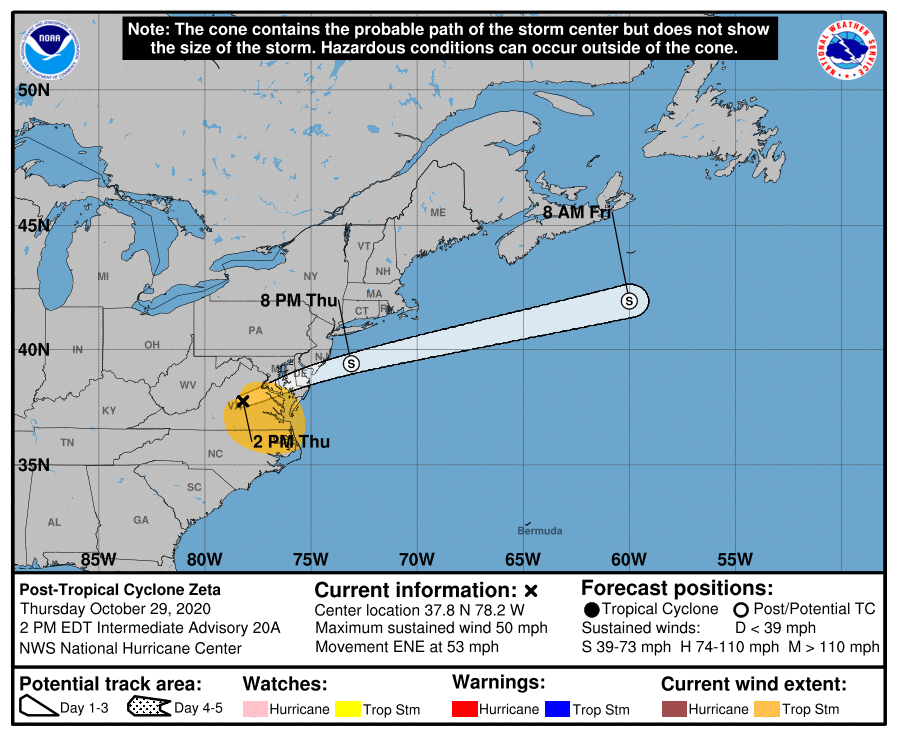 Click for Official Forecast
Having made landfall in Louisiana as a Category 2 hurricane on Wednesday, October 28 th, Zeta has weakened into a tropical storm dumping rain from Georgia to Washington, D.C. More than 2 million homes were without power in its wake.
The storm ripped off roofs, knocked down power lines and trees and flooded streets near New Orleans. The surge left communities along the northern Gulf Coast under water. As the hurricane moved further inland it knocked down trees and power lines in Mississippi, Alabama, and Georgia.
By Thursday morning, Zeta weakened to a tropical storm with sustained winds of about 60-mph, with gusts up to 690mph.
By 7 a.m. on Thursday, about 2 million homes and businesses were without power across five states.
Schools were closed in New Orleans on Wednesday and remained closed through Thursday. Several other parishes in Louisiana and districts in Mississippi and Alabama also shuttered schools. In some circumstances, classes were held online. More than two-dozen school districts in Georgia canceled in person and/or online classes on Thursday, including several places around the Atlanta metropolitan area.
In Pass Christian, Mississippi, U.S. Highway 90, which carves through Bay St. Louis, was flooded. Cars in a parking garage at a casino in Biloxi, Mississippi, floated away like toys in the surge. According to the Weather Channel, the storm surge in Biloxi was probably as much as 8-feet. It was 8.2 feet in Bay St. Louis. Multiple semi-tractor trucks were forced off Interstate 10 near Bay St. Louis, according to reports.
In Alabama, the storm surge flooded areas of Mobile late Wednesday night.
Atlanta, Georgia was under a tropical storm warning for the second time ever. The first had occurred in 2017 when Hurricane Irma struck Florida as a Category 4 storm.
Schools were closed after Tropical Storm Zeta crossed into the northern region of South Carolina Wednesday night. School officials announced that children would receive assignments on their laptops.
A tropical storm watch was in effect in Anderson, Greenville, Pickens, Oconee, and Spartanburg counties.
Zeta threatened North Carolina with severe wind gusts of nearly 60-mph on Thursday. The National Weather Service issued wind alerts for a good portion of the state. Tropical storm warnings were issued from the Tennessee state line to Charlotte. Tornadoes also were a potential threat. Winds of 25 to 35-mph and potential gusts of up to 60-mph were predicted in a region that included Asheville to Charlotte.
Rain of 1 to 3-inches an hour in the western counties of the state are expected to cause flooding, with up to 5-inches in isolated areas, according to the National Weather Service. They also warned that rainfall could lead to flash, urban, small stream, and isolated minor river flooding.
Showers arrived in the Washington, D.C., Maryland, and northern Virginia (DMV) region on Wednesday night. The potential of heavier rain will grow through Thursday as the remnants of Zeta reaches south of D.C.
The National Oceanic and Atmospheric Administration's Weather Prediction Center has forecast a rick of flash flooding for Thursday and Thursday night for the DMV. The rain may be limited due to the speed Zeta is traveling and another approaching storm along a cold front.
As of 10 a.m. EST, according to Poweroutage.us, outages in the wake of Hurricane/Tropical Storm Zeta were:
Georgia – 891,073
Louisiana – 488,854
Alabama – 472,297
Oklahoma – 312,166
Mississippi – 195,655
Florida – 17,265
Texas – 12,181,070
South Carolina – 161,109
North Carolina - 168,136
Virginia – 1,415
For those of you who do not have a standalone generator, perhaps it is time for you to consider one. For more information call 847-516-8882 or visit APElectric.com.