Storms Continue To Ravage East Coast
Oct 29, 2021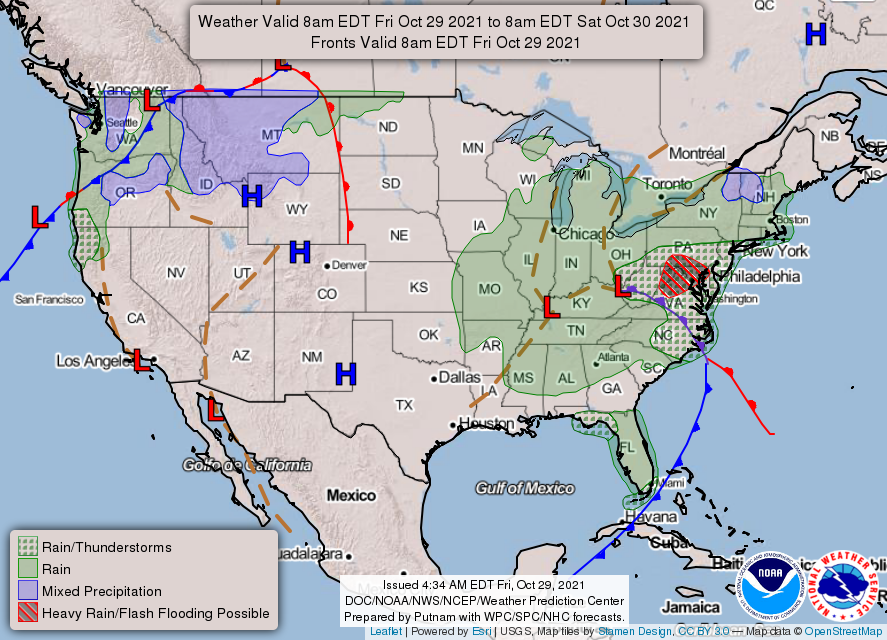 A storm system out of the Mid-South has pummeled sections of the east coast since Tuesday, resulting in heavy rains, gusty winds, and coastal flooding. Severe thunderstorms have been predicted for the Gulf Coast and Southeast. On Monday, a swarm of tornadoes tore through Teas and Louisiana.
According to the National Weather Service Prediction Center, a level 2 out of 5 severe weather incident struck the Southeast on Thursday. The area of most risk expands from South Florida up Interstate 95 into the Carolinas, including Jacksonville, Tampa, Savannah, Charleston, and Wilmington, North Carolina.
A tornado watch was announced for the central portion of the Florida Peninsula Thursday evening and there was a possibility that at least two and maybe more tornadoes had touched down in the region.
Advisories cautioning of coastal floods extended through much of the Mid-Atlantic coastline. A storm surge or rise in rater above normally dry land of 2 to 4 feet was anticipated for Friday. The tempest is also expected to include a sporadic amount of inland flooding. The rain will be falling on already-saturated ground due to above normal rainfall for the last few months.
On Thursday, the storm center was near the Arkansas-Missouri border and was fluctuating toward the east with Middle Tennessee in the crosshairs. The storm is expected to also hit West Virginia before weakening over the central Appalachians.
A cold front stretching into the Gulf of Mexico was part of the storm center where it will strengthen due to warm moist air. The humid conditions were causing showers and storms over Georgia, the Carolinas, and Florida. Heavy rains from the north were moving toward the storm center.
The storms are expected to impact the area through Saturday, according to weather models.
Washington, D.C. and Baltimore will experience steady rainfall starting after sunrise on Friday. The storm will be moderate to heavy at times during the late morning and early afternoon before tapering off in the evening. About 1 to 2-inches of rain is possible.
The storm will draw winds from the east and southeast causing coastal waters to mass on the shorelines. This should cause flooding. Coastal flood warnings are in effect for Friday and Saturday. Up to 2 to 4 feet of heavy rain is expected. The National Weather Service in Washington and Baltimore warned in a tweet that this storm could cause "one of the biggest tidal flood events of the past 10-20 years." It will affect areas including Annapolis, the southwest Washington waterfront and Alexandria, Virginia.
Severe wind gusts reaching 30 to 40 mph will surge over the Mid-Atlantic and Northeast on Friday and Saturday.
New York City will be welcoming downpours starting on Friday night that will extend into southern New England later on Friday and into Saturday.
As of 10:25 a.m. Eastern Time on Friday the worst states as far as power outages are concerned included:
Massachusetts 161,983
Texas 40,466
Virginia 8,694
Maryland 5,746
Florida 5,457
West Virginia 4,064
Louisiana 1,903
North Carolina 1,111
(Source: poweroutage.us)
All regions of the United States are susceptible to extensive power outages due to severe weather that could last for multiple days. That's why you should consider purchasing a standalone generator to assure that you and your family is secure and comfortable during a deluge. APElectric offers a wide range of generators made by some of the most popular manufacturers in the U.S. Visit the company's website to review their inventory and learn how to select the best generator for your particular situation.