Preparation Alert: Major Category 3 Hurricane Idalia Sets Course for Florida's Gulf Coast
Aug 28, 2023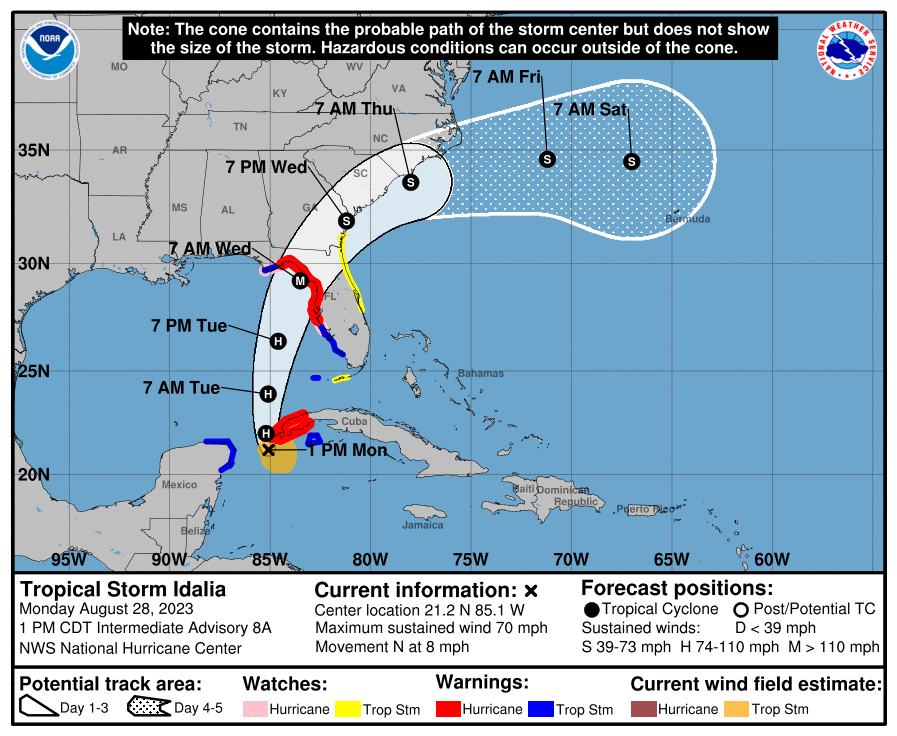 August 28, 2023 - Florida's Gulf Coast braces for Hurricane Idalia, predicted to hit as a major Category 3 hurricane, making it imperative for residents to stay updated and get prepared.
The National Hurricane Center (NHC) has indicated that Idalia will evolve into a dangerous "major hurricane" over the northeastern Gulf of Mexico by early Wednesday. By the Saffir-Simpson hurricane wind scale standards, a major hurricane refers to Category 3 or higher. Consequently, hurricane watches have been activated from Sarasota County up to Franklin County.
During a Monday morning briefing, Governor Ron DeSantis strongly urged residents to gear up for the storm, emphasizing its potential severity. "This will be a major category three-plus hurricane. Prepare accordingly," he commented. The storm's trajectory is set to affect areas from north of Tampa to Tallahassee, yet DeSantis advised caution to residents beyond these regions, highlighting the possible wide-reaching impacts.
According to the National Weather Service, the imminent hazards include "life-threatening storm surge, hurricane force winds, and sporadic flash and urban flooding." These conditions are projected to target the west coast of Florida and the Florida Panhandle by Tuesday.
Kevin Guthrie from the Florida Division of Emergency Management warns of storm surges reaching up to 10 feet in regions like Pinellas County. Given the lethal potential of a mere 2 to 3 feet surge, these predictions are indeed alarming. Guthrie also cautioned about "tornadic activity" accompanying the storm, drawing parallels to Hurricane Ian.
Moreover, there's a forecasted rainfall accumulation of 4 to 8 inches across the west coast of Florida, the Florida Panhandle, southeast Georgia, and the eastern Carolinas from Tuesday to Thursday. Isolated regions might even witness a whopping 12 inches of rainfall.
As of Monday, Idalia was seen intensifying near Cuba, situated approximately 375 miles southwest of Key West, recording maximum sustained winds of 65 mph. Given the severity, Governor DeSantis has proclaimed an emergency executive order for 46 counties. He also highlighted that evacuees need not exit the state; relocating to higher ground within their locality would suffice. "Please heed directives from local officials and take appropriate precautions," he emphasized.
A slew of warnings and watches are in place, extending to locations like Pinar del Río in Cuba and the Yucatan Peninsula. Florida's Englewood to Indian Pass, including Tampa Bay, is currently under a hurricane watch, indicating possible hurricane conditions in the near future.
Stay updated, stay safe, and ensure you're prepared for Hurricane Idalia.
AP Electric & Generators has a wide inventory of generators made by some of the most popular manufacturers in the country.
Visit the company's website for more information at www.apelectric.com or call 847-516-8882 M-F from 8 to 5 PM Central.