Hurricane Ian Leaves Its Mark
Oct 06, 2022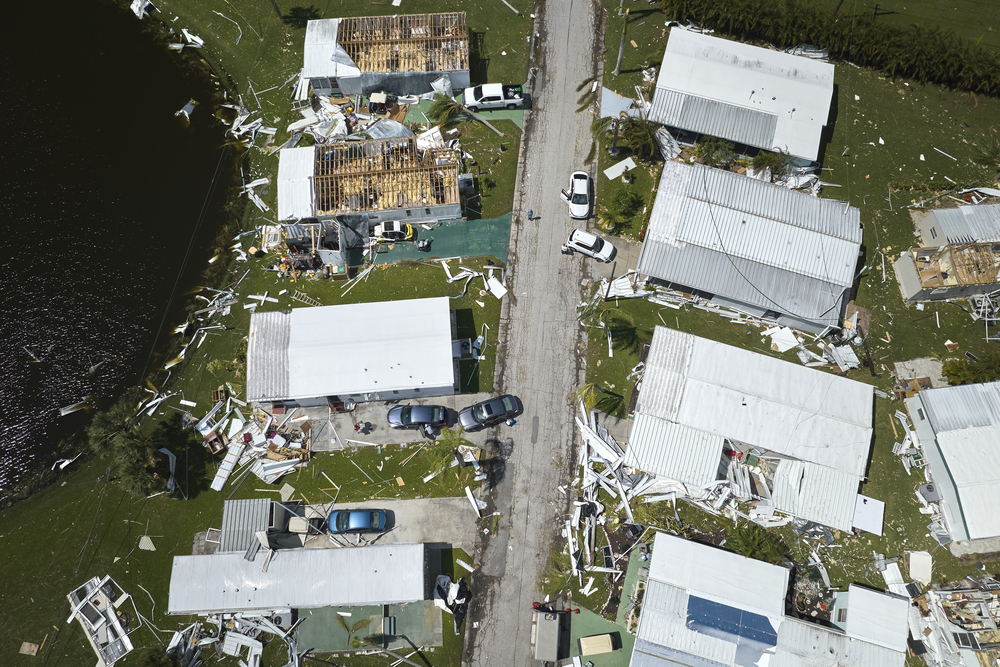 Hurricane Ian has left its mark on Florida and the Carolinas. One hundred and ten people are reported dead and hundreds of thousands of utility customers were without power on Wednesday, October 5th.
Last week, Ian made landfall on the western side of the Florida peninsula. In its wake it left 300,000 customers without power. Florida's Lee County reported 55 fatalities and the county of Charlotte claimed that 24 were dead..
The worst of the hurricane were the storm surges, heavy rains, dangerous flooding and destructive winds.
According to CoreLogic, a U.S. research firm that estimates losses from natural disasters, Estimated losses due to the storm are between $28 billion and $47 billion.
Much of the destruction is still being felt across the state. Schools are still closed, many residents are still without power, tainted water still remain as ponds and a plethora of homes have been destroyed.
Residents in more than 22 Florida counties don't have clean water. The Army Corps of Engineers have been distributing potable water, but it still remains a valuable commodity.
Public schools in Collier County are prepared to open on Thursday as they rely on more than 800 substitute teachers. Only about 22 percent of the district's teachers live in hard hit Lee County, according to Collier County Public schools. It is unlikely that roughly 50,000 students will return. A number of families attended a school donation drive on Wednesday to say goodbye to teachers. They say that their homes are destroyed and that they must move.
Families living on some of the barrier islands on the Gulf Coast of the state are unable to leave decimated areas.
Governor Ron DeSantis visited Sanibel Island and described the area as heavily damaged with massive amounts of debris to remove. Power is still out on the island because electric utilities are unable to get any equipment there. The storm ripped away several parts of the causeway that was Sanibel's only access to the Florida mainland. Dozens of people are stranded. Authorities say it could take a month or more to restore power to some areas of Sanibel and neighboring Pine Island. On Pine Island, crews on Wednesday finished temporary repairs of parts of a bridge that was washed away in the storm. Crews have evacuated 1,000 people from Sanibel Island since Ian ripped through.
Alligators have been seen moving within the floodwaters. Sanibel is under a 24-hour curfew. Residents are allowed back on the island on Thursday to access damage to their homes.
The damages have also caused problems for hospitals in southwest Florida. Sarasota Memorial Health Care System in Sarasota set up a 30-bed tent facility outside the hospital.
Rescue crews went door to door in search of survivors and found more dead. Four more were found dead in North Carolina.
As of Tuesday evening, nearly 400,573 customers in Florida were without power, according to PowerOutage.us. Many outages continue in hard hit Lee and Charlotte counties. There were 208,263 outages in Lee County and 75,721 outages in Charlotte County. Outages are also being tracked in Sarasota, Manatee, Collier, Hendry, Hardee, and Desoto counties.
Despite search efforts, it is still unclear how many people were missing. Searchers were scouring a 7-mile stretch of Fort Myers Beach. One of the teams, South Florida Task Force 2, found 150 people trapped in their homes. On Monday, the team was still rescuing people from their homes.
Ian exited on the east side of the Florida peninsula, but the warm waters made it stronger and it again made landfall this time hear the city of Georgetown on Winyah Bay. The storm surge at Wrightsville Beach in North Carolina is said to be a record 4.19 feet, beating Hurricane Joaquin in 2015 and Hurricane Florence in 2018.
Pawley's Island, a dense coastal community, bore the worst of the storm during the first few hours.
President Joe Biden declared an emergency in South Carolina.
The storm also took its toll on North Carolina leaving hundreds of thousands of residents with power. At least for people were killed.
More than 850,000 people across the Carolinas lost power over the weekend.
Wind gusts hit 59 mph and the storm drenched the states with significant rainfall resulting in flooding in some of the coastal cities including Southport and Ocean Isle Beach.
Flooding was more severe in South Carolina where the storm surge was more than 7 feet.
The hurricane is expected to cost private insurers $63 billion in claims. It is expected that insurance claims will be the largest in Florida history.
When a severe weather occurrence arrives in your region of the country it is best to be prepared for a devastating outcome. A standby generator can make life a whole lot easier if you should find yourself stuck in an event similar to Hurricane Ian.
APElectric carries a wide range of generators manufactured by some of the most popular generator makers in the country. Review the company's website for information about the generators they offer and learn how to select the best generator for your particular situation.