Floridians Prepare For Wrath Of Elsa
Jul 07, 2021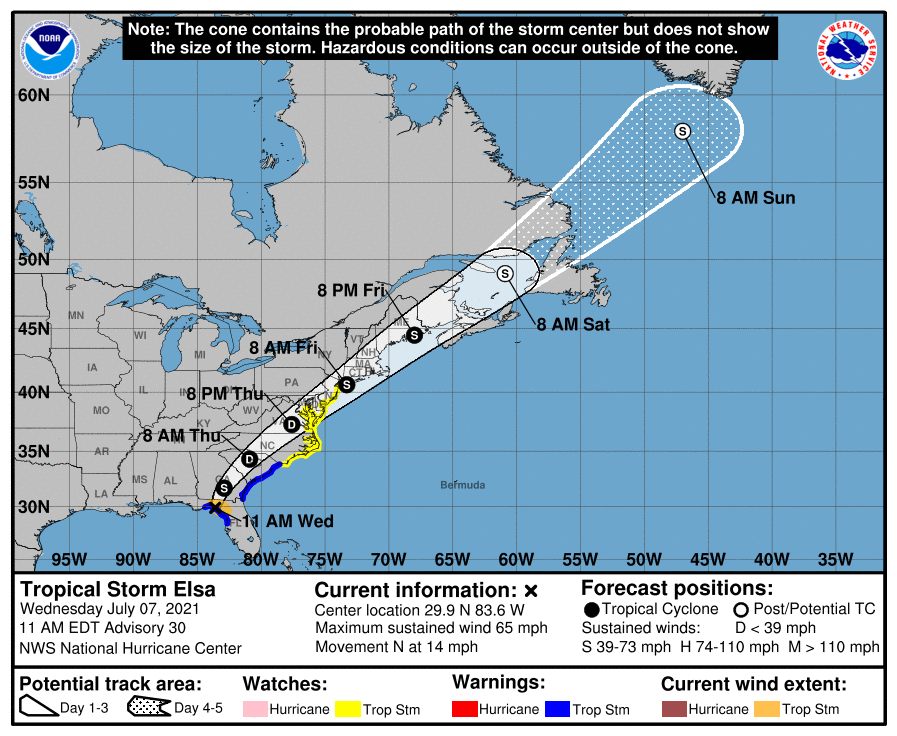 Although now a tropical storm, Elsa sets its sights on the Florida peninsula on Wednesday, July 7. It has been forecasted that the storm will reach landfall in the Sunshine State on the north Gulf coast.
Meanwhile Hurricane Warnings continue in effect for portions of the west coast, according to the National Hurricane Center.
Forecasters say that the storm will plummet the state with as much as 9-inches of rain in some sections and will cause floods. A life-threatening storm surge is also expected.
At 8 a.m. Wednesday morning the storm was moving north, nearly parallel with the west coast of Florida. Heavy rain and winds were already spreading inland. Elsa is predicted to make landfall in the late morning or early afternoon.
Authorities in Tampa cautioned residents to stay off the street on Tuesday night.
Hurricane warnings were in effect on the west coasting expanding from Chassahowitzka to the Steinhatchee River. The storm surge warning covers the state's west coast from the middle of Longboat Key to the Aucilla River and includes Tampa Bay.
Forecasters say that the storm will weaken once it has crossed inland. It's path is then expected to take it through Georgia and North Carolina and through to the northeast states. Sections of Georgia and South Carolina should expect 2 to 4-inches of rain, with isolated totals of 6-inches.
A tropical storm warning is in effect for the coasts of Georgia and South Carolina. Storm watches are set for North Carolina.
Duke Energy, the utility company that supplies western and northern Florida with electricity reported that it had sent out 3,000 employees and staged them in western and northern Florida to respond to power outages. Utility crews have been brought to Florida from other states to assist in repairs.
Tampa International Airport suspended commercial service at 5 p.m. on Tuesday, but may reopen on Wednesday morning. A 54 mph gust was recorded at Sarasota Airport on Tuesday night.
Tropical Storm Elsa was classified as a hurricane as it traversed the Caribbean on Friday, July 2nd. It was the first to be classified as a hurricane this 2021 Hurricane Season.
The Category 1 hurricane thrashed Barbados, St. Vincent, and the Grenadines with heavy rains and winds. The Grenadines are recovering from a massive volcanic eruption.
The storm dropped 4 to 8 inches of rain on the Windward and southern Leeward Islands as well as Barbados. It drenched Puerto Rico with 1 to 3-inches of rain. Portions of Haiti, the Dominican Republic and Jamaica experienced 4 to 8 inches with isolated areas getting a maximum of 15 inches in rain.
After Elsa was downgraded as a tropical storm, it lashed the Florida Keys early Tuesday.
The storm had previously made landfall near Ciengega de Zapata, a natural park, on Tuesday. Rain was reported across parts of Cuba and was expected to total about 15 inches, which resulted in significant flash flooding and mudslides.
According to a hurricane researcher at the University of Miami, Elsa is the earliest fifth-named tropical storm on record.
Meanwhile power outages were reported in New York and New Jersey due to significant storms on Wednesday.
Storms also ravaged southeast Michigan causing power outages there on Tuesday, July 6th. The storms pushed through as temperatures reached the low 90s, about 10 degrees above average for this time of year.
Winds of about 50 mph were reported in Livingston, Genesee, and Monroe Counties and tree limbs fell in Saginaw, Port Huron and Shelby Township.
Power outage us reported the following power outages as of 10:06 a.m. today, July 7th.
Top Areas by Outages
New Jersey
39,222
Michigan
26,678
New York
13,482
Florida
10,879
Pennsylvania
10,742
Power outages can strike any where on any day and it's best to be prepared. APElectric has a wide range of standby generators made by some of the most popular manufacturers including Generac, Briggs & Stratton, Firman, Kohler, and more. Call 847-516-8882 or visit the company's website for more information.
For full forecast visit https://www.nhc.noaa.gov/