'Bomb Cyclone" Pummels California With Torrential Rain, Winds
Jan 05, 2023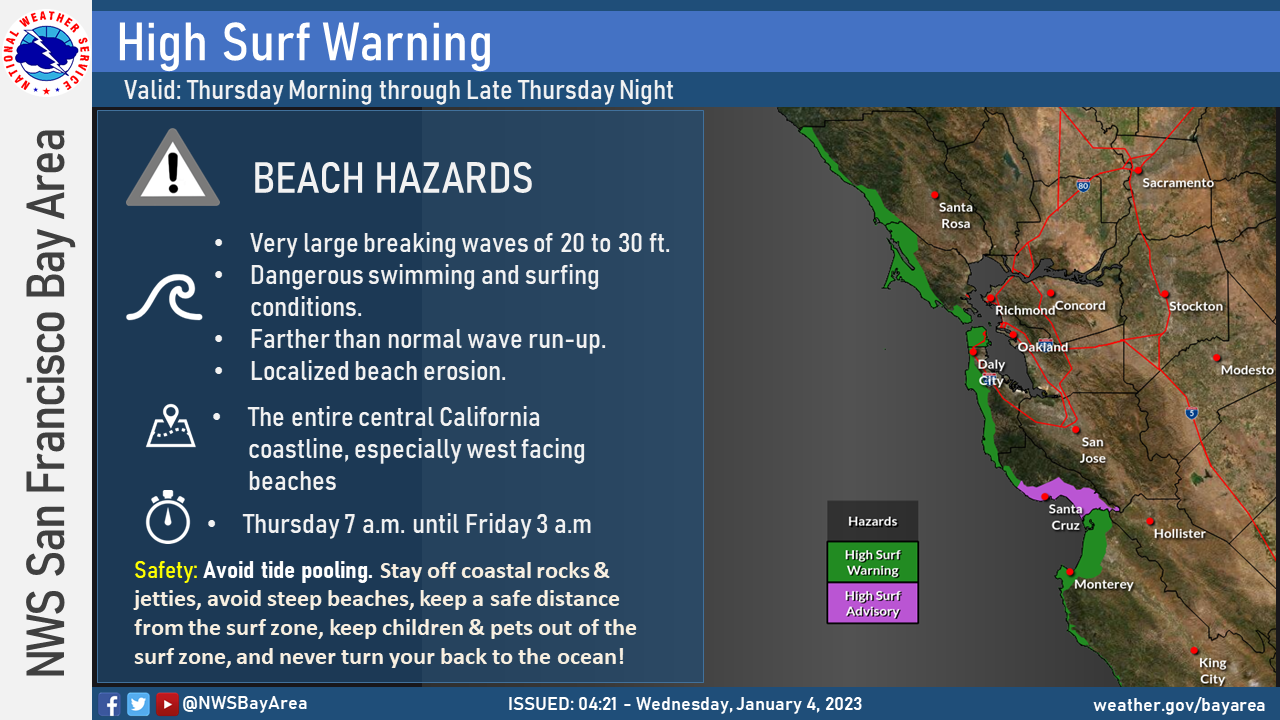 A storm known as a "Bomb Cyclone" brought 45-foot waves out at sea, torrential rain, warnings of floods and mudslides, and caused more than 100,000 people to experience power outages.
The storm was expected to drop up to 6 inches of rain in parts of San Francisco Bay. Most of the region was under flood warnings into late Thursday night. In Southern California, the storm was expected to peak overnight into Thursday morning. Santa Barbara and Ventura counties were likely to get the most rain.
California Governor Gavin Newsome ordered the state's National Guard to support the disaster response.
A "Bomb Cyclone" is a storm that features a quick drop in atmospheric pressure causing a high-intensity storm. Atmospheric rivers often accompany Bomb Cyclone storms. This phenomenon occurs when a line of warm, moist air flows from near the islands across the Pacific Ocean to the West Coast of the U.S.. When it reaches the cooler air over the western landmass, the water vapor falls as heavy rain. Atmospheric rivers are long, flowing regions of the atmosphere that carry water vapor across the sky 250 to 375 miles wide. They can be more than 1,000 miles long and carry more water than the Mississippi River.
The storm could pummel parts of Northern California with 10 or more inches of rain. It was also expected to knock down trees, causing widespread power outages. Floods, washed out roads, and hillside collapsing was also forecasted.
About 180,000 homes and businesses were in the dark Wednesday night, according to PowerOutage.us. Most outages were located on the north coast. Pacific Gas and Electric, the state's largest gas and electric utility, claimed that the storm had damaged its equipment and was causing widespread outages.
Evacuations were ordered for Santa Cruz and Santa Barbara on Wednesday and there were high risk of mudslides and flooding. Mandatory evacuation was ordered for burn scared areas of Santa Barbara County because of the probability of flooding and debris flows.
San Francisco International Airport reported 74 flight cancellations, which accounts for 8 percent of all flights.
The National Weather Service warned that wind gusts could reach as high as 80 mph in the mountain areas of the state. Coastal regions could get gusts in the 40 to 50 mph range.
The ground is already saturated due to a rainfall of more than 3 inches on New Year's Eve. Add the rains of this current storm and authorities were calling for flooding and landslides.
Two to 4 inches of rain and wind gusts of more than 50 mph was expected for central California including San Francisco Wednesday night and Thursday morning. Greater rainfall of 3 to 6 inches and up to 10 inches has been forecasted for higher elevations. More than 40 million people were under wind alerts Thursday morning.
"Bomb Cyclones, Atmospheric Rivers, there are many things that nature can confront us with. It is best to be prepared for the worse. A standalone generator can assure that your home or place of business will never experience a power outage.
Today's generators automatically go on when a public utility is not providing power. Many generators include Wi-Fi so that you can monitor your generator's operation from anywhere.
APElectric offers a wide range of generators from some of the most popular manufacturers in the industry. For more information visit the company's website.