Above Normal Number Of Hurricanes Predicted For 2021 Season
May 24, 2021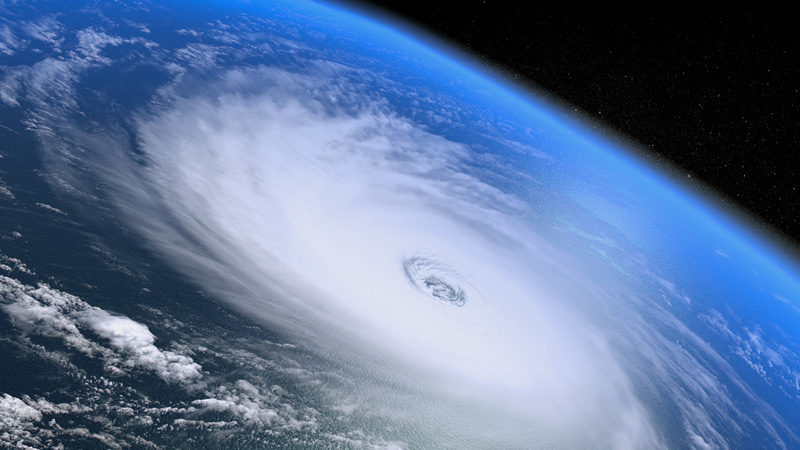 The number of hurricanes expected for the 2021 hurricane season is expected to be above normal.
The U.S. National Oceanic and Atmospheric Administration (NOAA) forecasts between three and five major hurricanes that will have sustained winds of at least 111 mph. It said that between six and 10 hurricanes with winds of at least 74 mph are expected out of 13 to 20 tropical storms in 2021. According to NOAA, tropical storms have a wind speed of at least 39 mph.
One tropical storm already named Ana formed off of Bermuda last week. The official hurricane season begins on June 1st.
Seasonal hurricanes depend on the condition of the El Niño and La Niña, which are part of the El Niño Southern Oscillation climate pattern in the Pacific Ocean. This hurricane season, the El Niño is a no-show resulting in the above normal number of hurricanes.
Instead the Climate Prediction Center claimed in a March report that the atmosphere driven by normalizing water temperatures in the equatorial Pacific would change by summer to a neutral pattern.
According to NOAA, there will be less than a 10 percent chance that there will be an El Niño this fall. Without an El Niño or La Niña, other atmospheric conditions including sea surface temperatures and the global Madden-Julian Oscillation will have a greater influence in the hurricane season. The Madden-Julian Oscillation, also known as the AMO, is a key element that fuels hurricanes when in its warm phase. El Niño and La Niña are key factors in hurricane season forecasts because of their strong ties to either making it easier for storms to form or cutting them down with a wind shear.
While El Niño and La Niña influence the mid latitudes, they are more often associated with the tropics and subtropics. During El Niño, the water across the eastern Pacific Ocean warms, causing a radical shift to rainfall patterns. Showers subside over Indonesia and move to the eastern part of the Pacific where strong thunderstorms form that effect wind patterns in the upper atmosphere. This reduces the wind shear in the Pacific and boosts it in the Atlantic. Westerly wind shears in the Atlantic tend to tear hurricanes apart as they develop. With La Niña, waters in the Pacific cool, rainfall retreats to the west and the westerly winds wane, leaving the Atlantic and U.S. susceptible to tropical cyclones.
Academic and commercial meteorologists also predict an above average number of hurricanes this season, but not as many as there were in 2020.
A normal hurricane season has 14 named storms, seven hurricanes and three major hurricanes of Category 3 or above. The Climate Prediction Center predicts up to 20 named storms, including 10 hurricanes and five major hurricanes.
21 names have been chosen to denote this year's hurricanes. Six lists of pre-determined names are used in rotation for identifying Atlantic hurricanes each season. The World Meteorological Organization (WMO) maintains and updates the lists.
Names alternate between female and male alphabetically. No names begin with Q, U, X, Y, or Z because there are too few names that begin with these letters.
The names to be used this hurricane season include:
1.Ana
2.Bill
3.Claudette
4.Danny
5.Elsa
6.Fred
7.Grace
8.Henri
9.Ida
10.Julian
11.Kate
12.Larry
13. Mindy
14. Nicholas
15.Odette
16.Peter
17.Rose
18.Sam
19.Teresa
20.Victor
21.Wanda
If there are more than 21 tropical storms, then these names will be assigned:
1.Adria
2.Braylen
3.Caridad
4.Deshawn
5.Emery
6.Foster
7.Gemma
8.Heath
9.Isla
10.Jacobus
11.Kenzie
12.Lucio
13.Makayla
14.Nolan
15.Orlanda
16.Pax
17.Ronin
18.Sophie
19.Tayshaun
20.Viviana
21.Will
The Greek alphabet won't be used this season to denote out of name storms as they were in 2020.
Some names used to identify deadly or costly hurricanes have been retired and won't be used to name future storms. Retired names include Katrina, Sandy, Michael, Dorian, Laura, Eta, and Iota. Since 1954, 93 names have been retired or replaced.
With the beginning of the 2021 hurricane season upon us, then now is a good time to consider the purchase of a standalone generator if you don't already have one. As we have seen in previous years, a larger segment of the United States appears vulnerable to hurricanes. A generator will assure that you and your family will remain safe and comfortable.
APElectric has a large inventory of standalone generators made by some of the most popular manufacturers in the U.S. For information on these generators and to find out how to choose the appropriate generator for your needs call 847-516-8882 or visit our website for more information.