Generac Guardian 6462 16kW Generator with 200A SE Transfer Switch
Generac Guardian 6462 16kW Generator with 200A SE Transfer Switch
Availability:
DISCONTINUED - AP Recommends Replacing with Generac 7037 16kW
28

product reviews
Average Product Review Rating:

5

/

5
PRODUCT DESCRIPTION
THIS PRODUCT IS NO LONGER AVAILABLE. SEE SUGGESTED REPLACEMENT(S) BELOW.
Get continuous backup protection with the Generac 6462 generator Losing power to your home is more than just an inconvenience. It can cause problems for those who need charged medical devices for their health, it can cause thousands of dollars of food to be spoiled and it can reduce your feeling of safety at night. For backup power for your home that won't give out, the Generac Guardian 6462 16kW Generator with 200A SE Smart Switch is ideal. The steel enclosure, covered in a durable powder-coat finish, can handle any weather conditions, even winds of up to 150 MPH. With the OHVI engine, this Generac generator can power you easily through any storm or power outage. You can enjoy peace of mind and security for your family thanks to the Generac Guardian 6462. Plus, since it runs on either LP or natural gas, you can quickly convert the fuel source without the need for tools or a disruption to your home's power source. Easy to install and use One of the best things about the Generac 6462 is how easy it is to install. As long as it's installed a minimum of 18 inches away from the home and meets local codes, it can be placed near your residence so you have easy access to it in an emergency. Since the generator works perfectly on a composite mounting pad, you don't have to pour a concrete pad before installation. The five-year limited warranty guarantees that your generator remains easy-to-use for years to come. If you have any questions with installation, with programming self-tests or with the generator itself, you can take advantage of the 24/7 customer service and speak with someone familiar with the products who is located in the United States.
Product attributes include:
• Instant start for continuous backup power 24/7
• Easy switch between fuel sources of LP or natural gas
• Intuitive digital controlled boasts LED indicators for status and faults
• High-quality Generac OHVI engine

• Steel enclosure suitable for any weather or storm
• Manufacturer's Warranty: 5 Year Limited
Advanced features to set it apart Along with the OHVI engine that can power your home for days or even weeks if necessary, the Generac Guardian 6462 has plenty of additional features that set it apart from other generators of its size. Included is an intuitive controller with an LCD text display and backlit buttons so that you can program the generator in the dark. You can even opt for the Mobile Link cellular remote monitoring system option, which gives you the power to check on your generator when you are away from home using your smartphone, tablet or computer. Testing your generator is important to ensure it is working when you need it most, and this machine's self-test can be programmed for weekly or monthly tests that last just five minutes when running at a low volume.
TECHNICAL SPECS & DOWNLOADS

6462 Specifications Sheet


6462 Owner's Manual


6462 Transfer Switch Manual


6462 Installation Guide


6462 Warranty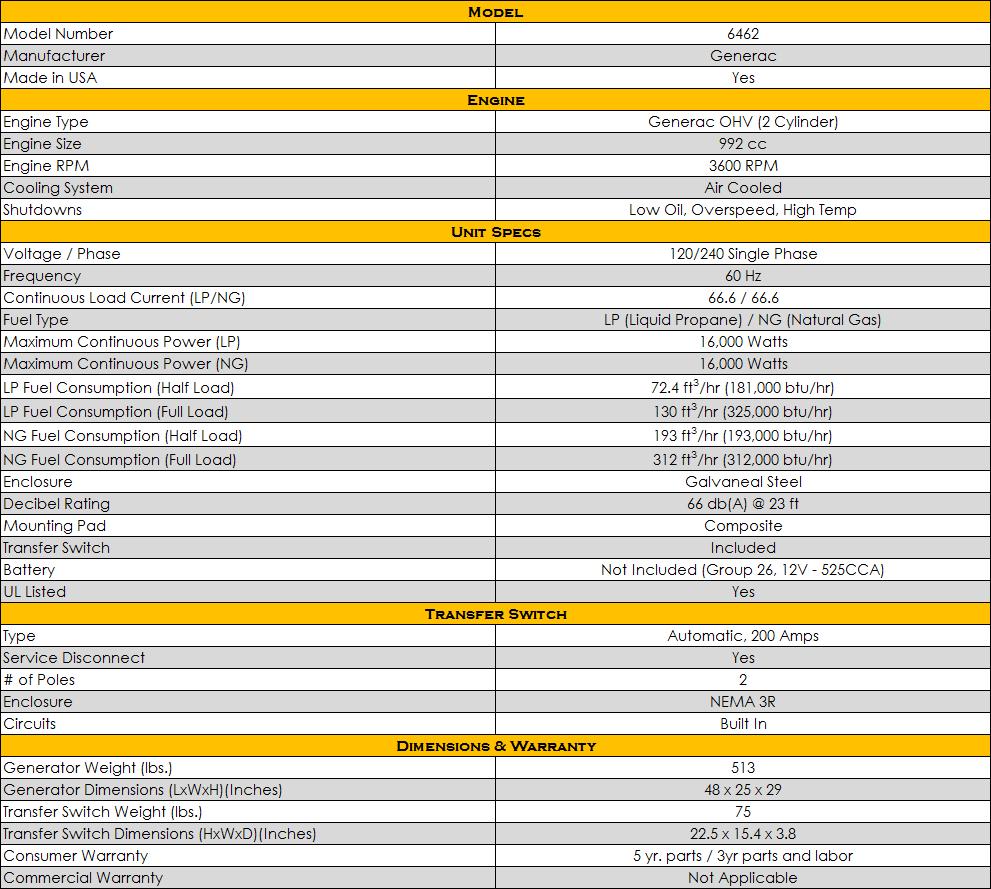 Product Videos
How Generac Home Standby Generators Work
00:37
How Generac Ho...

Control your power and your life with a Generac automatic stan...
Product Videos
Product Reviews
Write Review
looks great so far

Product Review Rating:

5

/5

Posted by D. Renaud on Oct 27, 2016

The quality and price look very good. It is not yet completely hooked up. I'm looking forward to starting it up when electrical work is done. The transfer switch is a great deal too, a very important part of the system. My only complaint is that the cold weather kit is very over priced, so I will use alternative means to keep unit warm. Generac needs to correct this expensive but necessary feature. What good is a generator in the north without a cold weather kit that allows it to start. Reviews also state that the quality of the kit from Generac is not good either. Correct this feature that should have been included and it is a 100% winner package.

---

Excellent product

Product Review Rating:

5

/5

Posted by Unknown on Oct 19, 2016

I have been installing these generators 20 years and with each new generation of generators they have definitely gotten a lot better and more user and installer friendly. I have installed a few other brands but definitely prefer to install these. My only complaint is with the website not allowing you to add comments at least I haven't been able to in the last year. I have had nothing but trouble with one of the freight companies they use and have asked repeatedly that they not ship with them. This freight company has cost me time, money and even a customer. Otherwise I would rate AP Electric a 5 star company.

---

Pleased with AP and Generac

Product Review Rating:

5

/5

Posted by Mike on Feb 16, 2016

Delivered quality product on time and at the best price. A competitor took order and couldn't deliver. Should have gone with AP first.

---

Excellent

Product Review Rating:

5

/5

Posted by M. Davidson on Dec 11, 2015

AP Electric & Generators is a very easy company to do business. Technical support was great and shipment of our Generac 6462 16 kW generator went off without a hitch.

---

Generac 6462

Product Review Rating:

5

/5

Posted by Lori Nerhing on Dec 04, 2015

We love our generac 16kw generator. Great value to boot. We got a 16kw generator for the price of competitors 14kw generator. AP Electric was easy to do business and provided great tracking of my order. Satisified

---

PERFECT

Product Review Rating:

5

/5

Posted by Rick W. on Dec 03, 2015

Everything about our purchase of the Generac 6462 was perfect. From the technical support we received prior to purchase, the price, how quickly it came, to the installation. Most importantly it performs great. Very satisfied.

---

Best Value on the Market

Product Review Rating:

5

/5

Posted by Ted Brunig on Nov 20, 2015

We had been looking around for awhile for a back-up generator. After a lot of research we decided to purchase the Generac 6462 16kw generator. Bottom line this was the best value in the market. 16kw generator for the price of a 14kw how can you go long. Great service from AP Electric and my electrician said installation was easy. Happy with our purchase.

---

Generac 6462

Product Review Rating:

5

/5

Posted by Sam on Nov 19, 2015

The Generac 16kw generator we purchased is perfect. Performs without a hitch. Very Happy!

---

Great Generator

Product Review Rating:

5

/5

Posted by Neil Hayman on Oct 15, 2015

I am very pleased with purchase of the Generac 6462 16kw generator. it has been installed for about 6 months now. we have had 2 short duration power outages and it has performed like a dream. Highly recommend this generator.

---

WOW. Fast Shipping

Product Review Rating:

5

/5

Posted by Rick Harriman on Aug 03, 2015

I could not believe it when my Generac 6462 arrived in 1 day. Now that is fast shipping and free shipping to boot. My electrician had no problems installing this Generac Generator. One brief 2 hour power outage so far and the unit performed perfectly. Great Service

---

Great Generator. Best Value in the Market

Product Review Rating:

5

/5

Posted by Mike Kerry on Jul 06, 2015

Very pleased with my purchase of my generac 6462 16kw home standby generator. Arrived within 2 days of ordering. Installation went off without a hitch. Now I am protected. Great company to order from. Very pleased with the technical support I received during the ordering process. Good work.

---

This is the one to buy

Product Review Rating:

5

/5

Posted by David Harrison on Jun 25, 2015

This was a big purchase for me. Sick of the frequent power outages in New York. Like all of my large dollar purchases i researched my butt off on this purchase. My wife was about to kill me. Just buy a generator and be done with it. Have extensive research I could not find a better generator for the money than this Generac 6462 home standby unit. Why anyone would by a 14kW home standby generator is beyond me when you can get a 16kw Generac for the same price or cheaper. Now who to buy it from. I started at Home Depot. Good grief, I could not find one person in the entire store who knew anything about these generators besides what was printed one a piece of paper. Called AP Electric about 4 times during my research. The knowledge they had on the product was simply unbelievable. Home Depot could learn a few things from AP Electric when it comes to generators. Ordered from AP Electric and it arrived 2 days later in perfect condition. Shipping company even brought all the way up my driveway which I was not expecting. Electrician installed it a week later without a hitch. If you want quick deliver, no sales tax and someone who actually knows something about the product they are selling AP Electric is the place. I will be recommending you guys to everybody I know who is looking for a home standby generator. Great work. Impressed.

---

Love it. Generac 6462

Product Review Rating:

5

/5

Posted by Joe Miller on Jun 24, 2015

Great generator and shipped very quickly. Best price I could find was AP Electric. Electrician had no problem installing this generac generator. Functions perfectly. No Issues with Generator or AP Electric.

---

Generac 6462

Product Review Rating:

5

/5

Posted by Sam H. on Apr 06, 2015

I am an electrician and I have been buying from AP Electric for several years now. Very easy company to do business with and I have never had an issue. I have been buying a lot of the Generac 6462 16Kw generators in the last 6 months. Last summer Generac discontinued their 14 kW home standby generator line. As a result I have been buying the 16kW model for my customers. Absolutely love it and it is a great value. Generac make quality gear and AP Electric provides great service. I would highly recommend both Generac generators and AP Electric.

---

Generac 6462 16Kw

Product Review Rating:

5

/5

Posted by Terry W. on Mar 23, 2015

Wow, what a great investment. I am totally satisfied and would strongly recommend this home standby generator to anyone who is in the market for back up power. Generator arrived 2 days after I ordered it from AP Electric. My electrician installed it about a week later without a hitch. The generator looks great and runs through its test cycle every week. The thing that surprised me the most is how quiet it is. AP Electric was fantastic throughout the entire process. Great Job AP Electric!

---

Generac 16kw 6462

Product Review Rating:

5

/5

Posted by John W. on Mar 20, 2015

My parents are elderly and live in Florida. Power outages are the norm down there. Afraid of what would happen if a power outage occurred in the summer months and my parents having no AC so I bought them a generator. Huge health risk at their age. A neighbor recommended AP Electric as he had bought one from them several years ago. We called AP Electric and they walked us through process and helped us tremendously in selecting the right brand, model and size of generator. Order the generator on Friday and it was delivered the following Tuesday. Wow what service. My parents called an electrician and it was easily installed about week later with no issues. My Mom even liked the color as it blended in with the color of the stucco on their house. No power outages yet but glad I don't have to worry about when the next one occurs. Would highly recommend AP Electric for your generator purchase could not be more pleased.

---

Generac 6462

Product Review Rating:

5

/5

Posted by Tim H on Mar 20, 2015

Best purchase I ever made. Not cheap but worth every penny. We experienced 4 power outages in 2014 the longest being 3 days. We finally said enough is enough. Order the Generac 6462 through AP Electric and could not be more pleased. The generator arrived in just 2 days after we ordered it. Great tracking information throughout the entire process. Electrician I hired to install the generator told me that Generac was the best. It was an easy no hassle installation. We ordered the concrete GenPad without and that cut down on the installation expense. We have had on brief 3 hour power interruption since installation. Generator functioned perfectly. Power restored in under 10 seconds. Thank you AP for all the help in selecting the correct generator. You guys rock.

---

Satisfied

Product Review Rating:

5

/5

Posted by Keith R. on Feb 14, 2015

February 1, 2015

AP Electric delivered fast and on schedule. Had some minor problems with start up including a leaking oil filter. However, everything is now working and we're satisfied.

---

Very nice

Product Review Rating:

5

/5

Posted by Don. T on Feb 14, 2015

February 1, 2015

Very nice piece of equipment, was not hard to install and runs great.

---

Overall Great!

Product Review Rating:

5

/5

Posted by Bill M. on Feb 14, 2015

December 28, 2014

Great Service, Great Price, Great Product. Have use AP Electric in the past and will definitely order from them in the future.

---

Exceeded our expectations!!!

Product Review Rating:

5

/5

Posted by Arvy H. on Feb 14, 2015

November 13, 2014

The generator has exceeded our expectations! The quality of the product is outstanding and the secure feeling of never being without power is a true comfort.

---

Positive experience

Product Review Rating:

5

/5

Posted by Timothy O. on Feb 14, 2015

October 19, 2014

Delivery went smooth, unit not installed yet, but initial inspection appears good. Purchasing experience very positive.

---

Very easy and quick!

Product Review Rating:

5

/5

Posted by Timothy M. on Feb 14, 2015

October 6, 2014

Very easy ordering and quick delivery!

---

Very easy!

Product Review Rating:

5

/5

Posted by Marvin D. on Feb 14, 2015

September 29, 2014

Very easy to install.

---

Great experience!

Product Review Rating:

5

/5

Posted by Dan O. on Feb 14, 2015

September 18, 2014

GREAT PRODUCT, EXTREMELY QUICK SHIPPING!

---

Very pleased!!!

Product Review Rating:

5

/5

Posted by Elmo B. on Feb 14, 2015

August 30, 2014

We are pleased with the generator and its installation. We'll be able to write a better review after we get our first power outage. For now, we have peace of mind, and are prepared.

---

Enough to run the entire house!

Product Review Rating:

5

/5

Posted by Stephen M. on Feb 14, 2015

August 29, 2014

5 days without power just about drove me and my wife nuts this past winter! This winter we are going to be prepared with a Generac generator powered by propane. Enough to run the entire house, in specific the HEAT and SUMP pump. Most important and do not want my basement to flood again.

---

Very Happy!

Product Review Rating:

5

/5

Posted by Karen D. on Feb 14, 2015

August 29, 2014

Thank you so much. Very happy with the generator and it was delivered to us on Thursday, the 20th, and installed on Friday. Already had a test on Wednesday.

Thanks again!

---