Generac 7040 20kW Synergy Generator with 200A SE Transfer Switch
Generac 7040 20kW Synergy Generator with 200A SE Transfer Switch
Availability:
Out of Stock
10

product reviews
Average Product Review Rating:

5

/

5
PRODUCT DESCRIPTION
Generac 7040 Features:
The Generac 7040 is run by the Generac G-Force Engine. This engine is strong and stable, capable of handling strenuous use, is pressure-lubricated, and requires less regular maintenance than most engines.
It has G-Flex Variable Speed Technology. Unlike other models that run at a constant speed, this model's technology allows the engine speed to change according to the specific electrical power needs, making it a more efficient energy solution.
This model features Generac's Evolution™ Controller. This LCD display monitors the battery and maintenance schedules, and operates with multiple language options.
The 200-Amp, NEMA 3R, outdoor-rated Automatic Transfer Switch provides automatic power and protection to your entire home from this standby generator.
Maximum 20000 LP Watts and 18000 NG Watts.
It operates at 63 Decibels, making it a quiet backup electricity solution.
The Quiet-Test Self-Test Mode runs the generator at a lower RPM while it performs a five or twelve-minute test. It is also a more fuel-efficient model.
Standby generators must be durable, and the Aluminum Enclosure and RhinoCoat powder-coated finish resist corrosion, and help this model survive the elements, including 150 mph winds.
The Generac 7040 comes with a 5-Year Limited Warranty.
Generac takes pride in customer service, and offers 24/7, year-round customer support.
Generac generators and their engines are constructed in the USA.
The Generac 7040 20/18kW Air-Cooled Standby Synergy Generator has the power you need as a homeowner to keep running when the power grid fails. This model has Generac G-Flex Technology that aids in making it a more fuel efficient unit. It is also quiet enough to satisfy residential noise rules. The Generac 7040's electricity is also gentle enough for all appliances, making it perfect for anyone's home.
The 7040 contains and is powered by the Generac G-Force Engine. The G-Force is a strong and capable engine that can last even through constant use—it does not need to be maintained as often as many generators—and is pressure-lubricated. This unit also has G-FlexTM Variable Speed Technology; this means that the G-Force Engine's power is changed according to specific electrical needs, rather than running at a constant speed throughout its use. The result is more fuel efficiency.
This electricity is provided via the outdoor-rated Automatic Transfer Switch. This switch is 200-Amp, NEMA 3R, and provides power protection for your home. The 7040 generator provides a max of 20000 LP watts and 18000 NG watts, and all quietly at only 63 Decibels for those homeowners concerned about noise. A Quiet-TestTM Self-Test Mode helps increase fuel efficiency, as well. It allows the generator to drop to a lower RPM so that it can perform a five or twelve-minute self-test. Thus, maintaining the generator is make easier for you.
This model also comes with technology to make for more efficient owner use. The 7040 features a Generac Evolution™ Controller with an LCD display that allows you, the owner, to monitor battery levels, maintenance needs, and all in several language options. A Mobile LinkTM Remote Monitor allows you to monitor your generator from a distance. With an internet connection, including wireless, and a smart device such as a smartphone or computer, you can view your generator's status and important details. This device is sold separately.
In addition to being technologically advanced, the 7040 is also durable. It comes in an Aluminum Enclosure with a RhinoCoat powder-coated finish to help it resist the natural elements, such as storms and corrosion. It can even withstand 150 mph winds. Generac is proud of its products' strength. Their generators are all made int he USA with domestic and foreign parts. This generator model comes with a 5-Year Limited Warranty and all of Generac's devices come with their 24/7, 365 days-per-year customer service.
TECHNICAL SPECS & DOWNLOADS

7040 Brochure


7040 Specifications Sheet


7040 Owner's Manual


7040 Installation Manual


7040 Warranty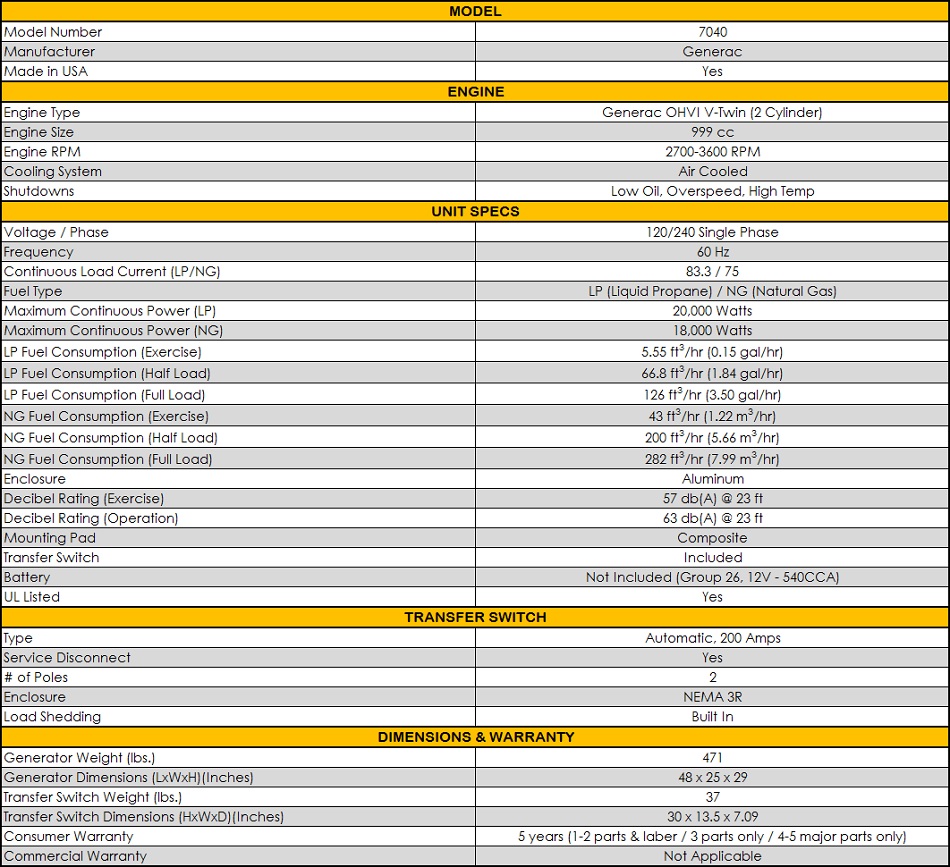 Product Reviews
Write Review
Purchased 8 months ago and 3 power outages.

Product Review Rating:

5

/5

Posted by Larry Jarrett on Jul 18, 2018

This generator is better than I could have imagined. AP was the best to work with, all was exactly as they said. The generator seems to easily run the whole house with air conditioner and well. Installed it about 10 feet from the house and can barely hear it running. Had a 6 hour outage last night and it preformed flawlessly. checked it over this morning and it still looked like it has never been run I think the Synergy variable speed is the best way to go. Highly suggest this model, could not be happier.

---

Generac 7040 20kW Synergy Generator with 200A SE Transfer Switch

Product Review Rating:

5

/5

Posted by Greg H on Apr 12, 2018

Works as advertised. Folks at AP Electric were extremely knowledgeable and were able to answer all my technical questions. Shipped the same day I ordered the generator.

---

Excellent Generator

Product Review Rating:

5

/5

Posted by Ed S on Apr 09, 2018

My Generac 7040 has been installed for about 8 months. Put to serious use twice (24+ hour outage). Works perfectly strongly recommend.

---

Generac 7040 20kW Synergy Generator with 200A SE Transfer Switch

Product Review Rating:

5

/5

Posted by Randy Smith on Mar 12, 2018

No complaints at all on purchase of this Generac 7040 20kW generator. Arrived quickly and undamaged.

---

Excellent Generator

Product Review Rating:

5

/5

Posted by Sam F on Feb 27, 2018

As an electrical engineer I pay attention to the details when comes to equipment of this nature. Generac did a solid job on the design of their 7040 Synergy 20kW generator. Did most the install myself directions were straight forward. I would buy again

---

Excellente'

Product Review Rating:

5

/5

Posted by Thomas Paul on Feb 27, 2018

Outstanding. Loved the free shipping and no tax. AP Electric even included a free batttery wich saved me about $100 bucks. Shipped fast and no issues for my electrician on the installation of Generac's 7040 20kW Synergy Generator. I strongly recommend this product

---

Generac 7040 20kW Synergy Generator with 200A SE Transfer Switch

Product Review Rating:

5

/5

Posted by Mary Letz on Feb 05, 2018

We have had our generator for about 6 months now at our lake home. We have had no issues so far and are very pleased with our purchases of Generac's 20 kW home standby generator.

---

Generac 7040

Product Review Rating:

5

/5

Posted by Dave P. on Oct 16, 2017

First of all, I have to say that I have never dealt with a company like AP Electric before. No shipping and no tax. They are unbelievably GREAT. I ordered on Saturday and this unit was shipped out Monday and arrived Friday. The truck driver from the company they used was very helpful.

Secondly, I had the unit set up in a few days and it ran great (testing it), the mobile link is all set up and provides useful info. This has to be one of the best units on the market today.

We haven't had a hurricane since we purchased this unit but I am reasonably confident we can live off the grid and completely power our house if we need it.

---

new generator

Product Review Rating:

5

/5

Posted by Dave on Jan 30, 2017

just got hooked up haven't needed it yet.

---

Generac 7040 20kW Synergy Generator with 200A SE Transfer Switch

Product Review Rating:

5

/5

Posted by Mark Buell on Dec 16, 2016

Great Generator by Generac and great help from AP Electric in selecting this genny. Fantastic transaction.

---