Generac 6804 MCP5538 3" Gas Diaphragm Pump with Honda Engine
Generac 6804 MCP5538 3" Gas Diaphragm Pump with Honda Engine
Availability:
In Stock - Available for Immediate Shipment
PRODUCT DESCRIPTION
RELIABLE, EASY TO USE, WEAR RESISTANT The MCP5538 diaphragm pump is built for solid performance; reliable 5.5hp Honda engine, aluminum pump construction, standard Thermal Plastic Elastomer and up to 85 gallons per minute pumping capacity. The MCP5538 diaphragm pump is wear resistant and easy to use with a simple/low maintenance design which can run dry indefinitely without damage and automatically re-primes when seepage reappears. Ideal for low volume/head conditions such as seepage dewatering and sandy, muddy or sludgy waters of shallow construction areas, trenches and excavation sites. Dependable performance for pumping industrial waste, marine tanks and cleaning septic systems. 3" SUCTION/DISCHARGE FIVE(5) DIAPHRAGM MATERIAL OPTIONS DEPENDING ON APPLICATION SKID OR WHEEL MOUNTED FOR EASY MANEUVERABILITY EXCELLENT PERFORMANCE IN SHALLOW, HIGH SOLID CONDITIONS AUTO PRIMING INTERMITTENT PUMPING LIMITLESS DRY RUN WITHOUT DAMAGE SIMPLE DESIGN/LOW MAINTENANCE LARGE OPENING FLAP VALVES SELF CLEANING WATER FLOW DURABLE CAST ALUMINUM PARTS ENCLOSED GEARS IN OIL BATH 2-YEAR LIMITED WARRANTY
TECHNICAL SPECS & DOWNLOADS

6804 Specifications Sheet


6804 Owner's Manual


6804 Warranty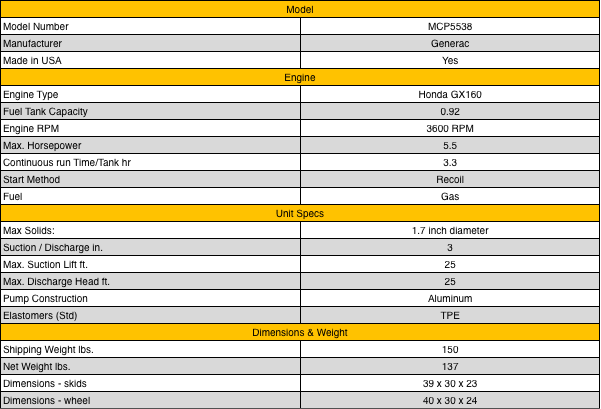 Product Videos
Diaphragm Pump Working Animation
01:27
Diaphragm Pump...

This video shows a simple animation which explains the working...
Product Videos