Generac 6802 MCP5515-3 3" Electric Diaphragm Pump
Generac 6802 MCP5515-3 3" Electric Diaphragm Pump
Availability:
In Stock - Available for Immediate Shipment
PRODUCT DESCRIPTION
The Magnum MCP5515-3 diaphragm pump is built for solid performance with a 1.5 hp three phase engine, aluminum pump construction, standard Thermal Plastic Elastomer, and up to 67 gallons per minute pumping capacity. 3" SUCTION/DISCHARGE SKID OR WHEEL MOUNTED FOR EASY MANEUVERABILITY STRONG PERFORMER IN SHALLOW, HIGH SOLID CONDITIONS AUTO PRIMING INTERMITTENT PUMPING LIMITLESS DRY RUN WITHOUT DAMAGE SIMPLE DESIGN/LOW MAINTENANCE LARGE OPENING FLAP VALVES SELF CLEANING WATER FLOW DURABLE CAST ALUMINUM PARTS ENCLOSED GEARS IN OIL BATH 2-YEAR LIMITED WARRANTY
TECHNICAL SPECS & DOWNLOADS

6802 Specifications Sheet


6802 Warranty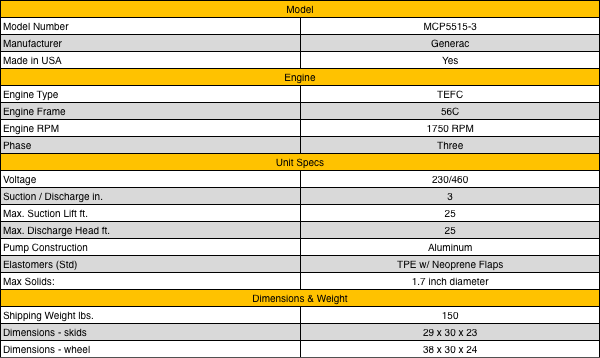 Product Videos
Diaphragm Pump Working Animation
01:27
Diaphragm Pump...

This video shows a simple animation which explains the working...
Product Videos