Generac XG Series 5847CSA 8000 Watt Electric Start Portable Generator - For Canada Purchase Only
Generac XG Series 5847CSA 8000 Watt Electric Start Portable Generator - For Canada Purchase Only
Availability:
In Stock - Available for Immediate Shipment
1

product review
Average Product Review Rating:

5

/

5
PRODUCT DESCRIPTION
PRODUCT FEATURES: • Full-wrap, heavy-duty, 1 1/4" steel tube cradle for added durability and strength • Exclusive PowerBar™ monitors power wattage • Illuminated LED control panel • Hour meter tracks usage and monitors maintenance cycles. • Large-capacity steel fuel tank with fuel gauge • Not for sale in CA • Manufacturer's Warranty: 2 Year Limited (Consumer) - 1 Year Limited (Commercial) IDEAL FOR EMERGENCY POWER OR DIY PROJECTS The premium quality power and reliable performance of the XG Series comes from Generac's OHVI® engine. Depend on this rugged unit to provide years of reliable power for events, emergency power, or DIY projects. Includes first oil and maintenance kit. GENERAC OHVI® ENGINE Built specifically for generator use, Generac's OHVI engine incorporates full-pressure lubrication with an automotive-style spin-on oil filter for long engine life. ILLUMINATED LED CONTROL PANEL Easily monitor the generator power you're using. COVERED OUTLETS When not being used, all XG Series outlets have this added protection from the environment and rugged working conditions. HEAVY-DUTY, NEVER-FLAT WHEELS AND FOLD-DOWN HANDLE Helping to make your portable power that much more so, these wheels will let you take your XG Series portable generator across any terrain. Handle folds down for compact storage, and locks for sturdy portability. LOW OIL PRESSURE SHUTDOWN Your XG Series portable generator's Generac OHVI engine is protected in case oil pressure runs low. The engine will shut down automatically, preventing potential damage.
TECHNICAL SPECS & DOWNLOADS

5847 Warranty


5847 Brochure


5847 Specifications Sheet


5847 Owner's Manual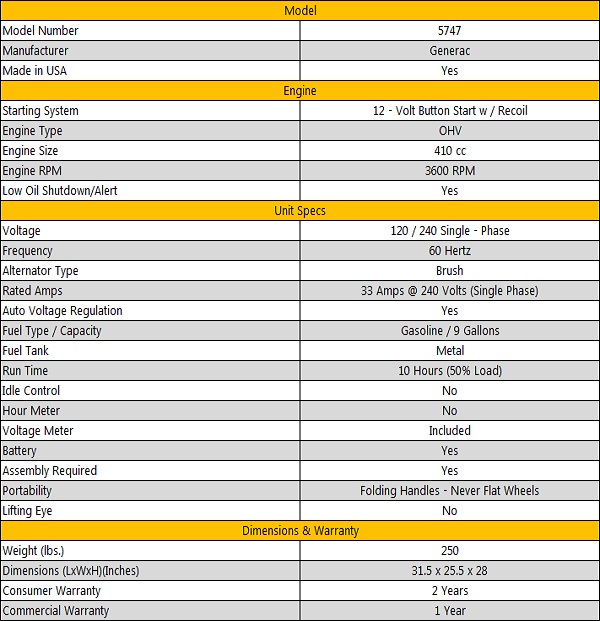 Product Videos
Generac 5747 XG8000E Generator Review - Is It For You?
00:52
Generac 5747 X...

Learn about the good and bad points of the Generac 5747 XG8000...
Product Reviews
Write Review
Quality and Relability

Product Review Rating:

5

/5

Posted by Robert Flumo on Apr 26, 2017

This Generac 5747 XG 8000




This Generac 5747 XG8000E is an outstanding quality and very reliable product. I bought it since 2012 and has always work fine. I Never had problem with it since then. Will recommend to any friends.





---