Generac LP Series 6000 3250W Portable Generator
Generac LP Series 6000 3250W Portable Generator
Availability:
In Stock - Available for Immediate Shipment
3

product reviews
Average Product Review Rating:

5

/

5
PRODUCT DESCRIPTION
PRODUCT FEATURES: • Integrated fuel tank holder secures a 20 or 30 lb LP tank to unit for easier and safer transportation • Powerful 212cc Generac OHV engine w/heavy duty alternator • Folding/nesting handle and folding tank holder for compact storage • Dolly-style handles and low grab bar increase maneuverability • Wheel kit included • Manufacturer's Warranty: 2 Year Limited (Consumer) - 1 Year Limited (Commercial) The Generac LP Series is fueled by clean-burning propane. The LP3250 incorporates a tank holder into the frame itself, so the propane tank sits securely out of the way. It eliminates the hassle of a stand-alone tank and the awkward fuel line that goes along with it. Take the LP3250 along for outdoor events, camping or job site use, or use it around the home for projects and emergency backup. What are the Benefits of Liquid Propane Fuel? 1. Liquid propane (LP) fuel offers many advantages over gasoline in portable generator applications: 2. Clean: LP fuel is essentially non-toxic, and does not spill during refueling. 3. Reliable: LP fuel does not degrade over time and no stabilizers are needed, so tanks can be stored indefinitely. 4. Available: Since major storms can damage infrastructure, and since gas pumps cannot operate without electricity, gasoline might not be available during a power outage. 5. LP fuel is available from a variety of other sources, including cylinder exchanges.
TECHNICAL SPECS & DOWNLOADS

6000 Brochure


6000 Specifications Sheet


6000 Owner's Manual


6000 Warranty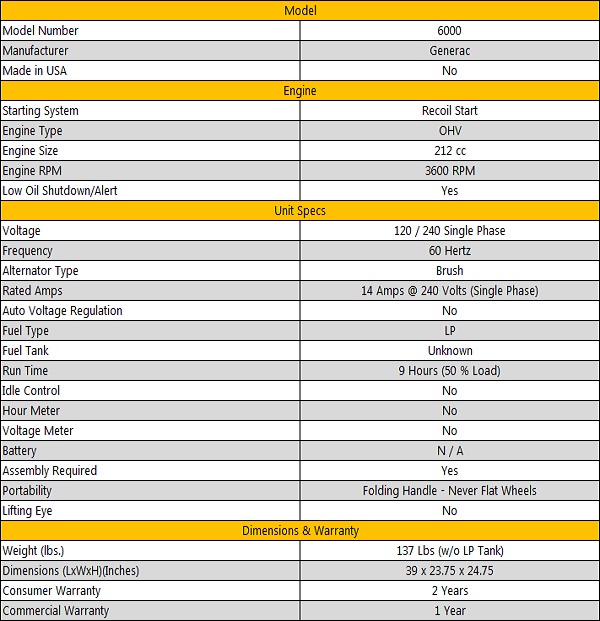 Product Reviews
Write Review
Great portable Generator that runs on propane

Product Review Rating:

5

/5

Posted by J. Morris on Jul 07, 2015

Bought this because it ran on propane. Happy with my purchase. I bought this out of the scratch and dent section. I have to be honest I could not find one blemish on it. I have used this for a couple of months now on my camping trips. works perfectly. No worries buying out of scratch and dent section if they have one. Good value.

---

Great Portable Unit

Product Review Rating:

5

/5

Posted by Dean Stanley on Apr 16, 2015

I bought the Generac LP3250 from AP Electric and love it. It is so easy to use. The LP tank it uses is the same one I use for my grill, so I always have fuel, and the propane does not go bad, or gum up the carburetor like gasoline does. I like the long handle and large wheels. Moving it around my property is a breeze. I use it to power electric yard tools like my chain saw and trimmer on my property. And is is handy to have in an emergency, although I have not had to use it that way yet. The unis feels well built, and I am sure it will be in service for years to come.

---

Good site

Product Review Rating:

5

/5

Posted by Dr R on Mar 16, 2015

Submitted on November 13, 2014
Still have not received it as I only purchased it on 11-7-14 but anxiously and patiently waiting. Hoping it comes soon


---