Generac iX Series 6719 2000W Portable Inverter Generator
Generac iX Series 6719 2000W Portable Inverter Generator
Availability:
In Stock - Available for Immediate Shipment
11

product reviews
Average Product Review Rating:

5

/

5
PRODUCT DESCRIPTION
PRODUCT FEATURES: • Pull start • Electronic circuit breakers protect against overloads • Low oil shutdown protection prevents • FlexPower reduces fuel and noise • Two 5-20R outlets and 12 volt battery charging outlet • Manufacturer's Warranty: 2 Year Limited (Consumer) - 6 Month Limited (Commercial) DESIGNED FOR LIFE ON THE ROAD Generac's award-winning iX Series is quiet and lightweight & almost anyone can handle this compact unit. Inverter technology gives these units less than 3% total harmonic distortion, providing clean and stable power that safely powers laptops, TVs, power tools and other sensitive electronics. Ideal for camping, tailgating and recreational use. HOW INVERTER TECHNOLOGY WORKS Inverter generators utilize a different type of alternator than standard generators to generate AC power. The raw power produced is converted from DC to AC power by a computer controlled inverter module. The engine speed varies depending on the electrical demand, which significantly reduces noise and fuel consumption compared to a standard portable. The end result is a portable generator with reduced weight and size and power that is ultra-clean, capable of safely powering sensitive electronics. LIGHTWEIGHT AND COMPACT The iX Series is up to 40% lighter than a standard generator of equal watts. And the built-in handle makes it easy to move with minimal effort. FLEXPOWER OPERATION MODES Use high mode for large loads or battery charging, or eco mode to save fuel and reduce sound levels even more.
TECHNICAL SPECS & DOWNLOADS

6719 Brochure


6719 Specifications Sheet


6719 Warranty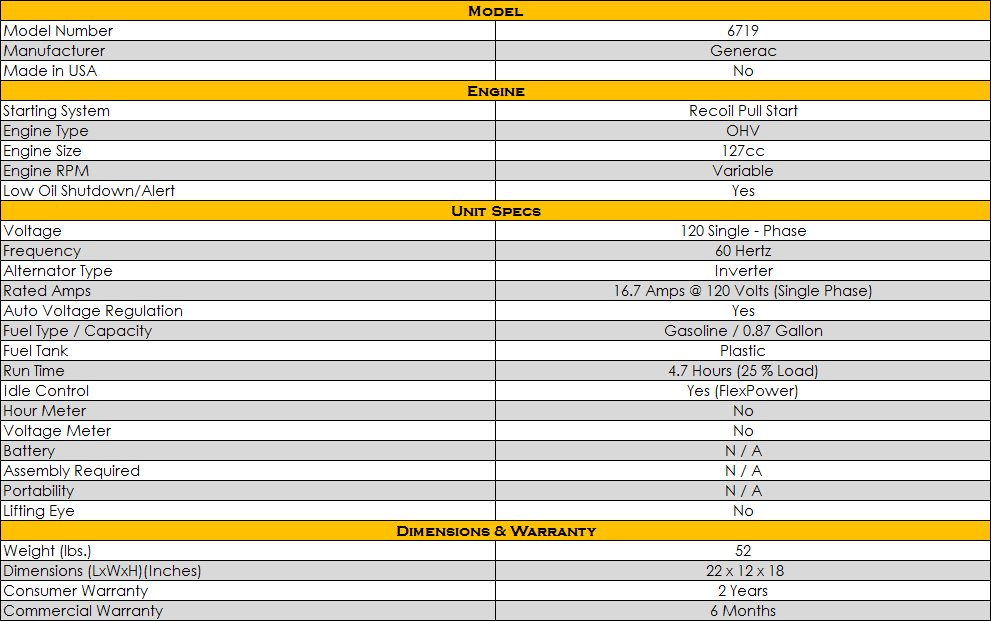 Product Reviews
Write Review
2000w inverter generator/6719

Product Review Rating:

4

/5

Posted by billy bush on May 15, 2016

very easy to start-a little loud compaired to honda but not much

---

Excellent

Product Review Rating:

5

/5

Posted by Neil on Dec 18, 2015

Great 2000watt portable generator. Started first pull out of the box. Vas shipping from AP Electric. Arrived in 2 days.

---

Generac 6719 2000W Inverter generator

Product Review Rating:

5

/5

Posted by Tim H. on May 27, 2015

What a value. My wife and I are frequent tent campers. Wanted a small generator to power up a few devices while camping. All our friends have Honda's and told us that was the one to buy. Well, the Generac was almost half the price so the decision was easy for me. I bring out my Generac at the campsite while my friends bring out their Honda's. Mine has always started on the first or second pull and I can not tell the difference in the sound between the Generac and the Honda's. Super fast shipping. It arrived in just 2 days. Very pleased with purchase and AP Electric

---

Generac 2kw performs well

Product Review Rating:

3

/5

Posted by Terry B. on Feb 23, 2015

"Submitted on August 28, 2014
but is a little difficult to start compared to my Yamaha portable. Takes about six to eight pulls after priming. Also, it is not possible to close the fuel tap and run the gas out of the carburetor for storage like other portables. The stop engine switch is integrated with the fuel cut off valve and immediately kills the engine when shutting the fuel supply valve. Storage will require manually draining the float bowl. Noise level is average."


---

i will definitely be back

Product Review Rating:

5

/5

Posted by Dennis Siller on Feb 23, 2015

"Submitted on May 25, 2011
I haven't had a chance to put it to a good test yet but i was very impressed with your web page and the way my order was handled. "


---

Easy ordering on line fast shipping.

Product Review Rating:

5

/5

Posted by Kevin Wilcox on Feb 23, 2015

"Submitted on May 25, 2011
A little louder than Honda but well worth the money and would buy again."


---

Good little generator

Product Review Rating:

5

/5

Posted by Unknown on Feb 23, 2015

"Submitted on April 26, 2011
I have only used it once to test it. It ran my side by side refrigerator for over 3 and 1/2 hour's on a little bit less than a gallon of gas these day's you have to save when you can. It is not too loud also"


---

Easy to shop online

Product Review Rating:

5

/5

Posted by Dennis Buckley on Feb 23, 2015

"Submitted on March 29, 2011
I received my generator today it was in perfect shape and shopping was easy. Thank you Denis"


---

It arrived in perfect condition -

Product Review Rating:

4

/5

Posted by Unknown on Feb 23, 2015

"Submitted on March 29, 2011
fired up on the 4th pull - won't be able to put it to the test for a while - so far so good!"


---

Very quiet, portable, easy on fuel.

Product Review Rating:

5

/5

Posted by Mark on Feb 23, 2015

"Submitted on December 31, 2010
Pump up gas lid for starting some what confusing."


---

Ran it for 22 hours straight!

Product Review Rating:

5

/5

Posted by Jacob on Feb 23, 2015

"Submitted on April 14, 2010
I bought this generator on Monday and had it by Wednesday. I was still without power and this generator did a wonderful job. Ran it for 22 hours straight!"


---