Generac iX Series 5791 800W Portable Inverter Generator
Generac iX Series 5791 800W Portable Inverter Generator
Availability:
In Stock - Available for Immediate Shipment
5

product reviews
Average Product Review Rating:

5

/

5
PRODUCT DESCRIPTION
PRODUCT FEATURES: • Clean power for sensitive electronics • Electronic circuit breakers protect against overloads • Low oil shutdown protection prevents • FlexPower reduces fuel and noise • Control panel indicator lights • Not for sale in CA • Manufacturer's Warranty: 2 Year Limited (Consumer) - 6 Month Limited (Commercial) DESIGNED FOR LIFE ON THE ROAD Generac's award-winning iX Series is quiet and lightweight almost anyone can handle this compact unit. Inverter technology gives these units less than 3% total harmonic distortion, providing clean and stable power that safely powers laptops, TVs, power tools and other sensitive electronics. Ideal for camping, tailgating and recreational use. HOW INVERTER TECHNOLOGY WORKS Inverter generators utilize a different type of alternator than standard generators to generate AC power. The raw power produced is converted from DC to AC power by a computer controlled inverter module. The engine speed varies depending on the electrical demand, which significantly reduces noise and fuel consumption compared to a standard portable. The end result is a portable generator with reduced weight and size and power that is ultra-clean, capable of safely powering sensitive electronics. LIGHTWEIGHT AND COMPACT The iX Series is up to 40% lighter than a standard generator of equal watts. And the built-in handle makes it easy to move with minimal effort. FLEXPOWER OPERATION MODES Use high mode for large loads or battery charging, or eco mode to save fuel and reduce sound levels even more.
TECHNICAL SPECS & DOWNLOADS

5791 Brochure


5791 Sell Sheet


5791 Specifications Sheet


5791 Owner's Manual


5791 Warranty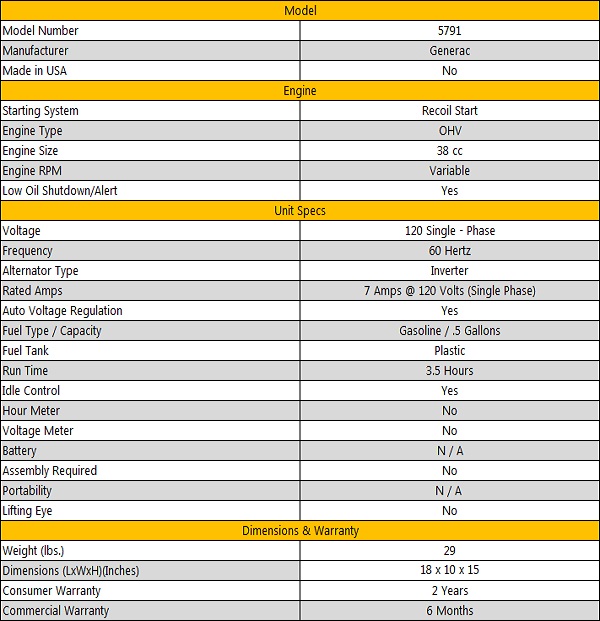 Product Reviews
Write Review
Lightweight and easy to handle.

Product Review Rating:

5

/5

Posted by Michael H. on Feb 23, 2015

"Submitted on February 01, 2015
I love it works great. Thanks"


---

Great customer service

Product Review Rating:

5

/5

Posted by Michael G. on Feb 23, 2015

"Submitted on October 18, 2014
Fantastic service and double checking on credit card accounts is awesome"


---

Now I run a 12 amp, 12 volt battery charger off of the generator and it handles the load no problem

Product Review Rating:

4

/5

Posted by Andrew Miller on Feb 23, 2015

"Submitted on October 02, 2012
Product received promptly and in perfect condition. I've run 6 hours with no problems. This generator is quiet, but not as quiet as the Honda equivalent. But the price is far less than the Honda. The noise level is very low and I don't think this will disturb your neighbor at a camp site. Its very good on fuel and the fuel tank is the right size - it ran each time I wanted it to without refilling (at least 3 hrs). Its a bit awkward to replace the oil fill cap, but that's no big deal because checking or changing the oil is not an everyday thing. Its not as powerful as I expected. But its only 800 watts and I'm running it at 6,000 ft elevation. I plugged it in to my 28 ft travel trailer to charge the batteries but all of the other stuff that powers up (in addition to the on-board battery charger) bogged the generator down. Now I run a 12 amp, 12 volt battery charger off of the generator and it handles the load no problem."


---

Incredibly fast shipping

Product Review Rating:

5

/5

Posted by Unknown on Feb 23, 2015

"Submitted on April 21, 2011
I need the generator ASAP and received the generator ASAP! Thanks AP!"


---

Would not think twice about doing business with this company again.

Product Review Rating:

5

/5

Posted by Denis Rozier on Feb 23, 2015

"Submitted on December 18, 2010
Shipping was excellent. The Item received was packaged in good condition. Free shipping was also considered a Bonus."


---