Generac GP Series 5982 3250W Portable Generator
Generac GP Series 5982 3250W Portable Generator
Availability:
Out of Stock
2

product reviews
Average Product Review Rating:

5

/

5
PRODUCT DESCRIPTION
PRODUCT FEATURES: • Idle control reduces noise and conserves fuel • Low-oil level shutdown • Integrated lifting eye for easy transport and security on the job site • Not for sale in CA • Manufacturer's Warranty: 2 Year Limited (Consumer) - 1 Year Limited (Commercial) ONE OF THE MOST POWERFUL PORTABLE GENERATORS AVAILABLE Power outages usually occur without warning. Ideally, a homeowner is prepared with an automatic home standby generator installed and always ready to go. However, if a portable generator is the only option for backup power during an emergency, Generac's GP Series 3250 Watt unit is an excellent option, with enough power to run the bare essentials that you need to keep you going. RELIABILITY FROM THE START It's in the engine. Because of Generac's focus on power generation, we know how to design an engine that can stand up to the long hours of continuous use generators can be required to run. Generac's OHVI® engine incorporates full pressure lubrication with automotive style spin on oil filter for longer life engine. EASILY ACCESSIBLE CONTROLS A portable generator needs to be ready for use at all times. Generac added maintenance reminders on the hour meter, so scheduled maintenance is easy to track, and the convenient fuel gauge provides at-a-glance fuel monitoring. Many portable models have controls located in inconvenient locations and are difficult to access quickly, especially in the dark. We gave control placement careful consideration, with comprehensive control sets conveniently located for easy access. FRAMED FOR DURABILITY The hardened steel frame gives our portable generator cradles added strength and are a premium 1¼" thick, a full ¼" thicker in diameter than competitors' models. The addition of integrated brackets and impact resistant corners on most models gives contractors rugged options ideal for job site use.
TECHNICAL SPECS & DOWNLOADS

5982 Brochure


5982 Specifications Sheet


5982 Owner's Manual


5982 Warranty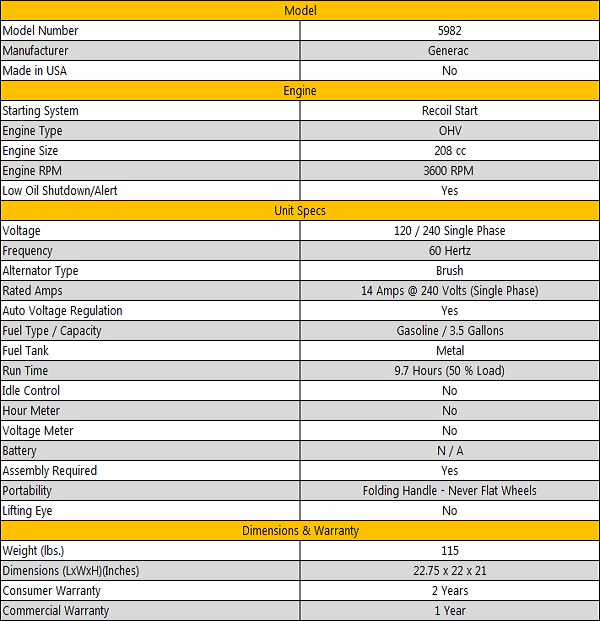 Product Videos
Generac 5982 GP3250 3,250 Watt Generator - Pros And Cons
01:32
Generac 5982 G...

In this video you will find some of the pros and cons of the G...
Product Reviews
Write Review
Great Portable Generator

Product Review Rating:

5

/5

Posted by G. Nerby on Jun 11, 2015

Great price and it shipped quickly. No issues at all. works perfectly. This is a well built portable generator after using this generator for 5 months now I expect it to last a long time.

---

I will buy again someday from these people.

Product Review Rating:

5

/5

Posted by NELS STORY on Mar 16, 2015

Submitted on March 20, 2010
This generator has not disappointed me in any way..And the service from AP Electric & Generators perfect! And I looked at a million other sites and generators local, long distance and online. I ordered this at 18:20 on Monday, it was here in MA. by 14:00 Friday!


---