Generac Guardian 6438 11kW Generator with 200A SE Transfer Switch
Generac Guardian 6438 11kW Generator with 200A SE Transfer Switch
Availability:
DISCONTINUED - AP Recommends Replacing with Generac 7033 11kW
35

product reviews
Average Product Review Rating:

5

/

5
PRODUCT DESCRIPTION
THIS PRODUCT IS NO LONGER AVAILABLE. SEE SUGGESTED REPLACEMENT(S) BELOW.
Exceptional and reliable performance When severe weather and other disasters threaten to leave you in the dark, you need a generator that has your back 24/7. During the moments you need it most, the Generac Guardian 6438 11kW Generator with 200A SE Smart Switch provides the backup power you need to stay safe and comfortable. For dependability you can rely on, it is fueled by your home's current LP or natural gas supply, and it kicks on automatically within seconds of losing power. Since nature is unpredictable, Generac understands that you need a power source to carry you through extended outages. Equipped with an American-made OHVI engine, this generator is specially designed for long-term use. To perform well in even the harshest conditions, the Galvanneal steel enclosure is coated with a long-lasting powder finish, so whether 150 mph winds or heavy downpours come your way, your Guardian series generator is protected. To expand your options for optimal placement, it is certified by the National Fire Protection Association to be installed a mere 18 inches from your home when located away from windows, doors and air intakes (subject to local building codes).
Additional features include:
• Starts automatically for 24/7 backup power protection
• Continuous fuel source from your home - LP or natural gas
• Digital controller with LED status and fault indicators
• Generac OHVI engine
• All-weather steel enclosure
• Manufacturer's Warranty: 5 Year Limited
Cutting-edge technology Thanks to its industrial engine and top-notch power quality, this generator can run your sump pump, HVAC system, refrigerator, freezer and more. Providing less than 5 percent harmonic distortion, you can trust this product to safely power your most sensitive devices. With its innovative technology, it features a two-line LCD display with backlit buttons to aid in low-visibility conditions. As an added bonus, it provides multi-lingual text, external indicator lights and an hour meter. Peace of mind To ensure peak performance when you need it most, this Guardian series generator runs self-tests periodically. Lasting only 12 minutes, the tests can be programmed according to your preferred schedule. Running quietly, it won't interfere with your daily activities, and you can rest assured that it is in top condition when emergencies occur. The Generac 6438 is designed to run on either liquid propane (LP) and natural gas and you can switch fuel sources within a matter of seconds, and no tools are necessary. The ability to run off various fuel sources is just one more way this generator provides your will flexibility in the event you change fuel sources in the future. Just as this piece of equipment is on standby at all times, the Generac customer support staff is available 24/7 to answer questions and provide technical support. Offering a five-year limited warranty, the company believes in this generator as a dependable product that will provide you with security and comfort during challenging times.
TECHNICAL SPECS & DOWNLOADS

6438 Brochure


6438 Specifications Sheet


6438 Owner's Manual


6438 Transfer Switch Manual


6438 Installation Drawing


6438 Warranty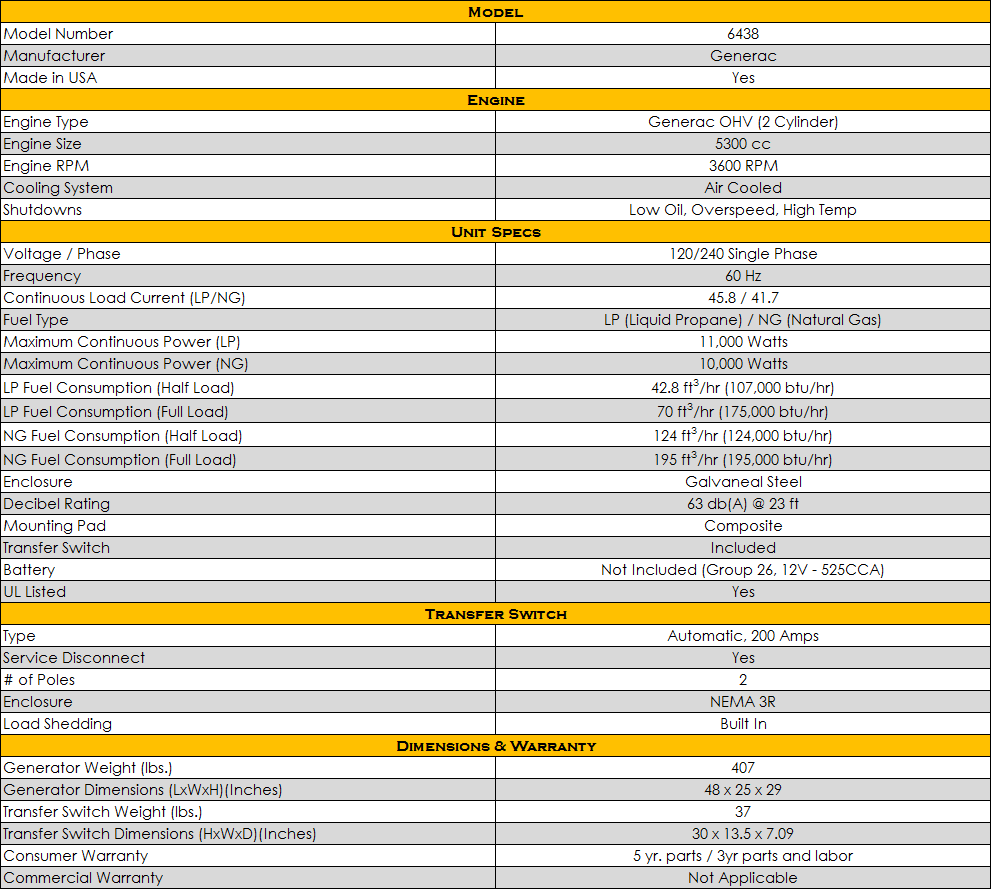 Product Reviews
Write Review
Ready for a power outage

Product Review Rating:

5

/5

Posted by Paul on Dec 17, 2015

Very pleased with my purchase of Generac's 6438 11kW generator. Great help from AP Electric in helping me size the generator. I took advantage of the 2% discount by paying with a check. I was able to install the generator myself with the assistance of an electrician friend. Performs as it should. Recommend this unit and manufacturer.

---

Perfect Size

Product Review Rating:

5

/5

Posted by Wayne Mussing on Dec 04, 2015

This Generac 11kw generator was the perfect size for my cabin. Surprised that there was free shipping to me in fairly remote area of upstate New York. Works great.

---

Great Generator.

Product Review Rating:

5

/5

Posted by Theo Shwartz on Jul 01, 2015

I waited to long to purchase a home standby generator. I love the piece of mind this 11kw generator gives me. Shipped super quick. Arrived the next day. Installation was great by one of your recommended installers. You recommendation was cheaper than the bid I had received. He really knew what he was ding. No real power outages yet but I am ready. Actually I am looking forward to the next power outage. Great Experience. Thanks.

---

Generac 6468

Product Review Rating:

5

/5

Posted by Dale M on Mar 23, 2015

I was extremely pleased with the entire process. I was not sure what size generator I needed as I was not looking to power up everything in my house. I just had certain things in my house not everything, so I did not want a home standby generator that was too big or too small. I worked with Dom, and he was extremely helpful. Once I had worked out the appropriate size I double checked with my electrician and the calculations were right on. Super speedy deliver. I ordered on Wednesday and the generator was delivered on Friday. Super customer service by AP Electric. The generator has been installed for several months now and it works like a charm. Would strongly recommend AP Electric and Generac model 6438.

---

Extremely Happy with AP

Product Review Rating:

5

/5

Posted by Patrick P. on Feb 20, 2015

Submitted on February 01, 2015
From ordering to delivery, I couldn't ask for more.


---

Super fast shipping, Great product, Excellent Customer service.

Product Review Rating:

5

/5

Posted by Thomas C. on Feb 20, 2015

Submitted on December 02, 2014
I ordered a 11kw 6438 Guardian series w/200A SE Smart Switch and GenPad on 10/28/14 and was at my door on 10/30/14. It is now completely installed and works perfectly! I highly recommend AP Electric! Tom C.


---

Looks great

Product Review Rating:

5

/5

Posted by Wayne O. on Feb 20, 2015

Submitted on November 14, 2014
Fast delivery easy to install



---

Very satisfied

Product Review Rating:

5

/5

Posted by Micahel G. on Feb 20, 2015

Submitted on September 26, 2014
AP handled the purchase and delivery very professionally



---

All in all great stuff!

Product Review Rating:

4

/5

Posted by Michael O. on Feb 20, 2015

Submitted on March 13, 2014
Your freight service people were great. He pallet trucked the generator down my long drive way.I was pleased with every aspect of the equipment except when my young nephew set the time for exercise and it started up midnight on Saturday night.He was not familiar with a 24 hour clock,not your fault!


---

This is an ideal generator

Product Review Rating:

5

/5

Posted by Unknown on Feb 20, 2015

Submitted on August 12, 2013
This is an ideal generator for someone with a small or starter home or customers wishing only to have their heating/cooling and refrigerator with a backup systems. I also appreciate how fast AP shipped this item once the order was placed.


---

Great delivery and price

Product Review Rating:

5

/5

Posted by Alphonse Farina on Feb 20, 2015

Submitted on June 03, 2013
Fast delivery and easy installation


---

good prices and quick delivery

Product Review Rating:

5

/5

Posted by NELSON DUBE on Feb 20, 2015

Submitted on March 14, 2013
Excellent customer service


---

Great generator

Product Review Rating:

5

/5

Posted by Frank Wdowiak on Feb 20, 2015

Submitted on January 03, 2013
Got the unit in a timely fashion. Having technical problems waiting for local dealer to resolve.


---

Thank you AP Electric!!

Product Review Rating:

5

/5

Posted by Dave on Feb 20, 2015

Submitted on October 01, 2012
I couldn't be more pleased, I got the best deal on the internet, fast service & delivery, a very nice generator that installed easy, and piece of mind knowing that when the next blizzard/power failure occurs, I will have power, heat and water.


---

AP was great to work with

Product Review Rating:

5

/5

Posted by Gerald Richmond on Feb 20, 2015

Submitted on September 20, 2012
Unit was shipped and delivered as promised. The delivery driver was way late on the delivery window but was 200% on the helpful scale. Went beyond what was expected to get the unit close the my pad 30' off my driveway down a cobbled walkway. He earned the tip I gave him, as 10 min. of his time would have been 1 or 2 hrs of my time.


---

price was competitive

Product Review Rating:

5

/5

Posted by James Willis on Feb 20, 2015

Submitted on September 07, 2012
delivery was when promised


---

Great shipping and price

Product Review Rating:

5

/5

Posted by James Greene on Feb 20, 2015

Submitted on July 24, 2012
The generator was shipped as quickly as expected and arrived with complete unloading assistance. The experience could not have been better. Even though a national storm which could have affected price and delivery just went through the country, it did not affect the excellent service.


---

Generator installed easily

Product Review Rating:

5

/5

Posted by Unknown on Feb 20, 2015

Submitted on May 30, 2012
The price of the unit was gr8 and delivered quickly. Generator installed easily and works perfect.


---

Looks good so far.

Product Review Rating:

4

/5

Posted by Frank Ballestero FB Almighty on Feb 20, 2015

Submitted on May 14, 2012
I had the generator dropped off to a client. Still waiting for town permits to be issued.


---

Great generator

Product Review Rating:

5

/5

Posted by Lonnie Harding on Feb 20, 2015

Submitted on April 10, 2012
Very nice generator, easy to install. works great.


---

The generator runs great

Product Review Rating:

5

/5

Posted by Ronald Menslage on Feb 20, 2015

Submitted on March 29, 2012
I am extremely pleased with my purchase. The generator is installed and runs great.


---

Am very pleased with the equipment purchased.

Product Review Rating:

5

/5

Posted by william wagonlander on Feb 20, 2015

Submitted on February 13, 2012
Arrived in great shape, no damage ... After hook up tested and ran the entire house with plenty of power to spare.


---

Unit looks good on pad as described.

Product Review Rating:

4

/5

Posted by Unknown on Feb 20, 2015

Submitted on January 17, 2012
Just completing installation, NG hook up no problem, electric pending.


---

What a pleasure dealing with AP!

Product Review Rating:

5

/5

Posted by Elizabeth Ouellette on Feb 20, 2015

Submitted on January 17, 2012
What a pleasure to actually get a person on the phone without having to push 8 buttons. My questions were answered courteously and to my complete satisfaction. When I sent an email to question the delivery date (later than expected) the reply was prompt and satisfactory. I will have no problem recommending your company to my friends.


---

Just great

Product Review Rating:

5

/5

Posted by Unknown on Feb 20, 2015

Submitted on December 02, 2011
GREAT SERVICE!!!!


---

GREAT SERVICE

Product Review Rating:

5

/5

Posted by Stephen R Sizer on Feb 20, 2015

Submitted on November 15, 2011
Generator not installed yet -- but service up till now excellent. Ordered unit on line; found website to be easy to understand and use. Will holler if any problem with generator out of the box.


---

Great company, bad delivery

Product Review Rating:

4

/5

Posted by Unknown on Feb 20, 2015

Submitted on November 15, 2011
Dealing with AP Electric was easy and straightforward. Phone personnel were very helpful. Delivery carrier not very helpful - the liftgate feature was important to us, and the truck showed up without it causing much inconvenience and extra expense.


---

Generator was delivered in excellent condition

Product Review Rating:

4

/5

Posted by Unknown on Feb 20, 2015

Submitted on November 11, 2011
understand the back order situation,but feel the credit card should not have been charged until delivery.would purchase from again.


---

I would recommend you to others.

Product Review Rating:

5

/5

Posted by D Roberts on Feb 20, 2015

Submitted on November 07, 2011
I was very happy with the on time delivery and that AP Electric had a generator in stock. So many others were 4-6 weeks out for delivery and could not guarantee a date. Thank you AP.


---

Product arrived in good condition.

Product Review Rating:

4

/5

Posted by Tom Wallace on Feb 20, 2015

Submitted on October 03, 2011
Order processing and shipping were done well and in a very reasonable time. Installation is not complete yet but generator is physically in place and wires are run to connection area. Installation can be challenging due to codes for clearances of propane tanks to generator and house so unless you are well versed in this type work, "easy installation is a misnomer. Still have electrical connection to utility to be accomplished which requires utility to disconnect service to accomplish this work.


---

Great price

Product Review Rating:

5

/5

Posted by Ellsworth Stahl on Feb 20, 2015

Submitted on October 03, 2011
Box was in excellent condition and the price was great.


---

Great service

Product Review Rating:

5

/5

Posted by Dave Amstutz on Feb 20, 2015

Submitted on September 26, 2011
as always good doing business with a company that does what they say!


---

Easy to insall

Product Review Rating:

5

/5

Posted by Ron Auten on Feb 20, 2015

Submitted on September 26, 2011
Hook up was a snap and started up first time


---

Quick Shipping

Product Review Rating:

5

/5

Posted by David Bilko on Feb 20, 2015

Submitted on September 20, 2011
Very good service, quick shipping.



---

I am very pleased

Product Review Rating:

5

/5

Posted by Unknown on Feb 20, 2015

Submitted on May 25, 2011
I received my product in a timely manner. Also the carrier delivered it in excellent shape. I am very pleased with the product, and AP Electric.


---