Generac Guardian 6437 11kW Generator with 50A 12-circuit Transfer Switch
Generac Guardian 6437 11kW Generator with 50A 12-circuit Transfer Switch
Availability:
DISCONTINUED - AP Recommends Replacing with Generac 7032 11kW
28

product reviews
Average Product Review Rating:

5

/

5
PRODUCT DESCRIPTION
THIS PRODUCT IS NO LONGER AVAILABLE. SEE SUGGESTED REPLACEMENT(S) BELOW.
Generac standby generator raises the bar for backup power. The Generac Guardian 6437 11kW Generator with 50A 12-circuit Transfer Switch can keep your family safe and secure even if your power is not restored for days or weeks. Homeowners get the kind of features that most people don't consider when choosing a standby generator — including the pre-wired 12-circuit transfer switches that will ensure your most important appliances and applications get the power they need. Another top benefit is that you get 24/7 support services from the company's Wisconsin headquarters. The power this generator produces has a clean energy signature with less than 5-percent harmonic distortion, which makes it ideal for powering your sensitive electronics and appliances. The most important feature for you, however, might be the all-weather steel enclosure that is able to withstand 150 mph winds and other extreme weather. Features and specifications deliver versatile protection Backup generators provide standby power that protects your family. If your generator is connected to an LP or natural gas supply of fuel, you will have restored power within seconds. The generator's industrial engine can run as long as needed even if takes weeks instead of hours or days to restore power. Two of the best features of the 6437 Guardian model are its Evolution controller and optional wireless monitoring system. The Evolution controller allows you to monitor the generator's status at-a-glance through its built-in meter, indicator lights and highly visible LED display. The optional Mobile Link allows you to check on the generator's status at any time from your computer, smart device or phone, and you can receive system updates so that you know the generator is working even if you are cut off from your loved ones at home during a natural disaster.
Other powerful features of the 6437 Generac include:
• Starts automatically for 24/7 backup power protection
• Continuous fuel source from your home - LP or natural gas
• Digital controller with LED status and fault indicators
• Generac OHVI engine
• All-weather composite enclosure
• Manufacturer's Warranty: 5 Year Limited
Reducing your upfront costs and homeowner expenses Generators that are installed to NFPA standards offer homeowners practical financial benefits by mitigating the potential losses caused by energy outages such as spoiled food, frozen pipes, cleanup operations, hotel stays, losses of critical data and downtime for home-based businesses. You can increase your home's value with a reliable backup system for power, and the Generac's OHVI industrial engine provides enough power to weather severe outages that last for days or weeks. The generator comes with a five-year warranty. The generator can be installed as close as 18 inches to your homes wall as long as it away from doors , vents, windows or air intakes (unless local codes direct otherwise). The Generac 6437 is engineered and manufactured in the United States.
TECHNICAL SPECS & DOWNLOADS

6437 Brochure


6437 Specifications Sheet


6437 Owner's Manual


6437 Transfer Switch Manual


6437 Installation Drawing


6437 Warranty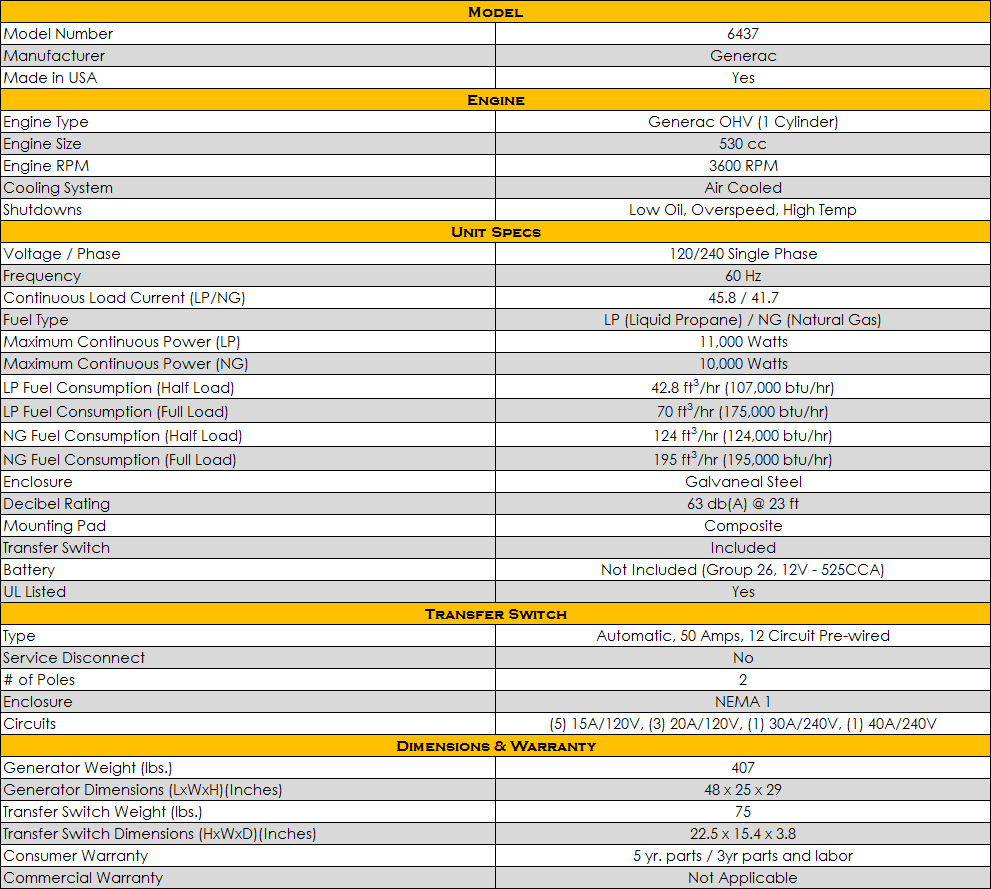 Product Reviews
Write Review
Solid Generator

Product Review Rating:

5

/5

Posted by Thad Williams on Dec 11, 2015

We bought the Generac 6437 home stand by generator for out lake home that is somewhat remote. Shipped there fro free even though we are out in the boonies. Arrived 3 days later. Easy transaction

---

Easiest Installation I Ever Had

Product Review Rating:

5

/5

Posted by Happy in Sycamore, IL on Dec 01, 2015

I ordered the 11kw Generator on Saturday it was delivered by Wednesday and completely installed by Saturday. I did most of the work myself with some help from an Electrician. It fired right up and worked perfectly. The best purchase I have made in years.

---

Very Happy

Product Review Rating:

4

/5

Posted by Ted Melan on Nov 23, 2015

The Generac 11kw generator that I purchsed through AP Electric has been installed for about 60 days now. Works perfectly. AP had the best price and shipped the generator quickly.

---

Just installed

Product Review Rating:

5

/5

Posted by Shores on Sep 30, 2015

We have just installed the Generac generator, which went very well. Don't know how the performance will be. So far we have been very pleased.

---

Great Generator

Product Review Rating:

5

/5

Posted by J. Jenkins on Jul 08, 2015

Very pleased with this generac 6437 11kW generator. It has been installed for 6 months now and works perfectly.

---

Overall Great

Product Review Rating:

5

/5

Posted by Patrick R. on Feb 20, 2015

Submitted on Friday, October 31, 2014
Fast ,easy and just overall great.


---

Your service was outstanding

Product Review Rating:

5

/5

Posted by Carl V. on Feb 20, 2015

Submitted on Thursday, August 28, 2014
We have not actually had an opportunity to use it yet.



---

Super Easy and Fast

Product Review Rating:

5

/5

Posted by Terry Boley on Feb 20, 2015

Submitted on Tuesday, May 28, 2013
easy to order, super fast shipper


---

GREAT SERVICE

Product Review Rating:

5

/5

Posted by Tom Owen on Feb 20, 2015

Submitted on Tuesday, May 21, 2013
This will be my third generator I have purchased from these people two for neighbors and a new one for myself,Really great people to deal with They do exactly what they say they do no baloney,great price ,free shipping and something which is rare in today's business dealings


---

Good product

Product Review Rating:

5

/5

Posted by Betty Sims on Feb 20, 2015

Submitted on Thursday, January 31, 2013
Generator has not been fired up yet..Professional installation is not required but is highly suggested...


---

Everything went very smooth.

Product Review Rating:

5

/5

Posted by Augie Ciulla on Feb 20, 2015

Submitted on Sunday, December 09, 2012
The delivery was on time, the driver was very helpful.


---

Couldn't have been easier.

Product Review Rating:

5

/5

Posted by Marc Bibaud on Feb 20, 2015

Submitted on Monday, October 29, 2012
Easy to order. Generator was in stock. Before I knew it the freight company was calling to coordinate drop off.


---

All around excellent

Product Review Rating:

5

/5

Posted by Unknown on Feb 20, 2015

Submitted on Thursday, July 26, 2012
Excellent experience all around dealing with this company.


---

So easy and convenient

Product Review Rating:

5

/5

Posted by John Simpson on Feb 20, 2015

Submitted on Wednesday, May 30, 2012
Purchasing a generator through AP Electric was easy and convenient. The delivery arrived as expected, everything worked out well.


---

Everything works as expected.

Product Review Rating:

5

/5

Posted by bruspell on Feb 20, 2015

Submitted on Monday, May 14, 2012
The unit arrived exactly as promised (purchase to delivery date), and the installation was completed two days ago. Very happy with purchase. One small nit on the con side was that the locking arm on the right front corner of the cover was not properly aligned (came that way). Our electrician was able to straighten it out.


---

Thanks AP

Product Review Rating:

5

/5

Posted by Unknown on Feb 20, 2015

Submitted on Monday, April 23, 2012
This company knows their merchandise. Generator showed up in 3 days after I ordered it online. Called and asked for tech support, patched right through and got all my questions answered!


---

Very patient and prompt

Product Review Rating:

5

/5

Posted by Ron Paulas on Feb 20, 2015

Submitted on Thursday, April 19, 2012
I ordered the 6437 after searching sites for over a month. I purchased from AP Electric because they were extremely patient as I shot over question after question. The unit was delivered the morning as promised and is now installed and ready to go!


---

Very helpful

Product Review Rating:

5

/5

Posted by john mahoney on Feb 20, 2015

Submitted on Thursday, March 29, 2012
everyone i dealt with was very helpful



---

Great product

Product Review Rating:

3

/5

Posted by Jonathan Toiwer on Feb 20, 2015

Submitted on Friday, March 16, 2012
Everything was good as usual as for the delivery but I would request that next time the battery that we ordered with the unit should be shipped with the unit so as not to have us travel to the Job location 2 times to accept delivery. A.P. response - We will call our area manager to find out why they removed the shrink wrap holding the battery to the top of the generator so this doesn't happen again.


---

We will definitely recommend AP & Generac

Product Review Rating:

5

/5

Posted by Linda or Mike Henery on Feb 20, 2015

Submitted on Monday, November 28, 2011
Although we have not yet (but almost) completed the installation of our generator, we are excited about having this at our home! It will be a security for us with my asthma and a machine and my husband having sleep apnea and sleeping with a machine. We always thought an item like this would be way to costly and were pleasantly surprised at the affordable price. The customer service was excellent and we will recommend you to friends and family.


---

Best prices available.

Product Review Rating:

5

/5

Posted by Tony Belanger on Feb 20, 2015

Submitted on Tuesday, November 15, 2011
Excellent customer support on the phone.Quick shipping when I placed my order. Item in excellent shape when delivered. Couldn't imagine any other place beating AP's price, promptness and service!


---

Great product!

Product Review Rating:

5

/5

Posted by Anthony Ferraina on Feb 20, 2015

Submitted on Friday, November 04, 2011
Easy to connect and operate.



---

User friendly

Product Review Rating:

5

/5

Posted by Ernie Fankhauser on Feb 20, 2015

Submitted on Tuesday, November 01, 2011
Unit install nicely,runs excellent and is user friendly.


---

Great company to work with

Product Review Rating:

5

/5

Posted by Walter on Feb 20, 2015

Monday, October 10, 2011
I found this Emergency Power System easy to install and it produces better quality electricity than that coming off the utility line at my home. Also, if found AP Electric a great company to do business with. Walt


---

Very Pleased

Product Review Rating:

5

/5

Posted by Keith Sorokin on Feb 20, 2015

Submitted on Monday, October 03, 2011
Very Pleased with service and Shipping Company. On time delivery. Will order again from A. P. Electric. Thanks A.P.


---

Great service and fast shipping

Product Review Rating:

5

/5

Posted by ROBERT BONASS on Feb 20, 2015

Submitted on Thursday, September 22, 2011
The system kit arrived about a week after I placed my order. Everything was in perfect condition, and just as described online. The installation instructions were clear and understandable. I will soon have the installation completed, and I expect that it will perform as advertised.


---

Very professional

Product Review Rating:

5

/5

Posted by Steve Howell on Feb 20, 2015

Submitted on Thursday, July 28, 2011
Very professional, knowledgeable and helpful! Super fast service too.



---

Very Impressed

Product Review Rating:

5

/5

Posted by Brent Ford on Feb 20, 2015

Submitted on Tuesday, March 29, 2011
Very impressed with the shipping time and the freight company was very courteous and great to deal with.


---